Q-talk 86 - Mar/Apr 2001 - index
Details

Category: Q-Talk Index
Published: Wednesday, 23 December 2009 16:24
Written by Dave Richardson
Hits: 2205
Quickie Builders Association


Together we build better planes!

Mar/Apr. 2001
Issue Number 86
---
Sun 'n Fun 2001
Sun 'n Fun certainly lived up to its name this year. With daily high temperatures in the mid 80's, dry skies and calm winds, this year stands out from recent history. In fact, the opening day hot air balloon race actually happened this year with all of 29 entrants. This was only the fourth balloon launch since being included in the Sun 'n Fun lineup. I guess you could say that they only launch "Once in a blue balloon!" (Can't pass up a chance for a good pun!)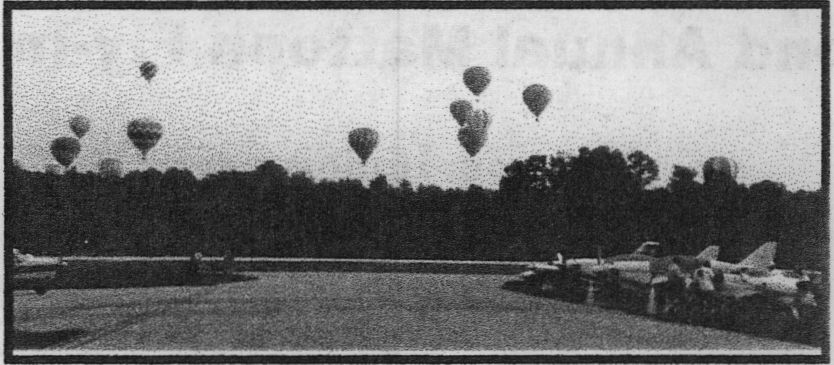 The F-l 17 Stealth Fighter made several passes early in the week. Everyone stopped and looked up at the streaking black wedge. After the last pass, I noticed everyone, including myself, had a grin on their face. It was an honor to get a "personal" peek at a such an advanced aircraft.
The traditional early Sunday morning forum for the QBA was well attended with more than 30 participants. Before the forum started, there were no Quickies on the field. After the meeting started, Larry Koutz, from Valdosta, GA, flew in and joined us. Jim Masai skillfully led the discussion interjecting his own comments, as he is known to do. Jim primarily focused on builders, giving them a chance to describe their projects. The two-hour gathering was not long enough to get everything said. You could tell because a noisy group of us continued talking outside the tent after the forum ended for at least another 45 minutes.
Bill Van Sice of San Antonio, TX reported progress on the GU canard of his Q2 that incorporates a "glove" to alter the airfoil. The hairs on the back of Jim's neck were visibly bristling as Bill was not "Building it per the plans." Before Jim could get a good froth up, Bill told the group he is making this change with the help of an aero engineer. The airfoil will be shaped like the one used on the Spruce Goose.
Bud Stains of Mt. Vernon, IN described the problems he has had with the PPG Deltron paint system on his Q200. The paint is available in either color coat or a color-clear coat combination. Bud used the color-clear coat version. The company has changed the formulation twice, making it thicker and harder to blend or repaint areas. The color coat only version of the system does not exhibit the same symptoms. Bud also talked about the effective Devilbiss HVLP gun he has been using. He has made paint batches as small as 3 ounces and sprayed all of the material. Cleanup is simple since the paint is retained in a sealed plastic bag. When done painting, throw away the bag.
Philip Loux of Cleveland, GA recently purchased a Tri-Q2 that was built several years ago. One general aspect he noted about this older plane was how the clear tubing had become opaque, stiff and brittle with age. The "black rubber" tubing tended to fair better.
Roy Shannon of Edgewater FL is working on the surface prep on his Quickie. He is using Poly-Fiber's Super Fill instead of West/Micro filler. He feels the consistent mix quality and lighter weight seems to be an advantage.
Doug Humble of Omaha, NE gave a report on his first flight in his Q2 with a type IV VW engine. (Look for his First Flight article in this issue on page 6.) The engine only added 14 lbs. over the previous Revmaster's weight. He felt having a chase plane on the first flight helped him dial in the right amount of reflexor prior to landing. The chase plane pilot could tell Doug when he appeared to be in a good landing attitude. He had an unremarkable landing, which in itself makes it remarkable. Other Q pilots, though, have warned Doug to watch out for the second and third landings!
Greg Zimmerman of Iowa City, IA told how his 900+ hours Tri-Q200 has had very little wear and tear over the years with the exception of the center elevator bushings. He advised the Q pilots to test only one thing at a time. If you change several things at once, you can't be totally sure of the cause and effect.
Over 35 QBAers and their wives enjoyed the 4th Annual Hot Dog Roast. The weather was right, the dogs were burned to perfection and there was plenty of talk about Quickies. In fact, discussions continued until almost midnight! Here are just a couple of the gems. Jerry Marstall of Asheville, NC learned very quickly how critical color is for the cover over the instrument panel. Jerry used a very light colored oak veneer that looked great in the workshop. Outside in the sunlight, while seated in the cockpit with the canopy closed, the light colored cover reflected in the canopy like a heads up display. All he could see when he looked forward was the beautiful wood grain of his instrument panel cover! A dose of black paint on the cover cured the reflection problem. Larry Koutz of Valdosta, GA also told a sunlight story. He parked his plane in a sunny spot and left his handheld GPS mounted in the top of the instrument panel. He closed the canopy and did not use a cover over the cockpit area. When he returned later, he found the GPS antenna had begun to melt from the heat of the sun being intensified by the shape of the canopy!
Paul Fisher joined the roast after flying his beautiful Q200 in from Taylor Ridge, IL. Paul almost had a twin engine airplane for dinner. After landing on the narrow taxiway "runway", Paul realized the twin that landed in front of him was moving too slowly. To avoid a collision, Paul had to perform a touch-and-go go-around.
Even though we only had two Quickies represented on the field for the week, we were proud of the birds and their pilots for flying them. It was a fun event and we look forward to attending next year.
| | | | | | | | | |
| --- | --- | --- | --- | --- | --- | --- | --- | --- |
| Pilot | ST | N# | Type | Eng | E.Wt | TT | Cruz | Yr |
| Koutz | GA | 39LK | Q-200 | 0-200 | 690 | 550 | ??? | '89 |
| Fisher | IL | 17PF | Q-200 | 0-200 | 730 | 875 | 165 | '90 |
---
Articles from this issue:
Second Annual Mattoon Fly-In - INFO - by Dave Richardson
Featured Pilot - Bob Malechek - by Dave Richardson
Turbo Subaru Installation - Part 3 - by Jon Finley
Q-tips - Kurt's Korner - by Kurt Van Dyke
First Flight - by Doug Humble
LETTERS - by Dave Richardson
Oil Flow Testing - by Jon Finley
Letters to the Editor - by Dave Richardson
Product Watch - SLAM the FRAM - by Dave Richardson
PICS from Sun 'n Fun 2001 - by Dave Richardson
---
A current QBA member may have one free ad per issue. It may be a maximum of five lines of type and will be edited to fit space available. Items advertised must be owned by the QBA member. The ad contact must be a member name. Ads will be run for two issues and then the ad must be resubmitted. [EDITOR'S NOTE: Please note that these ads may no longer be valid. They are included here only as part of the online archive.]
FOR SALE: Q-200, 400 TTAF+E, TERRA Stack, 320 Switch Panel with Marker, 720 Com./Nav, 960 Com, 1000 GPS, TXP Mode-C, AP-1 A/P Tracks GPS, Pull Starter, CLE Wheels, Toe Brakes, Hand Brakes, Belly Brd, New Annual, 190 MPH, $22,500, FL 863-293-2513
FOR SALE: Q-2 98 TTAF and engine, 75 hp Revmaster, 25 STOH (new heads, cylinders, pistons and rings), Ellison carb. Large rudder, reflexor, Belly board, wheel alignment and La Rue brake mod. Terra nav/com, artificial horizon, turn indicator, vertical card compass. $9,900. James Postma This email address is being protected from spambots. You need JavaScript enabled to view it. (253) 584-1182. Will deliver and train
WANTED: Revmaster exhaust system, Q-2 canopy, Q-2 Fiberglass spinner, 56x58 prop. I have a new vacuum system for Revmaster to sell. Contact Dave at 918-369-2984. OK
WANTED: Q-2/Q-200 cowling in reasonable condition. Will be used for Soob EJ-18 engine. Contact Larry at: 435-645-7795 days or This email address is being protected from spambots. You need JavaScript enabled to view it.
WANTED: Engine mounts, cowls, prop, etc. for Konig radial engine for Q-l as produced by Stubbs Aero. I have the engine, need items required for conversion. Want contact with people who are currently using or previously use the Konig engine. Neil France, E-Mail This email address is being protected from spambots. You need JavaScript enabled to view it.
FOR SALE: TRI-Q conversion kit, and straight LS-1 Canard, $1600.00. Sam Kittle This email address is being protected from spambots. You need JavaScript enabled to view it. 209-785-2931
WANTED: Set of LS-1 spars. Sam Kittle This email address is being protected from spambots. You need JavaScript enabled to view it. 209-785-2931
FOR SALE: 0-200 engine with 44 hr SMOH, 10 hr on slick mags and harness, key start with new starter drive, baffling and oil cooler to fit on Q-200, gear drive 50 Amp alt, recent inspection. $5,500.00 OBO. 407-497-1090 (Day) or 407-321-4981 (Night). Located in Florida.
FOR SALE: Andair, 6" pneumatic tail wheel spare tires and tubes. $46 plus postage (from England), total for tire and tube. These wheels improve ground handling and are quieter. If interested, contact Chris Rayner: tel 00 44 13 67 82 02 31; e-mail This email address is being protected from spambots. You need JavaScript enabled to view it.
FOR SALE: Tri-Q-200 (N44BJ). Cover of Qtalk #69. 8 hrs into 40 hr fly-off, Q-200 w/748 hrs, new crank & bearings, 3 blade warp drive prop, Collins Microline, IFR, push to talk on 2 place intercom, flies great, $21,500. Call Jimmy at 956-546-4541 or Marvin at 956-381-2782 or This email address is being protected from spambots. You need JavaScript enabled to view it..
---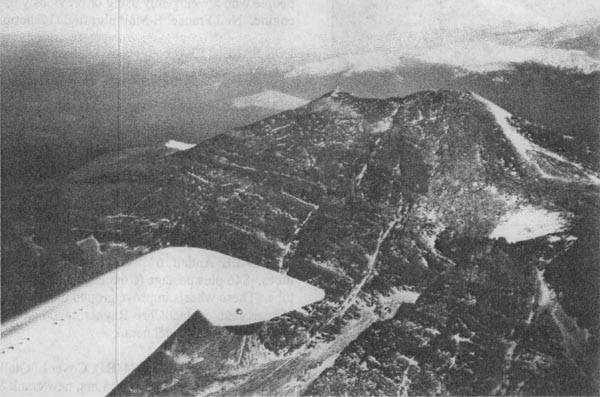 How about this view of crossing the Divide at 16,000 feet from Ian Huss' Super Quickie?
---
You can order a printed copy of Q-talk #86 by using the Q-talk Back Issue Order Page.