Q1 Plans Chapter 3 Page 3-17
Details

Category: Quickie Plans
Published: Monday, 03 November 2008 00:00
Written by Dan Yager
Hits: 4869
Cut three plies of BID as shown.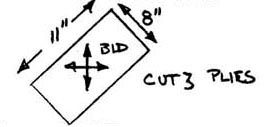 Mix 4 oz of RAEF epoxy using about 1 oz, make a small batch of micro slurry and coat the foam as shown. Make dry micro from the leftover slurry and make a small radius with it as shown.

Lay up the first ply of BID as shown. Using plain epoxy (no micro) lay up the other two plies and allow to cure. Note how the 45° fiber orientation allows the glass to lay down completely into the small radius.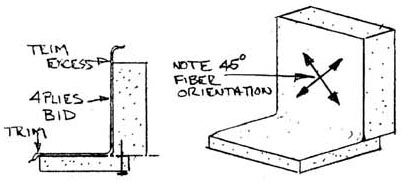 Knife trim along the foam edges. After the first layup has cured and the edges have been trimmed, the thicker foam block is carved and contoured as shown.
Put a generous radius on the foam edges and sand the 1/4" wide glass edges dull for glass to glass bond. Use your wire brush to rough out a depression in the middle of the block.
Finish smoothing the depression by rubbing it with a scrap of green foam. Radius the cornere of the depression. Blow or brush all of the foam dust off the surfaces.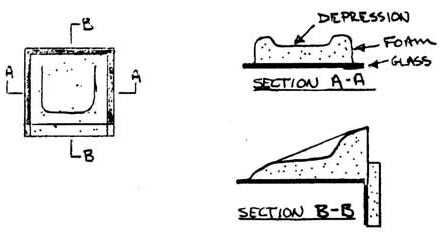 Cut three plies of BID as shown.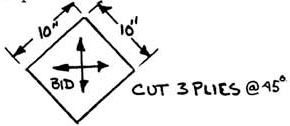 Mix RAEF, make a small batch of slurry and save the remaining epoxy. Slurry the foam surface and apply two plies of BID to the contoured surface. Start the layup in the center and work out toward the edges. If you have trouble getting the glass into the depression corners without bubbles, lift the plies and wipe in a little dry micro. You will then find that it will lay smoothly in without voids (see sketch). This depression is sharper than any in your airplane and is intended to give you a feeling of how sharply you can form the cloth.

Before laying the third BID ply down, place your favorite photo in the depression, and then lay the third BID ply over it. Scissor trim the excess glass cloth. Allow to cure and knife trim the edges.
The lower edge is trimmed flush with the bottom of the foam block.
Wait until the second layup is fully cured. Remove the 1 in. foam block with a butcher knife and sanding block, Remove foam for a 1/4" flox corner and sand the glass surface dull.