Q2/Q200 Introduction
Details

Published: Wednesday, 30 April 2008 11:03
Written by Dan Yager
Hits: 61951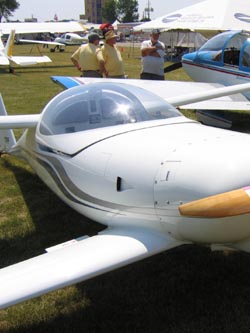 The Quickie Q-200 is a two-place, high-performance, composite, homebuilt aircraft. The Q-200's compact size and efficient design evolved from the original single seat Quickie (mid-1970s) and the Q-2 (early 1980s) kits produced by Quickie Aircraft Company. Q-200s requires between two and five years to build.
The Q-200's high-lift canard (forward wing) is fitted with an elevator for pitch control and produces approximately 60% of the total lift. The rear wing is fitted with conventional ailerons for roll control and the tail has a conventional rudder for yaw control. The original Q-200s were designed as tail wheel type aircraft with the front wheels mounted on the tips of the canard. Some Q-200s were modified with a tri-gear arrangement.
The Q-200 is designed to be powered with a 100-hp Continental O-200 engine and other engines including Mazda, Subaru, Rotax, and Corvair engines in the same horsepower range. Several hundred Q-200 plans were sold with an unknown total of those actually being completed.
I will be updating the information I have available about the Q-2 and Q-200 designs as time permits.  For now I have the plans for the Q-2 and Q-200 posted online with searchable text.  (Simply use the search box in the upper right hand corner to find specific information.)
Q-2/Q-200 FREE INFORMATION
ONLINE Q-2/Q-200 PLANS (With Searchable Text)
Q-2/Q-200 ITEMS FOR SALE
Q-2/Q-200 PLANS (PDF)
Q-2 LARGE APPENDIX SHEETS (PDF)
Q-200 LARGE APPENDIX SHEETS (PDF)