Q-Talk 167 - Field of Dreams Fly-In 2014
Details

Category: Quickie Builders Association
Published: Wednesday, 05 November 2014 17:40
Written by JIM MASAL
Hits: 13419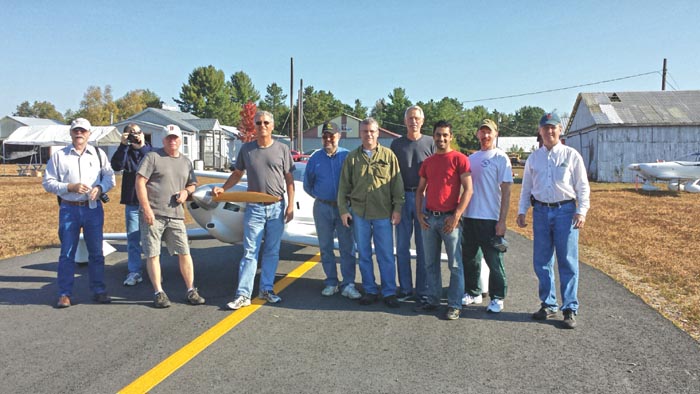 DATELINE: ORANGE, MA 2013
Yaas, you read that right: 2013. For many years the Quickie Builders Association held its annual Q gathering (the so-called Field of Dreams) in the Midwest, in and around the Kansas City area.
After a more than 20 year history, the Midwest event organizers ran out of gas so up stepped Dave Dugas of Orange Massachusetts (West of Boston) who built his Q2 as QAC originally intended.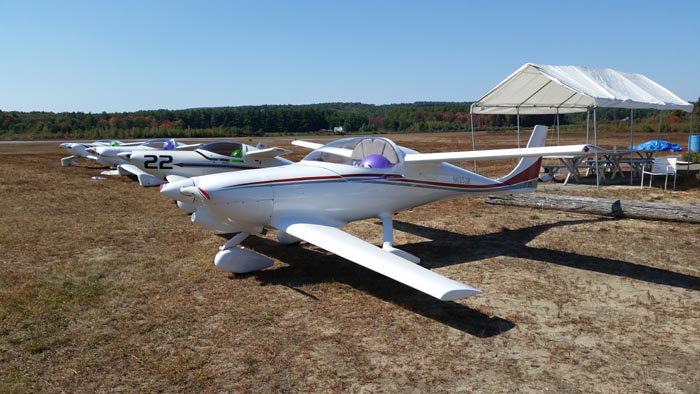 Dave had flown to our Midwest events several times and he decided it was high time we all flew to his N.E. environs for a change. And so he invited us to a "Field of Dreams" event at his base in Orange MA. He enticed us with a promise of lobsters galore.
Mutha Nature was not in the mood to cooperate in 2013. The weather sucked and the Midwest flatlanders didn't see much sense in poking around in mountains, low cloud and rain. A couple who tried, backed off and one even had an "excitement" that took a year of recovery. The event was poorly attended by the 4 wheelie guys; Dugas was disappointed. (Somebody sent around a photo of a galvanized garbage can full of cooked, red, lobsters. Now THAT was disappointing to me!)
Northeasterners must have a stubborn streak because Dugas was determined to do it again in 2014. This time Mutha Nature couldn't fight the feeling and produced an absolutely outstanding fall weekend … but not without a brief scare of a storm crawling up the eastern seaboard. Nobody wanted to disappoint Dave a second time by being bullied by Mutha Nature, so most of us arrived a day early on Thursday.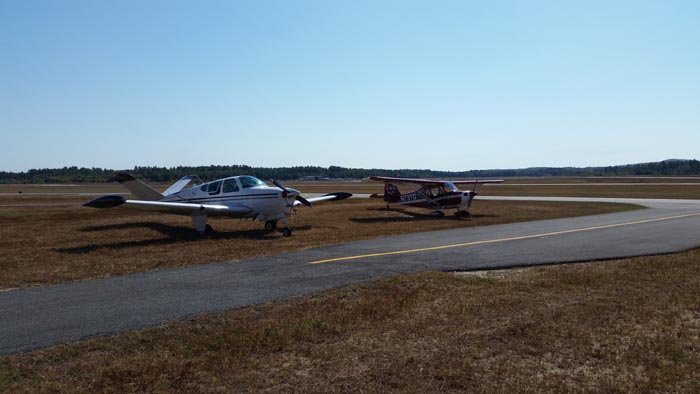 Every day the weather in Orange was bright, sunny and mild with the beginning of glorious fall color changes in the trees around us. The aircraft count included:
| | | | |
| --- | --- | --- | --- |
| NAME | STATE | AIRCRAFT | HOW LONG |
| Dave Dugas | MA | Q2 | Acft flying 25 years |
| Sam Hoskins | IL | Q200 | Acft flying 28 years |
| Paul Fisher | IL | Q200 | Acft flying 24 years |
| Jerry Marstall | NC | TriQ200 | Acft flying 17 years |
| Bruce Crain | OK | TriQ200 | Acft flying 17 years |
| Rod Herzig | MA | Cozy | UNKNOWN |
| Mike Bergen | MD | Bonanza | Flying since God was a boy |
There was a great deal of variety for the 4-wheelie attendees to see.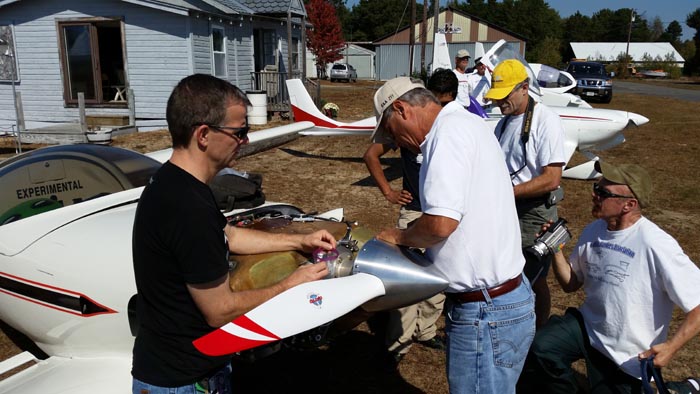 The field has a pair of paved 5,000 foot runways and a small detached chapter meeting house which is adequately plumbed, electrified, chaired and tabled.
With most people already in position, Friday was a lazy day featuring folks like the only gurl (Mary Masal), the slowest builder in the west (Sam Kittle), Mister greenshorts (Alan Thayer), Dave's right hand man and Cozy driver (Rod Herzig) and an interloper from Canada (Marc "Bishop", I can't spell his French name) who turned out to be an alright guy after I watched him with my evil eye for awhile.
[Editor's Note: Marc-Bernard Lévesque is a terrific Q enthusiast who made the trip from Montreal Canada and has promised to provide templates for the Q-200 upholstery set provided by QAC. He had some trouble with the way we were butchering the French language with our mispronunciations of words like "canard" and "decalage."]
Friday started with fog and a fine breakfast at Sharon's White Cloud Café across the street from the airport. The transient fog gave our "family" a chance to crank up the personalities and get caught up to date with each other. As for me, I was wincing from a painful wrenched back in need of a chiropractor. That's what those tight airline seats can get you if you're too frisky getting out. I was referred to Chuckie Baxter's Chiropractic Clinic.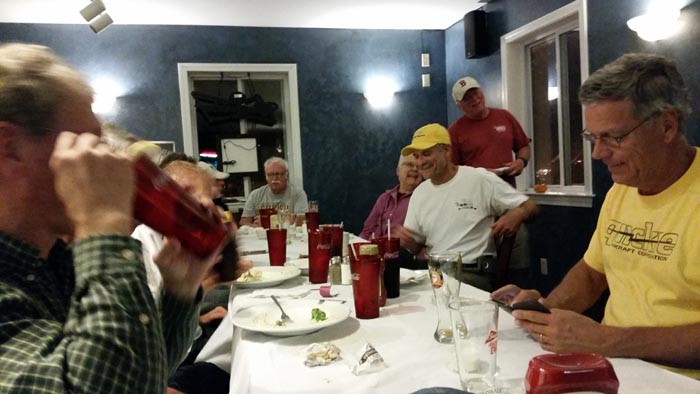 After a Friday sunset we all trekked to Herrick's Tavern/Restaurant very close to the Travel Inn where many of us stayed. Dugas must have some kind of Mojo in Orange as we got ushered in past a crowded dining room to a private one already set up for 20 of us for dinner.
We had a most excellent waitress, and very soon the beer limbered up the vocal chords and party time was on the way. Happily, Herricks was only a short distance from the motel so that we could just waddle across the highway (looking both ways as momma taught) and flop into the sack.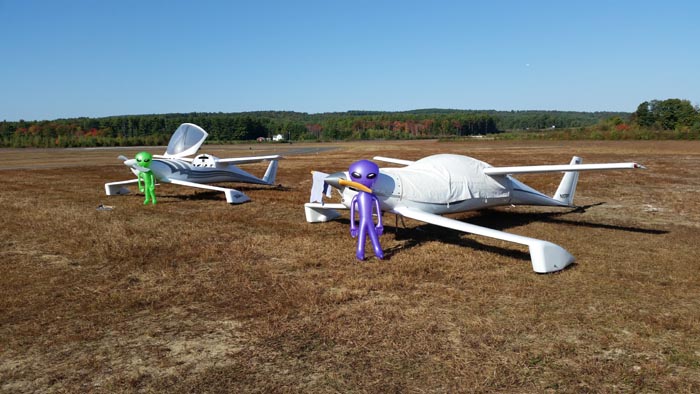 Saturday morning opened up foggy again so we filled up a corner of Sharon's again just jabbering away and eating while the sky broke out in severe clear. And when it did, it was evident that somebody had a VERY late night on Friday because each Q was festooned with a 3 foot purple or green inflated Alien. This prompted a cacophony of laughing, smiling, and hijinks with the Aliens. After the guffawing and photo opportunities died down, pilots and builders shuffled into the chapter house for a talk given by Jay Scheevel.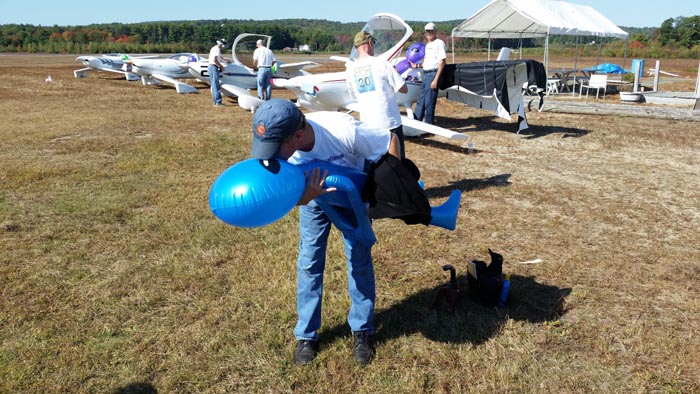 Now we all know our craft are custom built by individuals with a wide variety of skills and tools. These planes are not like Cessnas or Mooneys built with precision certified factory jigs and fixtures. It follows then that each completed plane differs in performance slightly one from the other. This is evident when pilots discuss the quirks of their individual aircraft.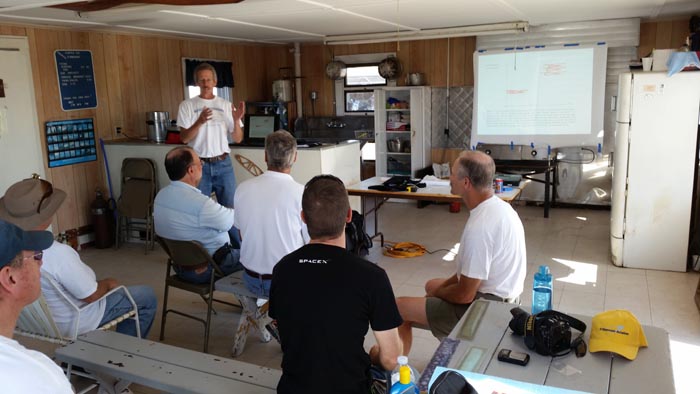 Jay Scheevel found this to be an interesting curiosity. He set out on a self-imposed project several years ago to see if any sense could be made of what exactly caused the differences. He concentrated his focus on thrust lines, canard and main wing mounting angles and the relationship between them.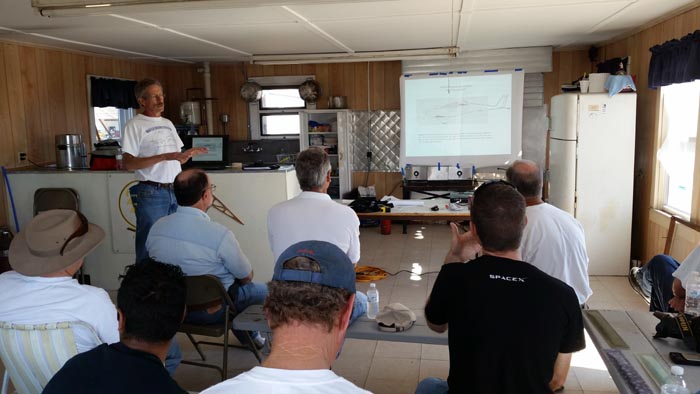 He built a gizmo to measure these factors and took static photos on the ground as well as in the air whenever he could. His PowerPoint presentation was fascinating. It seemed to start as a yawn inducing graphical presentation of performance data but brought the pilots bolt upright when he proposed the likely real performance quirks based on the graphs. Several pilots had "AHA!" moments when they understood what the graphs forecasted (eg. Why do I use a higher approach speed than other planes?)
Jay had a disclaimer: This was not NASA quality research and analysis but it was carefully thought out and was a big plateful of food for thought. It was provocative and brain burning. WHEW.
It was time to get some lunch and do some flying. Alan Thayer began to circulate the idea of all of us flying somewhere for lunch since we had 6 planes on the field. He just couldn't resist the temptation to do something with them and in fact the skies were clear and remained so with record high temperatures for this time of year. Dave suggested we fly to Keene, N.H. with a nice airport restaurant and only a 15 minute flight away. Those not in planes could drive there easily too. Arrival at Keene was set for 2:00pm.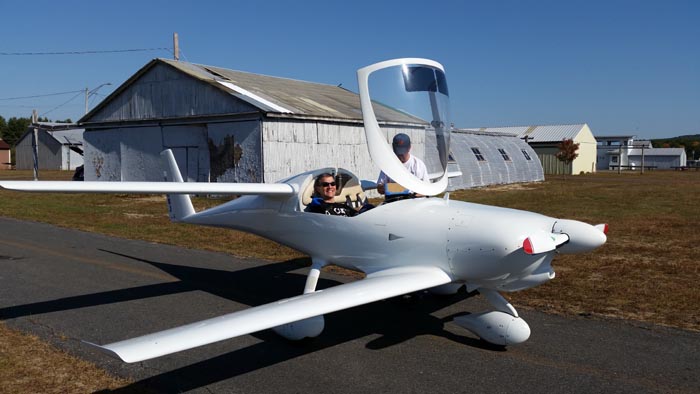 Right on schedule 4 "other worldly" looking aircraft dropped out of the sky with 2 more shortly thereafter. The flight over was a sight to see: little white steepled churches, very, very old and tucked in among the dense trees already turning a deep red. Little towns and villages steeped in history and people on the radio with accents from another time. Lunch was terrific and the service was excellent.
The flying got even better for when we got back to Orange we hatched a plan to use Rod's Cozy as a photo plane and snap some air-to-air pic's of whoever wanted to pull by. WOW, the crystal clear blue skies and the great cameras we have in our phones these days made for some stunning pictures even through the plexiglass in the Cozy.
And then it was time to shuck some corn, wash a bushel of clams and babysit 60 live "lobstas". At the same time Dan Yager brought out some practice "confidence" layups made per plans for some destruction testing.
[EDITOR'S NOTE: Jim asked me to do a write-up about the destructive testing of our "confidence layups" on the field. However, I am pitching that as another article for a national magazine, and I will let everyone know how that goes. If I can't get any bites from the print guys, I will do a more thorough write-up in the next issue of Q-talk, "I promise!" Below are a couple teaser photos of our "Rube Goldberg" looking but highly repeatable test apparatus, and the results.]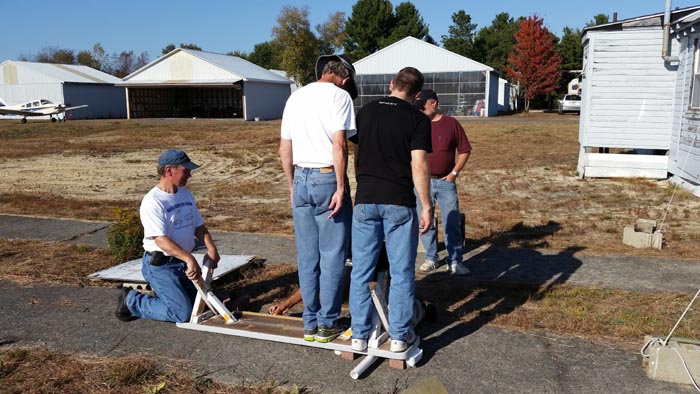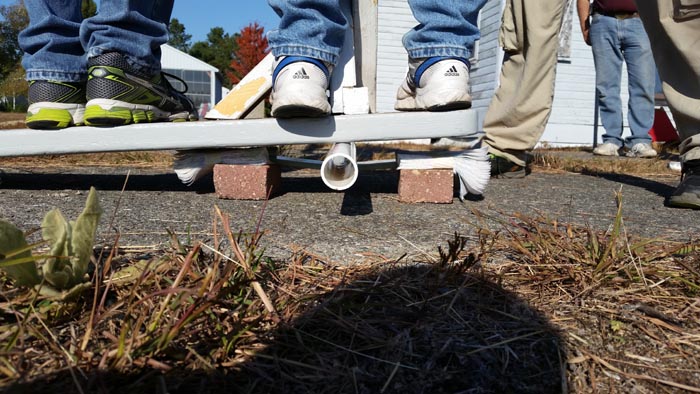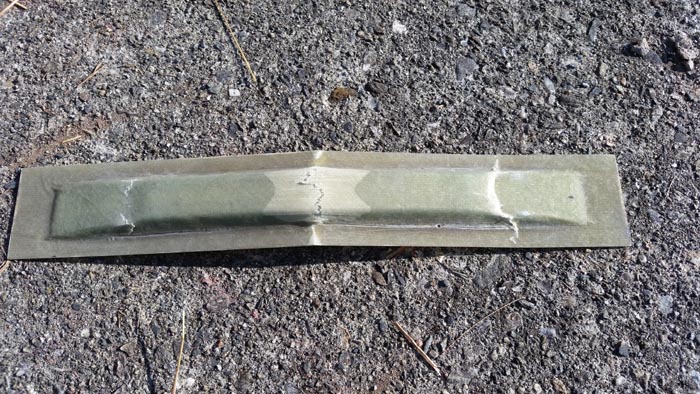 Sunset began to wane behind the forested western hills straining to show some New England fall colors. A fire was struck and galvanized trash cans full of corn, clams or lobsters in sequence were set to steaming. "All the King's men" (and ladies) were unable to eat all the corn, clams and lobsters set before us (all at a very neighborly cost too!). WOW! We could've used a phalanx of wheelbarrows to get our bellies back to the house.
It was a whale of digestion overnight but by Sunday noon everyone had squeezed into the planes along with baggage and a bottle of maple syrup gifted by Dave Dugas and wife Dianna and headed into the sky outbound.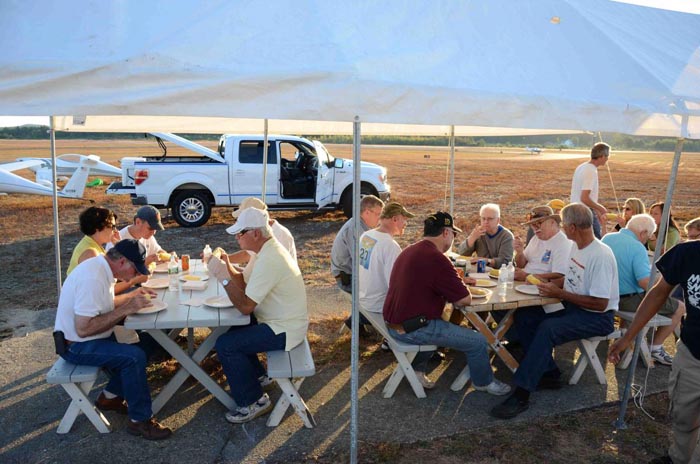 To see more coverage of this year's "Field of Dream" check out Jon Matcho's report on the canard zone forums.