Q-talk 160 - EAA Airventure Oshkosh 2013
Details

Category: Q-Talk Articles
Published: Thursday, 29 August 2013 16:33
Written by JIM MASAL
Hits: 5095
EAA Airventure Oshkosh 2013
by Jim Masal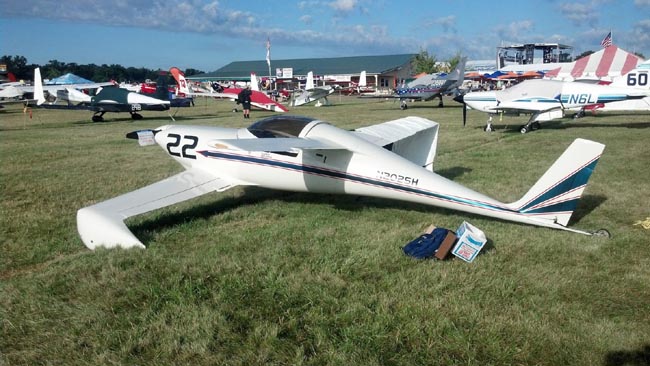 photo by Sam Hoskins
EAA Airventure is an extraordinary experience for an aviator. And when I say aviator I mean everyone from the Cessna salesman to the ATC controller to the wife of an ultralight pilot and everyone in between. If you think it's all about the airplanes, you are very short sighted.
About every third year Oshkosh has a cool one and this was that year. We left 100 degree heat in Texas for balmy 75 to 85 degree highs daily with only a lackluster sprinkle one afternoon.
When I first attended in 1974 Oshkosh had its mid to large field with T shaped concrete runways N-S and E-W. and a nicely tall brick tower. It was served by North Central Convairs/ Fokker F-27's and a few Air Wisconsin flights. In front of the tower alongside the N-S runway was some 200 yards of grass filled with a couple hundred homebuilt aircraft and maybe a few warbirds. The dominant type was the T-18's whose builders stuck a long feather in their ball caps to proudly identify themselves.
This summer I made my 39th visit to what has become a real circus of which the 3 rings cannot be fully experienced even in a week. Early PR trumpeted the flight of the Terrafugia roadable airplane and the twin-jetpacked jetman and his associated small wing. Both flew except jetman had a hard deck at 2,500ft so that what you saw was a black dot that fell out of a helicopter, buzzed back and forth a bit then became a dot on a yellow parachute. Ho Hum.
IN THE SKY
Sequestration froze out the military teams but there were daily huge formations of AT-6 Texans which were celebrating their 75 anniversary by coming over in a big 75 formation. T-28's thundered in the sky daily enmass as well… and assorted others. A B-17 and Fifi the B-29 passed over the field at regular intervals as they were giving rides from up Appleton way.
There were the usual excellent 4 hour daily air shows which after 39 years I no longer note with glee…except that my wife's favorite is the Harrier.
On Wednesday and Saturday nights there were night airshows with planes emitting sparks and balls of flame and smoke. Oh yeah, there was a jet afterburner on a truck that raced an aerobat down the runway with enough heat to warm the crowd on a cool night.
ON THE MAIN RAMP
Early on FEDEX had an Airbus freighter flanked by a longish line of curious guests. Later in the week it was exchanged for the large twin engined recip, the DeHavilland Caribou and then replaced by FIFI.
This ramp also had a large, professional lighted and audioed stage from which the group CHICAGO performed Monday eve and the Lieutenant Dan Band (Gary Sinese et.al.) played on Friday. After this band at 8:30 there was a premier of a new Disney cartoon movie called PLANES. Bring your sleeping bag… it was a looong night. Tony Orlando and other musicians played on other nights as well
THE Q CLAN
If anyone came to see Q's they were sorely disappointed. I heard there were two Q-1's and I eventually tracked them down. One was one of the first built that now belongs to the EAA museum. It was tucked in a nondescript hangar near the flightline. The other was outstanding. Imagine this: Roy Shannon, who is now braver than I ever imagined him to be, trailered his beauty all the way from central Florida to Oshkosh. My hiney would've been permanantly puckered. The payoff was that he gave an hour and a half forum next to his plane in what is now called the Homebuilders Hangar. Somebody screwed up the time slot in the printed schedule but I got to hear a half hour of his talk. Roy did an outstanding job representing our breed and he had a respectable audience. Then the next morning on page two of the daily Airventure newspaper appeared a nearly full page write-up with photo of Roy and his Q. The writing was excellent. It seems to me that between Roy's article and the one done by Dan in the recent KITPLANES we might see a resurgence in Q interest. Hoskins had his racing Q on site as well.
Q-guys also had an excellent two hour idea exchange in the Homebuilders building, I understand. More about that from other reporters, I hope.
EXHIBIT GROUNDS
To the North and West of the Warbirds there was a horde (200+) RV's of every denomination and color scheme gracing the grass. Nearby were 20+ P-51s, 4 P-40s in snarling paint and my favorite Yak-9. Far north were the crowds of AT-6s. other Yaks and their Chinese knock-offs. Also included was a contingent of WWII living history players encamped with tents and weapons of that day. Way down South in the Ultralight area there seemed to be a lighter assortment of LSA and ULs but a larger number of small helicopters.
In the homebuilt area there seemed to be many repeat visitors mingled somewhat with a large number of antique birds.
JETS
These boogers are relentlessly clawing their way into what used to be known as grass-roots aviation. Hah! Jeff Bede was there with his Dad's BD-5, Cirrus had theirs, the Hondajet was resplendent and John Monnett announced he was accepting $10,000 deposits on his Y-tailed cutie which did demo flights. (and here we are scratching for small engines and trying to keep our wrinkled bulkheads!). Sheeeeeeshh.
An especially excellent thing to note was that from N to S the flightline is a ponderous distance… especially as we "boomers" age. The EAA has provided an extensive system of volunteers and tractors pulling trams which were astonishingly frequent this year.
For off-airport travel there was another horde of large, yellow-orange school busses circulating from the shows Bus Park to the EAA Museum, seaplane base, outlet mall, the terminal, campground, Fond du Lac and I dunno what all. One had to take great care walking through the diesel dust cloud to avoid becoming a hood ornament. And there were frequent city busses shuttling to the UWO dorms.
NUMBERS
Like last year there were an estimated 500,000 avid aviators (2115 International visitors) at the event with some 15,000 planes on the ground including 2341 showplanes. Cartoon planes by the Disney guys attracted some 15,000 viewers at the sneak preview of the 3D "Planes" movie on Friday night. (Disney was so pleased that they have already started on Planes 2). 4,800 volunteers shepherded everyone around and the record 841 vendors were happy for it.
Our current government, strapped for cash as it is, came close to killing Airventure at the last minute this year by suddenly levying a nearly half million dollar charge for ATC services. EAA paid under protest to keep the event as planned but there is plenty of action going on with congress to reverse this unusual fee from the FAA bureaucrats. EAA was collecting petition signatures, maintaining that ATC services are provided as a citizen safety responsibility all over the country as a normal government activity via tax revenues. If you don't see this as a preview of things to come you better crawl out from under your rock (and get a job in government where you can control the tax paying stiffs). I heard this fee was already levied and paid to keep Sun 'n Fun alive this year.
VENDORS
I never felt the A,B,C, &D exhibit hangar buildings were packed elbow to elbow as in the past. Everybody and his mother are getting into EFIS displays these days. Technology is moving up and prices are slowly wiggling down. Outside vendors still have the nuts and bolts guys but ever more sunglasses, t-shirts and headphones.
It was one of the better years for Oshkosh in my experience.