Q-talk 157 - WHY I LOVE MY Q!!
Details

Category: Q-Talk Articles
Published: Tuesday, 26 February 2013 14:52
Written by Joanne "Honey Lamb" Crain
Hits: 2957
by Joanne "Honey Lamb" Crain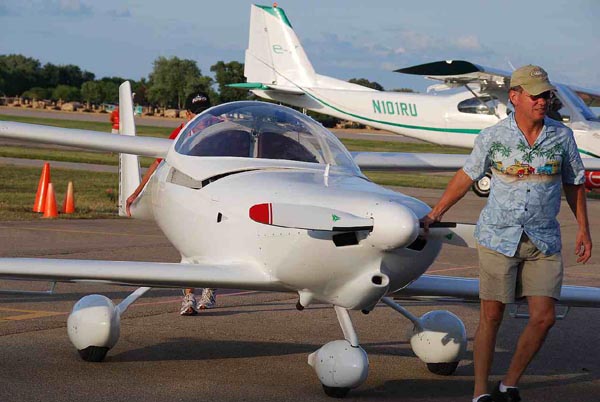 Let me introduce myself. I am known as Honey Lamb by most of the Q drivers. My husband, Bruce, and I have a Tri Q 200. Our flying journey began 24 years ago when Bruce learned to fly.
After renting aircraft for several years, we joined the "EXPERIMENTAL" crowd. Through the building, rebuilding, and more rebuilding journey, much has been learned and experienced.
I have learned the art of hot wiring foam, the smell of epoxy, the price of props and the amount of time and dedication it took to complete this wonderful plane. It has not always been easy and I contributed many of the "You might be a Tandem Winger if……" scenarios that were heard at the Field of Dreams Fly-in several years ago, but it has been worth it!
We have flown to FL, CA, SD, WI, AZ, NC, CO, TX, and NM to name just a few great places we've visited. Even better, is that fact that there are great friends and family living in these places that we get to see. Children, Grandchildren, Aunts, Uncles, and cousins have all been visited, at times when it would not have been feasable to drive.
I enjoy helping Bruce navigate. Packing light is an art that we've also gotten pretty good at. I am also glad there is now a heater in the plane too!!! (I had to beg a long time to get that heater.)
When our four children were younger, Bruce would get the plane washed for father's day. When the plane moved to the hanger for the first flight, the children were in the terminal and I was in a chase plane with Bruce's hanger mate. The life insurance was paid and the wills were made in advance, but building and flying gave Bruce such great joy.
It has been an exciting journey to build and fly the Q. We have met wonderful new friends all along the way. These friends have been invaluable in making this plane a flying aircraft. We have experienced travel very few people get to experience. We have continued to work together side by side.  I was very good at getting water and cookies!
When we were married, I had no idea Bruce wanted to fly. I'm not sure he did either. His work was very demanding, but flying seemed a pleasant release.  Building a kit plane gave him equal joy, and I am still not sure if he enjoys building or flying more.
I enjoy the Q because I can be in Dallas in 90 minutes, to see my grandson, instead of 5 hours it would take by car! We have planned many trips the weather cancelled but I have also learned that this is also part of flying. The bottom line is, I want to support my best friend, husband, and lover in all he does and enjoys! We like the plane for different reasons and sometimes I hate it –especially when it takes so much time to fix something.
I have learned patience, trust, and understanding in this great journey. My wish is that all of you experience the same growth with your loved ones as you build! Blessings!
Honey Lamb
Joanne Crain