Q-talk 48 - Nov/Dec 1994 - index
Details

Category: Q-Talk Index
Published: Saturday, 31 December 1994 06:11
Written by Jim Masal
Hits: 1933
NOV/DEC 1994
ISSUE NUMBER 48

---

QUICKIE BUILDERS ASSOCIATION

---
'TIS THE SEASON TO BE JOLLY!
by Jim Masal
Wholley Cow, with this issue I put to bed the 13th year of the QBA Newsletter! Well Merry damm Christmas. I hope this reaches you in time that it can be my Christmas card to you and one of the better ones that you get. I have more incentive to join the hustle and bustle of the season and get this going before January 1 because I'm sure you've heard out postal rates are going up again.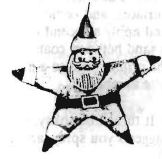 Anyway, looking over our roster of builders, I have reason to smile when I see names that have been around for the whole ride. I especially want to wish you guys a great Christmas and a wonderful New Year. We've had some good fun together and it ain't over yet. And, of course, I extend the same wishes to those of you who have come on board recently or any time after year 1. I give every one of you, QBA approval to take some time off from flying and building to enjoy this holiday season as it should be enjoyed ... with the family or with whomever you consider family. In spite of Target, Wal-Mart, Sears, Old Spice and etc., let's try to remember a bit about what Christmas was really all about, real love, not just a symbol of it wrapped up with a bow and measured by volume. HO, HO HO.
To those of you who are throwing the towel and leaving the QBA, I bid you a happy sayonara. I hope the experience has in some way enriched your lives.
I am not at all overjoyed at the limits this short daylight imposes on my life, are you?
Yesterday after work I had to find a warm, lighted hangar to change some brake pads that were beginning to make metal-to-metal contact on my car. I'd rather do it in a spring breeze. And so I remind (or trick) myself that we in the south only have to endure January; February is a short month and then Sun 'N Fun will practically be here. I hope you flyers are planning to give us a better showing of birds on the ground this year 'cause I'm ready for it.
EVERYBODY should know that your twenny bucks for the '95 newsletters is due now. If you are new this year, especially recently, you may wonder why you're having to come up with additional scratch so soon. You should already have in your hands the 6 issues of '94 and should know that I only do renewals once a year to keep the workload down. Recent new members have been in high praise of the load of back issues they have read and so I will remind everyone that I have copies of all 78 back issues if you need any, copies of all 25 of the QAC newsletters and about 10 original Operations Manuals for the single Quickie. We are ending the year with just under 300 members in '94. That roster is still available for $5 each.

And speaking of workload, Tom Moore who lives in my area is going to be back editing this newsletter with me in'95. So if you've been holding off sending in a tip or progress letter because you hate my guts, then you can address it to Tom. On the subject of tips and progress reports, take it as your responsibility to send something in this year before I have to do something drastic. I'm experiencing a little slump in material so while you're sitting by the fireside in January enjoying the crackle, jot down something for us. It can be in your own hand, typed any way you like or in my 4 3/4" column width that I reduce to 80% for my paste up. Thanks again to Jon Finley in Montana who takes all the oddball typed stuff and runs it thru an OCR scanner, converting it to a computer disk that I can use on my program. Those of you who keep trying' to prod me into E-mail on the Information Superhighway ... you ain't getting close yet. Spend your efforts sending me hard copy. Jon and I will take care of the rest. OOOOOppps, my computer just grimaced at me for refusing to give it more fun stuff to do. So solly, I ain't ready yet, but, hey, maybe Tom is ... I'll check.
Thanks to you guys who remember me along with your friends and loved ones via Christmas cards. Thanks also to those of you who have anticipated the postal increase and have included a couple of bucks extra to buffer that cost. May all of you have a safe and happy Christmas and New Year!


Other Articles In This Issue
---
You can order a PDF or printed copy of Q-talk #48 by using the Q-talk Back Issue Order Page.