Q-talk 41 - CLASSIFIEDS
Details

Category: Q-Talk Articles
Published: Tuesday, 31 August 1993 07:11
Written by Jim Masal
Hits: 1999
FOR SALE: Q-2 #2260, Rev 2100D, tt 100 hrs. No avionics. Needs some work to make flyable again. $6500 or best offer. Hugo Haye (619) 674-4804 after 7 pm or Roger Flower (days) (619) 789-8178. CA
Possible FOR SALE: Q-200 at least 5 years old, never flown, one taxi run. Hangared. QBAer who's seen it suspects owners would sell. Siren, WI. Gloria (715) 349-2835.
WANTED: Aft fuselage shells. Ralph Bestvater, 9300 S. Kansas, Sedgwick, KS 67133.
FOR SALE: Q-200 structurally complete, ready for painting. Mid time O-200, belly board, LS-1, reflexor, aluminum panel, differential brakes, dual side sticks etc. $11,500 with engine, $8,500 without. Phil (716) 256-6218 wk, 624-2399 h.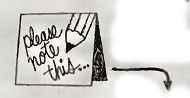 Jim,
I finally got my stuff back in Oct. No inventory yet, but I have molds for the Q-200 cowlings and a few cowlings that could be sold. There is also a fixture to make the Q-200 exhaust system and other jigs and fixtures to make the welded steel parts. I am looking for someone with the ability to fabricate the steel parts and would even sell the whole lot (except cowl molds) for $5,000. And that's negotiable.
I have lots of other Q-bird parts so anyone who has a need should contact me.
Tom Wright, P. O. Box 6, Friedens, PA 15541
(814) 445-3802
FOR SALE: From a VW: Posa Super Carb (Mixture Control!) $30.00, Single Magneto Adapter (Like from GPASC) $25.00, Dual Port Intake Manifolds $20.00, Prop Hub $40.00 - -
Rotax 503 SC, Dual CDI Ignition, 2.24:1 Reduction, Motor Mount, 2 Cowlings, Complete and flying on my Quickie - $1000.00. Jon Finley (406) 443-7311.
FOR SALE: Q-200 project, LS-1 canard, reflexor, belly board, heat and vent kit. Structurally complete and ready for painting. Many good mods: Aluminum panel, differential brakes, dual side sticks, etc. $8,500 or $11,500 with mid time O-200 (good history; logs available). Phil Bryan (716) 624-2399 after 6 or 256-6218.
---
You can order a PDF or printed copy of Q-talk #41 by using the Q-talk Back Issue Order Page.