Q-talk 29 - ODDS and ENDS
Details

Category: Q-Talk Articles
Published: Saturday, 31 August 1991 07:11
Written by Jim Masal
Hits: 2153
'92 QBA '92 QBA '92 QBA '92 QBA '92 QBA '92 QBA '92 QBA OK, OK, you staunch loyalists have got me convinced (against my better judgment, I might add) that I should continue this assignment as editor and chief on the QBA. So now's the time to put your money where your mouths are. Until Jan. 1st at least, dues will be $20 for the US, $21 Canada (no cheaters this time) and $26 Overseas. The Post Office keeps jacking up our rates so I'm passing it along. My standing offer is still on, if I don't get enough interest, all your bucks will come winging back to you.
PRODIGY - I'm doing pretty well at resisting the expenditure of enormous amounts of time to learn more about computing than absolutely necessary, but nevertheless I am making steady progress in learning. I am a Prodigy subscriber now (TVCC71A), and have been exchanging notes with a couple guys already. It's kinda nice to have mail on the screen, even though I'm not yet "hooked" to look at it every day. Write me at my I.D. if you get in the mood.
T-SHIRTS - Some of you were disappointed at OSH when I ran out of the red QBA T-shirts. I have a new supply in now, size M, L, XL and for porkers like me XXL. $10 each includes shipping (and another $2 outside US borders). They are a tiny bit snug so if you are on a size borderline, choose the next size up. These shirts are bright red with a gold and black emblem over the heart that depicts a Q2 flying at you thru a hoop that sez Quickie Builders Association.
PINS - I have a new supply of the 3-D gold Q2 tie/hat pins from England. $12 each includes shipping inside the US. Also included were a few silver tie bars with the gold Q-2 affixed to them. This is a great way to explain your hobby to all those strangers at the holiday parties coming up.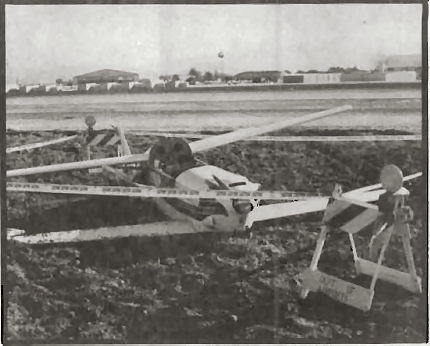 Jinx Hawks experiences the wake turbulence devil.
---
You can order a PDF or printed copy of Q-talk #29 by using the Q-talk Back Issue Order Page.