Q-talk 11 - Q-2 TIPS
Details

Category: Q-Talk Articles
Published: Wednesday, 31 August 1988 07:11
Written by Jim Masal
Hits: 1417
From Bob Falkiner, Ont., Canada
I was a bit concerned about how to get the proper ground angle of attack since I had my tailwheel assembly cut and welded for a larger soft rubber wheel and to get a negative castor (prevent wheel lock-up in turn). Solved by leaving a lot of metal on the wheel fork bracket, so that I can mark the proper location for the hole when I get to the (flat) airport, and cut away the excess metal later.
I spent a lot of (wasted) time getting tolerances on the canopy tight. This is a mistake, since after paint, the canopy fit is too tight, and I have no room left for weather stripping. Look at a car door - the outer skin is flush and tight tolerances, but there is a huge cavity inside for about 2" of rubber seal. Next time I'll take the hint from the boys in Detroit.
Enclosed also information on the stock Revmaster spin on filter and possible automotive replacements. Based on what I've learned, I plan on using the Chrysler 2.2 Liter engine filter (FRAM #PH3614). The Revmaster replaceable element spin on weighs 1.9 lbs. compared to 0.5 for the FRAM. In addition, the FRAM will contain about 50% less oil during use, resulting in about a 2 lb. net reduction. Both are full flow bypass filters, but the FRAM has an anti drain-back valve to keep the filter full during shutdown. This is to minimize wear on cold startup especially on newer overhead cam 4 cylinder engines, where there can be a substantial delay in getting oil flow to the cam lobes before the oil heats up. The cold oil is initially thick (low viscosity) resulting in high-pressure drop across the filter. The oil bypasses the filter (increasing flow) until the oil heats up and thins out allowing the bypass valve to close, resuming filtration. Both devices help minimize wear during cold start. Anybody want to lose 2 pounds of ugly weight off your nose?
From Ron Whetsten, Battlefield, MO
OIL FILTERS: If anyone is interested in changing the crap-paper oil filter on their Revmaster to a spin-on, it is extremely easy. Remove the old filter canister and the large nut at the base. Now you are ready to screw on a new filter and enjoy a much better system. In my local area, STP-1 or Motorcraft FL-1A filters have logged hundreds of hours on Revmasters.
Any new filter that you use MUST contain a bypass valve otherwise, if it should become clogged, you could split the filter case and experience an instant, severe oil leak. Not good!
REGULATOR RECTIFIED: If you are having excessive high/low voltage variations from the voltage regulator on your Revmaster (I lost a Nav-Com to one), visit your local Kawasaki motorcycle dealer and purchase a regulator/rectifier unit, part number 21066-029. It's color coded correctly, will bolt right on and it works very well.
From Fred Wemmering, Fayetteville, NC
My original Revmaster "toilet paper" filter failed twice, once when the small O-ring broke and blew out a quart of oil during a static run-up and the second time when a crack developed on top of the filter. In summary, an unreliable filter system and potential disaster. I took some measurements off the mount, went to an auto store and found the Fram PH-43 to best fit the measurements as well as fit under the cowl. I have 120 hrs. on the engine using this filter and it is doing the job. These comments only apply to my stock Revmaster 2100DQ engine with standard air intake.
I am using Valvoline 20-50 Racing Oil in my Revmaster with good results, however, cold weather starts without pre-heat can be a problem.
Bruce Wood and Marvin Getten have installed a system of floating the brake disc. I would like to see comments from other Q-2 builders who have tried this system.
Years ago we lamented with the Edsel owners. Now that Revmaster Aviation is phasing out we Q-2 owners have been kissed on the other cheek; however, I don't believe we have a collector's item, but more like an albatross around our neck!!
From Bob LaRue, CA
Q-2/200 brakes have been the cause of problems for many operators including myself. Fortunately I received some help from an engineer who formerly worked for Hurst/Airheart. He said, "There is nothing wrong with the brakes, you just need a better mount". Then he explained how to make the proper mount.
With the help of my good friend Lynn Kavffold and his drill press, we fashioned the mount. The mounting plate is bolted directly to the wheelpant - without offsetting washers - so no structural modification is required.
I have well over 100 hours on these brakes and they always take hold evenly. There has been hardly any wear on the pucks, so I expect many more hours of reliable operation.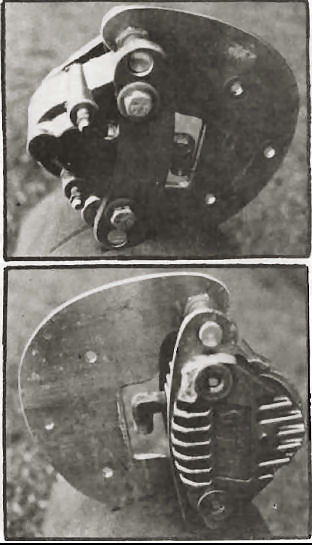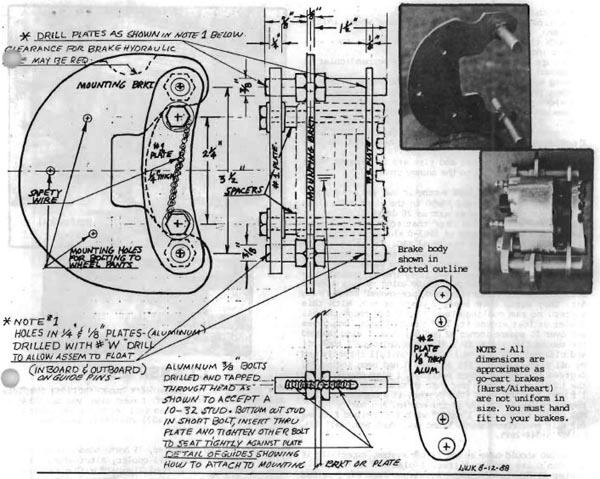 Dear Jim:
Q2 84JS has been flying for 15 months. I've had a lot of fun and would encourage all builders to "FINISH YOUR AIRPLANE"! As of this writing, 87 different passengers have been given rides. The plane has been flown over 170 hours making 270+ landings.
In March of this year, a valve stuck open upon departure (116 hrs. TT). I was able to climb slightly, make a 'U' turn and an uneventful landing. Following that episode, the old 64 hp heads were replaced with 75 hp ones. At the same time, the exhaust system was changed. The 2 pipes that cross over in front of the engine were cut off below the cuff. Using the old heads as a model, the local muffler shop bent new pipes for me ($40 and 1 day). Now the right side has twin pipes. The left side pipes were not altered except to cap the two holes left open by removing the crossover pipes).
Cylinder head temps taken at #3 cylinder have now dropped from 425 to 350 degrees F. I feel changing the pipes was responsible for the drop in temp, even though the cylinder heads were replaced at the same time. No difference in performance between the 64 and 75 hp heads was noticed. (155 mph, IAS cruise with cowl flap closed, 148 mph with it open on an 80-degree day). The valves don't need to be adjusted as frequently because the new heads have steel inserts.
My oil temps continue to run 215 F. with the flap wide open and higher if partially or fully closed. Several attempts were made to rectify this. The final solution is worth mentioning for others who may have the same problem:
I recently found that a hole in the oil pump had not been plugged during the conversion from auto to aircraft. My engine has the oil cooler and filter option. After explaining the problem with constantly high oil temps to Alan at Revmaster, he suggested I check the pump. To do this, face the engine; remove the 4 Allen bolts that attach the filter bracket to the engine (directly below the prop). Behind the oil filter attachment is the oil pump. It consists of 2 cogged gears. The cylinder shaped pump can now be slid out. A large hole (approximately 5/8") in the cylinder housing should be located on the lower right (facing the engine). The smaller hole (3/8") opposite it (upper left) should be plugged. Mine wasn't. After verifying this with Revmaster, the smaller hole was tapped with 1/4" pipe thread and a standard plug put in. My oil temps now run 175-195 degrees F, depending on cowl flap setting and outside air temps (80 to 100 F this summer).
Apparently the oil was not actively circulating through the cooler and filter. Closing the smaller hole blocked the circulation from within the crankcase and forces all the oil to circulate through the cooler and filter and back into the front of the pump.
I would be glad to give any builder visiting North Central Iowa a ride (phone 515-573-1198 home / 515-955-4600 business).
Cordially yours,

John A. Schnackel, 2905 20th Ave. N., Fort Dodge, IA 50501
From Mitch Strong, Batavia, NY
Tri-Q tips for those who have had nose wheel shimmy problems:
1. Check tightness of firewall flange bolts - they will tend to loosen as the wood compresses.
2. Be sure the nose gear is perfectly perpendicular to the ground (left to right).
3. Keep nose tire pressure up. If the wheel starts to shimmy, that wimpy nose wheel fork will flex and allow the wheel to lock up. Mine did and now Mr. Warnke is in possession of another $450 of mine. Using 1/8" stainless steel, I sawed out two 1/4" wide wishbone shaped reinforcements that also incorporate the wheel pant tabs. These were welded on each side of the nose fork. No more flexing.
4. Make sure your wheel and tire are in balance. Mine weren't and that added to the shimmy problem.
OIL COOLING PROBLEMS - Semi synthetic oil was a hot topic at Oshkosh '88. Aero Shell 15W50 in the black bottle MAY reduce you roil temp by as much as 20 degrees.
I built an "oil-cooling loop" that solved my oil temp problems. I bought 5 feet of 3003-0 aluminum tubing and had the ends flared at the local FBO. I bent it into a kidney shape and cushion clamped it to the top of my 0-200 cylinders and case using brackets made from 1/16" aluminum angle. I then plumbed it to the oil cooler ports on the back left side of the engine using -6 fire sleeved Aeroquip rubber lines (free and "pre-owned" from a King Air. They scrap them every 2 years or so). With this system, no ram cooling air is bled off through the oil cooler or lost around it. 3/8" tubing 5 foot long gives you over 70 square inches of cooling area. I also painted the tubing flat black. On a 91-degree OAT day, I took off and climbed straight to 11,000 ft. at full throttle and my oil temp peaked at 195 degrees. I had been seeing 230 degrees at reduced power settings. I plan on replacing the tubing every other year just in case it work hardens. I'm very pleased with this system, it's cheap and I can remove it easily for the winter months. And so:
FOR SALE: oil cooler, 1"x4"x8" with 3/8" barbed fitting for slip on rubber tubing. Brand new, cost $80, sell $35. Call 716-344-2695.
The 0-200 should have an oil filter system, especially if you don't use an air filter. I plan on installing a system as detailed in Sport Aviation, Jan. '87. I talked with the author who said the picture on page 28 was printed upside down. The kit is available at most auto supply stores. Including the filter, it costs around $30. Ask for the Fram HPK-2 remote oil filter installation kit and use a Fram high performance filter only! It's tested to something like 500 psi. This system may be tied into your oil system at the ports on the left rear side of your 0-200 engine.
ED. NOTE: The mention of Aeroquip in your letter reminded me that Aeroquip has been frantically sending out Recall Notices on their 601 hoses manufactured since April '84. These have a braided steel exterior over the rubber. Call Aeroquip at 1-800-541-1696 for more details.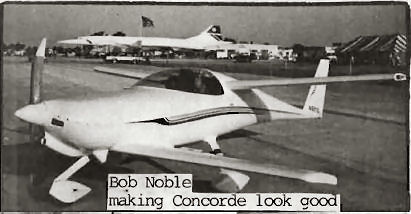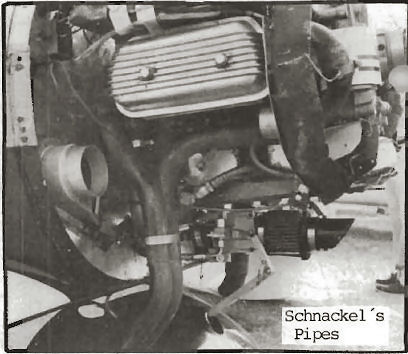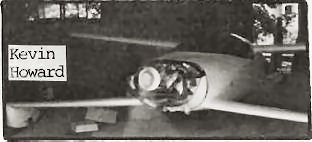 ---
You can order a PDF or printed copy of Q-talk #11 by using the Q-talk Back Issue Order Page.