Q-talk 3 - QUICKIE HINTS
Details

Category: Q-Talk Articles
Published: Thursday, 30 April 1987 07:11
Written by Jim Masal
Hits: 6837
Terry Crouch photographed this QAC modified engine block in which the studs had been over-torqued thus yielding the block material around the stud holes.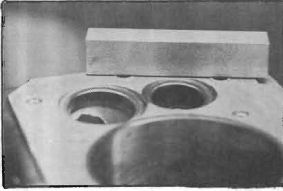 From Tom Curtis - Coalmont, TN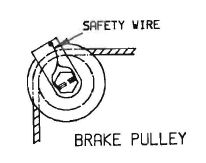 Safety Quickie wheel brake pulleys by drilling a hole in the bolt head then a hole in the cable guard itself. Fine safety wire between the bolt and guard will hold the bolt from backing out.
My flywheel came from a 150 hr. engine on another Quickie. That owner had complained of vibration problems. I balanced the flywheel as follows:
The depth of the balance holes had to be increased to balance the flywheel. On my new Onan engine with this balanced flywheel I get a smooth idle, it's fair at full power and vibration is bad in between.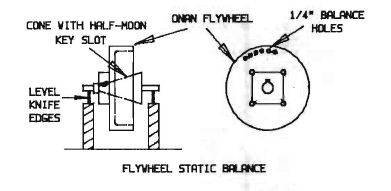 You can put a router to good use carving the contours in the Quickie fuselage and getting a nice even curve to the corner fuselage joints: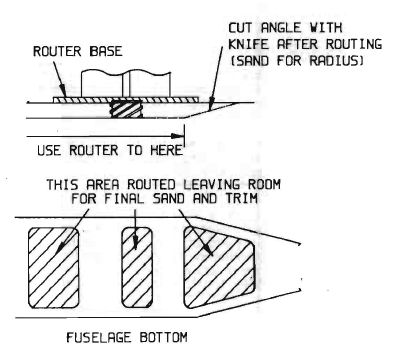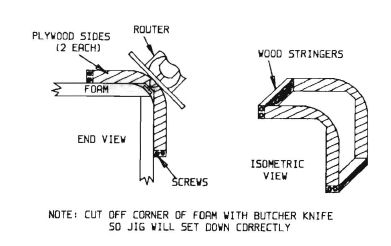 Making the front cockpit cover (and main wing fuse cover) on the Quickie is difficult with the PVC foam supplied. A big problem is that the firewall curve is much different than the curve in the instrument panel.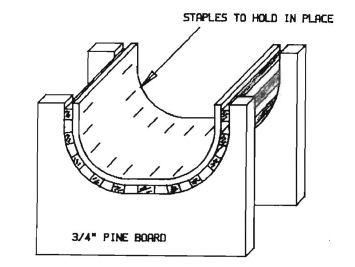 If you duplicate the differing curves in pine boards and connect them with "stringers" you can press in some 1/4" white urethane foam. It's pliable and can be fixed in place with 9/16" staples, then glassed.
From Charlie Lipke - Onalaska, WI
Regarding the tailspring to fuselage joint, plans call for a 3 BID on the exposed rod, and 3 UNI around the outside of the fuselage and up the side of the vertical fin. A surface paint and filler crack developed during my taxi tests and under continuous inspection, I flew with it. The rod never cracked, but it flexed a lot. Eventually I took it home and repaired it the way I think it should be. What I did was kind of wrap it cross-your-heart style around the spring and then up the side about 3 inches (see photo pages).
On landing my Quickie, I have found it best to have the stick full aft at touchdown. It certainly eliminates any bounce. When I touch down on the mains first (stick not full back), I get a slight bounce, but if I continue stick motion aft, she'll settle right down the second time. If the bounce is a little high, I add just a few rpms to help ease it back down.
Someplace I read that if you put just a drop of red paint on your cables just next to the Nicopress sleeves you can easily tell if the cable ever slips.
Dear Jim,
My last letter to you about 2 years ago was expressing in desperation my extreme frustration with Gene Sheehan and Onan engines after 3.5 years of building and finding I was taking my life in my hands every time I flew it. I write now in a much more elated state of mind.
The news from the Deep South is that my "Quick Robin" plastic fantastic was successfully fitted with the first Fuji engine. After much trouble with belt drives, prop matching and an engine meltdown due to a faulty CHT, I surveyed the possibilities of a Rotax on a trip to Canada last year. This was successfully fitted, and now the "Toy for Boys" yields a sea level top speed of 128 kts. at 6800 rpm reduced 2 to 1. Climb at 75 kts. is 1200 fpm and at 118 kts. the fuel burn is 2.25 gph. Takeoff run to clear 50' with a 5 kt. wind is 225 yds.
I completed all my paperwork for submission to NZ CAD in late Oct. and despite sterling work from individuals within the system, I have not as yet received their permission to fly. The bureaucracy in New Zealand competes with the best in the world for DRAG, and maybe is on a par with our yacht in the America's cup series at Freemantle. Of necessity, therefore, the performance figures given above are wholly and totally related to an Alien Star Warship seen coming into and out of Warp drive around this nuclear-free paradise in the South Pacific. Will advise when everything becomes legal.
A. J. L. Macdonald - Dunedin, NEW ZEALAND
(ED. NOTE: What model Rotax does the warship have?)
Dear Jim:
The saga of installing a Kawasaki engine in my Quickie has ended. Two partial failures on takeoff and two complete failures in flight sent me the message that I shouldn't press my luck further. I don't feel good about it.
After 2 in-flight failures we had no spark (the CD ignition failed), possibly cooked from the high temps in the engine compartment. We can't get it conveniently checked out, but I can see costs approaching $400 for a fix.
Onward and hopefully upward. I have written to Great American Propeller and Prince Aircraft hoping to find a more efficient prop than the Cowley; something to get the Onan off the ground even though cruise may be slower. Anyone have any advice on props for the Onan?
Art Kreutzer - 1 El Morrow, Port St. Lucie, FL 33452
Ed. NOTE: Advice - a 2x4 might be as good as some of the Cowleys I've heard about. Great American is one outfit that gets wide praise, but let's hear the others, guys.
From Paul Wright - London, England
My conscience was pricked to write, as I've offered to three times before. Why have I not written? Read on ...
Work progressed well, clearing many "Fiddly" things like canopy, cables and control tubes. Then it came to installing the engine, and I realized that I had absolutely NO knowledge of Aero Engines at all, apart from that learned from my PPL course. So what to do?
Through the grapevine, (an essential part of all Q builders' equipment; is left growing by the telephone), I learned about E.M.K. Aeroplanes, as Don Johnson's inspector (G-OICI), owns the company, and they specialize in old and one-off aircraft. It has turned out that they've been heavily involved with Q-types, having built the Q-200 from start, and are about to finish another Q-2 and have another kit that they've already started on. So, after a long chat with John Evetts (EMK), it was decided that I give my Q1 (G-BMVG), to them for finishing work on engine and airframe (weight and balance, control checks, that sort of thing). Dare I admit that I'd rather be flying than building?
So, on a trailer my little bird went, and up to their workshops at Stevenage. It was about this time that you last heard from me. (4 months ago?). There it sat, with various small tasks being completed in between the first 50 hours flying of the Q-200 (G-BMFN), and the continuation of the already started Q2 (G-BOBS), all of which I was now watching with a lot of interest.
The cowling you sent fits well, with some "Minor" modifications. As you have done, we put the cowling over the top of the front fuselage decking. The Global engine started easily in the airframe, but it will not be run up to full power yet until I have the cowling firmly in place.
I have modified the panel shape from the plans, to get a little more panel space. I'm using a lever throttle (mixture control from a rather 'Butch" looking throttle and mixture quadrant from Aircraft Spruce). But my only real innovation that you might not have heard about is the use of a self-locking lever from the trim. These are also available from Aircraft Spruce, and are a hefty looking piece of kit.
Other items include wide wheel option, scrubber brakes, all as per plans. My panel is mounted to the fuselage in 5 places; all sprung.
I sent my Onan cowling to Jean-Charles Ferry in France; and have heard nothing from him (but that would be the Pot calling the Kettle Black). I believe he's putting a Citroen Engine in his Q1.
Tony Whalberg is coming on great; first flight later next year (soon be this year - where does the time go?). Martin Burns has about 60 hours on his Q1, just under 50 since he rebuilt the Onan. He has been trying to convince me to put even SOME Vortex Generators on my Quickie, but surely I have enough power to poke through any light rain?
On a slightly less optimistic note.....Peter Cheney has not flown since Cranfield, I believe, and is thinking of selling his Quickie for a light 2-seater (Jodel?) of some description. I don't know what; I lose track of all the variants of these strange airplanes with the elevators at the wrong end!! I am trying to get him to stop being pessimistic and not be frightened of flying his Q1; but then we wouldn't be building Q1's if it wasn't a free world; and the choice rests with him.
One thing is for sure. After talking to Tony, Martin and Peter; every Q1 has its own "personality"; with Martin's being far easier to handle when changing from flight to high-speed three-wheeler vehicle. (This difference from Martin who has flown both...words mine).
Just got off the phone to my friend in the tower at Blackbushe Airfield, and the Q2 built in Dubai by a British Airways engineer (I think), has finally being doing circuits, (presumably for the issuance of a full Permit to Fly), after languishing in the hangar for about three months. He has it painted in British Airways colors, (that's Concorde Colors to you Americans...).
Happy landings,
From Mike Conlin
These drawings may be of interest to someone.
The flywheel puller is easy to make if you have access to a milling machine or a drill press and band saw.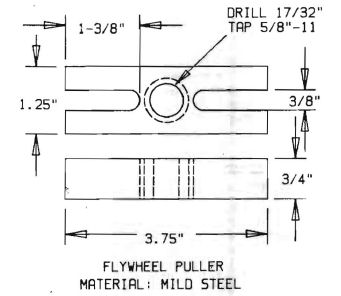 The shaft for balancing Quickie flywheels would require a lathe with a taper attachment to get the angle.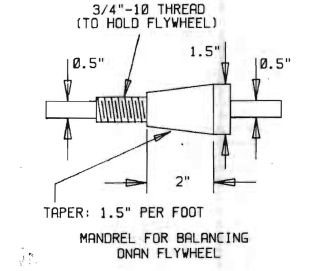 Inlets and outlets on the carb heat box will fit better if the tubing is pushed into the foam at angles before glassing.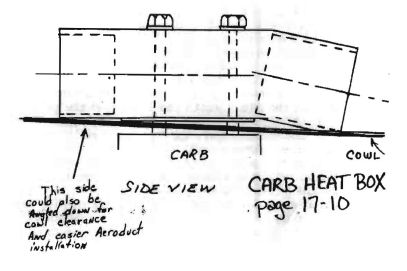 The back side should be angled toward your incoming Aeroduct hose while the front inlet can be angled down to provide better cowl clearance.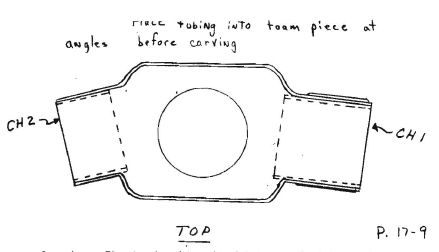 From Will Hubin - 719 Cuyahoga St., Kent, OH 44240
One interesting experimental method for investigating the practical L/D for an aircraft is to take airspeed vs. rate of descent data. I have done some of this for both a Cessna 152 and our Quickie. The Quickie data have large error bars because I had to time descents through a 1000' altitude loss (glide ratio is obtained from the angle of descent which is obtained from sine of angle = rate of descent divided by airspeed). The results suggest that our Quickie obtains its greatest L/D at a surprisingly high speed. I would be very interested in similar data obtained by other owners for their Quickie/Q-2/200's.
I suspect that our highly loaded canard has its best L/D at a very high speed and this shifts the L/D curve for the whole aircraft. We do have 1/8" reflexed ailerons which have made the machine noticeably poorer in approach - speed glide angle and takeoff climb angle, but have helped greatly to tame its landing obstreperousness.
From John Hicks - Mary Esther, FL
It took me 4 days to exchange a perfectly good Onan with 20 HP heads for a brand-new never-run QAC modified 22 HP engine (with the Anderson/Little top baffling).
Here's how the 22 compares with my original engine: Takeoff was 250' less, max cruise CHT was 225F (down 50 degrees), oil temp 225 (down 25 degrees), oil pressure 28 psi using Castrol 20-50. Climbout CHT didn't exceed 300 F at 75 mph. I'm using 100 octane L.L. I am convinced top baffling is extremely important.
I have 3 props: the Cowley 42x30, a Ritz 42x27 and a 44x27 Cowley. I much prefer the latter, but I change them around every once in awhile to check them again.
Though my top speed is 115 mph (5 gal. and me at 205 lbs), I enjoy cruising at 92-95 mph and 3,000 rpm (best L/D). It just feels best all around.
ED. NOTE: What OAT were you flying in? If you didn't have top baffles on your original, how can we compare temps fairly between different heads?
Dear Jim,
My Quickie is a great delight and should really have flown more than the 100 hrs. it has. The Rutan designed 460 lbs., 18 hp Quickie is a superb optimization of the original Jewett and Sheehan specification. It is our dreams that have demanded more and our efforts that have achieved far more than was originally expected. (ED. NOTE: I beg to differ here inasmuch as I have a whole file of over-optimistic advertising hype shoveled out by QAC from day 1. That is, at least, where MY dreams were born and fueled, and to say anyone has achieved FAR MORE than what was intended is really stretching a point at least as far as QAC used to do itself). I seem to remember words like "fun plane" and "not suitable for international flights." (ED. NOTE: I remember, and I quote: "Ground stability compares favorably with the most docile taildragger; the Quickie has been flown in winds of 50 kts., " and in rain "our performance testing to date has shown no change in minimum or maximum speeds, and climb rates appear to be the same within 10%." "Maximum speed with 18 hp is 127 mph, with a ceiling of over 13,000 ft...an option that raises the Quickie's horsepower to 22, and transforms the Quickie into a 140 mph aircraft with a 15,000 ft. ceiling and a climb rate of 600 FPM...complete the Quickie in approximately 400 man hours." I could go on. Suffice it to say that these dreams weren't made up in MY head, and so I reject your argument). For a bunch of amateurs we have probably done well to achieve what we have. (No kidding, ED.) The more professionalism we can bring to bear the better and safer will be our machines and ourselves. In the absence of operational directives QUICKTALK is our only forum. Thank you for maintaining it.
N. S.Silyn Roberts - Auckland, NEW ZEALAND
From the Editor:
The Onan engine is somehow gaining a poor reputation in the hands of Quickie operators. Let me point out that the Onan has been and IS the most reliable, successful engine used in the Quickie to date. The fact that it is a marginal power source for what we need it to do, or that it overheats as we have baffled it, does NOT make it A BAD ENGINE. If you put a VW motor in a full size Cadillac and expect to drive the freeways, DON'T BLAME THE ENGINE. I hope someone is keeping an eye on the Onan people because they may come out with a reliable 30 hp sooner than anyone else and we may not know it happened.
From Jim Masal, Editor
Fate is the hunter. I feel just like Glenn Ford's character in the movie of the same name... cuts, scratches, bruises and a nagging bewilderment about how it all came to be. Near noon on this Memorial Day I experienced the last element in the full scope of the Quickie phenomenon when I plowed the Global Quickie inverted into a muddy wheat field 50 yds. west of centerline of a 9,000' runway at Grayson County Airport near Sherman, TX.
It was a gloomy, gray morning, the third in a row on that anticipated holiday weekend. Giles and I had been trying to get together to test fly some engine adjustments he had made. The plane had for some time acquired the annoying habit of quitting with no warning during taxi operations. In the air, it always ran fine. Bob felt he had licked the problem and invited me up to see.
We arrived at the airport and the weather was just VFR, scattered light showers about, but very slowly improving. I did my usual careful pre-flight (I always treat the Quickie like a snake), decided the weather around the field was flyable, and proceeded to taxi around the ramp to warm the engine. The brakes were out of adjustment again. There were puddles around and I didn't take pains to avoid a large one on the right side as I headed toward the runway. Bob keeps the bird waxed well so the right canard shed the spray real well. But it bothered me. As I rolled onto the runway I decided NOT to fly, but do a high-speed taxi to dry it off. I rolled 6,000', getting it just to where it wanted to fly, then throttled back and taxied off with a dry canard. The engine felt strong, and it tracked straight even with the slight crosswind. I taxied back to the north end and went for it.
The plane climbed well and I passed some filmy scattered cloud at 1000' on my way up to 1300'. In order not to miss a chance to experience a wet canard again, I pulled around and entered a misty veil of a cloud over the field. I got what I experienced with this aircraft in a driving rain once - slight nose down requiring firm back stick. In an instant I was in the clear again and I entered the pattern for landing. Approach was normal and landing was uneventful. I taxied back and reported the results to Bob but noted that the brakes stuck. Bob jumped in and taxied about, adjusting the brake turnbuckles in the cockpit. He did a short taxi down the runway but didn't want to fly so he came back and asked if I did. Sure.
As I taxied out again, I deliberately avoided puddles but had to just clip one with the right wheel at low speed. I looked and didn't see any spray. On the runway now, I powered up just fine watching for liftoff IAS as Bob had recently changed airspeed indicators. As speed approached 70 IAS the plane slowly started easing to the right (crosswind, I thought) then became airborne. I noted that it stopped climbing for an instant at 6-8' (I'd felt THAT before) and continued going to the right. In the next two seconds, the plane started a roll to the right, which I was unable to arrest. I had just time to pull the throttle and wince before I hit nose down and slid to an inverted stop. 70 to 0 in 2 seconds. My immediate relief at being conscious and hanging by the shoulder harness was instantaneously killed by the slooosh of 7 gallons of fuel rushing out from between my legs. Oh God! Somebody get here FAST. I knew Bob was watching the flight. Gotta MOVE. Break out the canopy. Unlatch my belts. Struggle to get my knees on the ground. Where's that blood from? Gotta get this plane off me. Push up with my shoulders and neck. 6-8" and it budges no more. Not enough. Try again...again. Shake 'n bake, Bob, I don't like this gas. How long can a minute last when you're thinking about it? In 3, I hear a car door fly open...the tail goes up and I tumble out onto muddy sludge like a newborn babe: wet and bloody and whole. HE had had me in the palm of his hand, but it was just a lesson this time.
I felt like an old shoe, scuffs, scrapes, nicks and cuts all over, but I cleaned up just fine and a box of butterfly closures and a can of antiseptic kept me out of the hospital. I didn't walk free, but I walked cheap.
The plane appeared to me later to impact at the left canard root, snapping it off and crushing the cowl in that area. The left wing snapped at the outboard aileron pivot BL. The tail was intact but the rudder was off.
What happened for sure has not yet been discovered. There are only questions. Crosswind? I felt no gust, just a deliberate roll. Moisture on the right canard? I didn't see it. Why couldn't I stop the roll? I have 45 hrs. in this Quickie, 90 in type and 2900 total. Surely I can fly this airplane if it's intact and I didn't feel anything come loose on the roll. If it just stayed straight, I had 8,500' to do my thing.
SOME of what I learned: A cockpit fire extinguisher is not just nice, it's GREAT. If you flip over, you ain't getting out unless you have an axe to chop out. You have to fight a fire in position until rescuers arrive. The fuselage fixed instrument panel keeps your feet from pulling out of the hole; I could only get my knees on the broken canopy to push up. Last official word I heard was that moisture on the canard of a Quickie is just like ANY aircraft: you get a slight pitch down.
The bruises are healing so you guys are still in for more of my Bravo Sierra in the pages of Q-Talk (good thing I had this mostly done before the fat package of forms from the NTSB arrived!)
---
You can order a PDF or printed copy of Q-talk #3 by using the Q-talk Back Issue Order Page.