QuickTalk 25 - Q-TIPS
Details

Category: Q-Talk Articles
Published: Tuesday, 31 December 1985 06:11
Written by Jim Masal
Hits: 1079
From Jim Masal
Despite the boast that Q's can be completed with only a few common tools found in the typical garage or kitchen, the more tools the better. But at what cost? Enter HARBOR FREIGHT SALVAGE CO., 3491 Mission Oaks Blvd, Camarillo, CA 93010-5096. Phone 800-423-2567 toll free or 805-388-3000. This is a large tool disposal/salvage company that periodically sends out notices with great prices on all kinds of tool goodies we need (air tools, power tools, wrenches, etc., etc.) This isn't always premium quality stuff but it's very adequate. Call or write and get on their mailing list today. Do the same with U.S. GENERAL SUPPLY CORP., 100 Commercial St., Plainview, NY 11803 (hand tools), and PRATCO INC., Lot 4 Pratten Dr., Cleveland, GA 30528 (air tools, compressors, band saws, etc.) 1-800-241-0701.
Bondo is made up of talc powder and polyester resin. If yours gets too thick, add some resin from the auto store; if too thin, mix in some micro balloons or flox.
When cutting off tiny sections of spacers from 4130 steel tube stock, you can get square ends and accurate lengths by using an inexpensive pipe cutter from your hardware store.
From Vic Sharpe in HAWK TALK #10, Leg-Air Corp.
To make cutting BID tapes easier and faster...Roll out your BID on a ...table at least 8' long. Cut 1 BID strip on a 45 degree bias about 3' wide. You will need a tube about 2-3" in diameter or a 1x4 board with a very smooth surface. You can cover the tube or board with Mylar or plastic, anything to provide a smooth surface. Starting at one corner, roll up the BID strip you cut onto the tube or board. Be careful when rolling the BID...to keep the bias lined up. When completed, both edges of the 3' wide strip should be lined up parallel with (each) other and the BID should resemble a cloth tube. Carefully remove the tube or 1x4...and store the BID on a shelf to keep it clean. By doing this, you can then cut off whatever width of tape you need by just snipping off of what you have rolled up.
From Tom Gordy
With time on my hands and for no particular reason, I laid up a couple feet of BID strips in various shapes: one over a 1x2, one half on and half off a ruler and one inside an angle.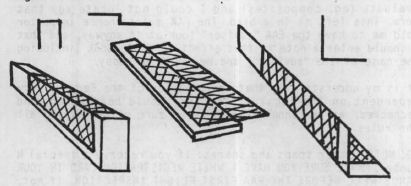 These shapes came in real handy as my project progressed when I needed various brackets etc. I just cut off a hunk of whichever one of these fit the job at the time. Once I had them at hand I could figure out all sorts of nifty things to do with them.
From Bob Bird #2556
The primer/filler I like is Dupont 131 S. It fills greats and you can build with it to a degree. You'll like it.
From Ted Fox #2855
If you purchased the STS model 7600 hand-held radio and are now frustrated because you can't use your headset, drop me a line or give me a call and I'll give you the dope on an electronics firm that makes a very nice headset patch cord with the PIT switch installed. Write me at P.O. Box 23, Mansfield, OH 44901. Call (419)) 756-8142.
From THE CANARD PUSHER #45, Rutan Aircraft Factory
We recently obtained a new product called PR-88. This is a hand cream designed to act as a barrier against virtually anything a builder might work with. We have found it to be absolutely excellent particularly when working on a dirty greasy engine, or when painting or working with epoxy. We find it works best if you wash your hands quite often, say once per hour, during a particular job...This barrier cream is the best we have used. It goes on easily and is not sticky and in fact once it has dried, you do not know you have it on. It is available from both Spruce and Wicks.
---
You can order a PDF or printed copy of QuickTalk #25 by using the Q-talk Back Issue Order Page.