Q-talk 155 - C-GMBK Rebuild Progress Report
Details

Category: Q-Talk Articles
Published: Wednesday, 24 October 2012 16:12
Written by Calvin Thorne
Hits: 3539
by Calvin Thorne
[EDITOR'S NOTE: In Q-talk Issue 148 we posted an article about Calvin Thorne's puckering experience of having the engine go silent over the mountain forests of British Columbia, Canada. Calvin survived the ordeal, and the ham fisted firefighters who hacked him out of the fuselage, and he's making very good progress on the rebuild.]
This aircraft I purchased in the summer 2011 and enjoyably flew in Abbotsford BC with the assistance from two very nice local Q2 owners. Upon our return home I planned to fly it and do rebuilding of various components. Building sandwich skin constructed aircraft has been a hobby for me for fourteen years. I had the great opportunity to fly with Q2 owners in three aircraft before bringing this aircraft home to the Springbank airport in Calgary Alberta Canada.
Unfortunately I had an engine outage and forced off airport landing on the highway in the Rocky Mountains of BC. No damage to the engine or front cowling area occurred. Port wheel pod sheared off and a little damage to canard tip. Port elevator and aileron damaged. Port side of fuselage deeply cut into by sign pole that sheared into fuselage side. Interior seat and main fuel tank reconstruction required. The aircraft reconstruction started sooner than I had anticipated in February 2012.
Due to the damage that I caused to the aircraft I have been able to examine and rebuild/upgrade numerous pieces of the original construction. Last-A-foam is my choice for core material and I have incorporated carbon fibre along a few major seams for more strength. I stripped every removable part plus nuts/bolts and fittings on the aircraft, this is going to be a total rebuild. Documentation of all parts repaired/rebuilt is being logged, hours are not being tracked.
Aeropoxy is my choice for epoxy although I use Wests systems when faster cure time is required. The broken open fuselage allowed me to cut back the fuselage in a manner that would result in best strength from the new material formed. I'm happy that I would be reconstructing this whole area. Cutting the fuselage apart and re-fabricated a section of the fuselage between the panel and the seat back bulkhead proved to be an excellent process with excellent result.
A new seat back bulkhead was fabricated with my own new style of removable baggage access panels which are slightly larger than the originals. New rudder cable conduits and cables were installed. I have installed two separate cables in the tail cone for rudder and for tail wheel steering. A single cable coming from the forward section is joined to two in the tail cone. The cables to the tail wheel have conventional steering springs inline, one on each side within the tail cone. Main wheels have been overhauled, cleaned, rotors turned and new brake pads installed.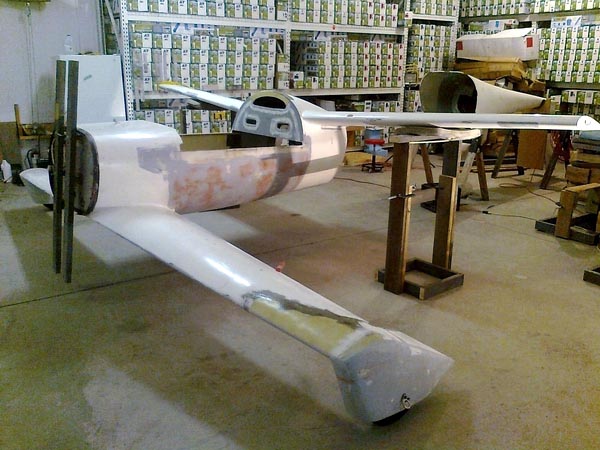 The main fuel tank has been rebuilt and installed into the airframe. Both fuel tanks have been tested and are leak free. Yahoo... I have installed a capacitance (Sky sport) fuel sender into the tank as well as a 1.5 inch stub aluminum tube on the far right side of the tank. A flush fuel filler is installed on the right side of the fuselage with a stub on it to connect to the tank using a short piece of 1.5" fuel hose.
Once the fuselage was repaired I began on the next major damaged area. The left canard tip was damaged when the left wheel pod was sheared clean off by that very unforgiving sign pole. These two items have been repaired after a lot of man hours and detailed work. I decided to improve the brake line routing which was bonded permanently into the wheel pod. Since I had to redo the left one I figured I might as well do both. Why not! Now I have a short conduit in each wheel pod so the brake line can be pushed through the wheel pod conduit to reach the brake calliper.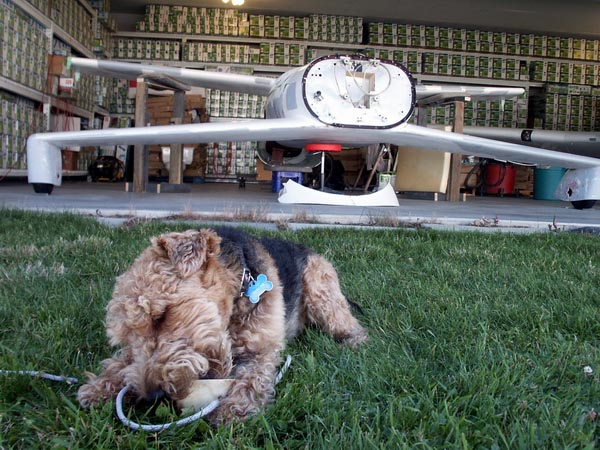 My opinion is that this aircraft was very well constructed, it is a very sound aircraft from what I have seen as I have opened her up for surgery. The panel has been rebuilt to accommodate a new format of instruments and a new layout. This will basically be four conventional flight instruments on the left and a MGL E1 engine monitor, exhaust temp gauge, compass, and fuel gauge on the right. A 2 ¼ inch com radio on the left side and one (later) in the center section of the panel.
The major airframe components have now been reconstructed but there are so many more things to do. Some of the things to be completed prior to my June 2013 deadline are, install and wire instrument panel, build new canopy frame for my new canopy in tip forward design. I have a complete new top end for my Revmaster 2100D and new cylinder heads with auto plugs, to be installed.
Are we having fun yet! You bet I am, just ask my wife who I am very fortunate to still be married to. Photos can be viewed at the web page noted below.
http://users.xplornet.com/~vision/44/tailfeathers.html
Calvin Thorne
Q2 Rebuild Progress (C-GMBK)
September 25, 2012