Q-talk 84 - Nov/Dec 2000 - index
Details

Category: Q-Talk Index
Published: Sunday, 31 December 2000 06:11
Written by Tom Moore
Hits: 1822
NOV/DEC 2000
ISSUE NUMBER 84

---

QUICKIE BUILDERS ASSOCIATION

---
GOODBYE 2000, HELLO 2001
by Tom Moore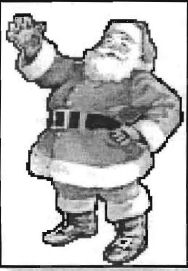 Well there goes another year for the QBA, and in my book; 2000 goes down as a good one. I have a simple test for judging good years. If we had any first flights, it was a good year. 2001 looks to be good also. There are several guys already doing their taxi tests or getting very close to it.
For the QBA, 2001 will be an extra special year. Next year will be the 20th anniversary of the QBA and the newsletter. It would be interesting to know how many planes made it to a first flight due to the continued support of a newsletter showing up every two months since 1982. I know I would never have been able to keep motivated without receiving the regular motivational boost you get when the newsletter arrives. Getting a newsletter in the mail really kept me going. I would walk in the house and immediately sit down and read the newsletter myself. I really missed that enjoyment from seeing a new issue in the mailbox.
Back in 1995, when I had a chance to take over the newsletter, it gave me an opportunity to give back a portion of what the newsletter had given me. I thought at first it might slow my building down, but it wasn't the case. Doing the newsletter brought me in contact with so many more builders that it motivated me even more. I hope that I have accounted for a few first flights that may not have occurred if the newsletter had stopped.
These six years have been special for me, but it's time to pass on the torch. Dave Richardson has offered to take on the responsibilities of the newsletter. Starting with the JAN/FEB issues of 2001, Dave will be the new editor of Q-TALK. I don't think we could have found anyone more motivated than Dave to take over the helm.
This will give me an opportunity to write some articles about my plane that I didn't find the time to do. I hope the rest of you will make an extra effort to supply Dave with some articles. It's always an ongoing challenge of the editor to get articles, so we need to help Dave out and send in something. It doesn't have to be big. Take some time and look at your project and find a few items you could do an article on. Make a list of subjects you could write about and then select one and write about it. If you can send along a few pictures, it always helps.
Since this is my last issue to publish, I've taken advantage of it and put a picture of my plane on the back cover. I know that it would never have been there if it wasn't for this newsletter and the QBA members. Thanks go out to all of you who have helped out.
For those of you still hanging in there, KEEP BUILDING, IT'S WORTH IT!!!

QBAers,
This is your last issue of your current subscription for this year. It's time to renew for 2001. The rates are remaining the same as they have for the past few years. Please help Dave out by renewing early. Thanks.
$20 US
$22 Canada
$26 International
There is a NEW QBA address for 2001
Send in your renewal to the following address:
QUICKIE BUILDERS ASSOCIATION
3706 Vira Road
Stow, Ohio 44224
THE Q-LIST HAS MOVED
The QBA's Internet e-mail list server has moved to a new location. If you were on the old list and you haven't signed up on the new list you are missing some good info. If you have access to e-mail and you would like to sign up on the list, the information is below. Take advantage of this great tool for communicating with other builders around the world. There is no need to have questions about your project that you can't get answered.
The QBA mailing list is an Internet e-mail service that allows a person to communicate with other builders and flyers. A builder with Internet email service simply sends a question to the mailing list.
The message is automatically sent to all other members of the list.
The list has been developed to create a forum for all builders to ask questions, receive helpful tips and communicate information regarding the Quickie series of aircraft.
To subscribe to the regular list, send a blank message to: This email address is being protected from spambots. You need JavaScript enabled to view it.
To unsubscribe from the regular list, send a blank message to: This email address is being protected from spambots. You need JavaScript enabled to view it.
Other Articles In This Issue
---
You can order a PDF or printed copy of Q-talk #84 by using the Q-talk Back Issue Order Page.