Q-talk 75 - LETTERS
Details

Category: Q-Talk Articles
Published: Friday, 30 April 1999 07:11
Written by Tom Moore
Hits: 2989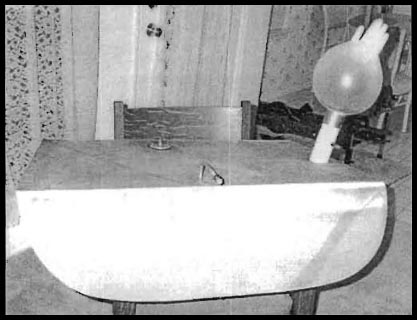 NECESSITY IS THE MOTHER OF INVENTION - Al Kittleson built an auxiliary fuel tank externally and then installed it in the baggage area. He was able to perform a leak test prior to the installation and correct any problems that may have shown up. I guess Al didn't have the industry standard balloon available.
Dear Tom,
Finally the new Rotax 912 is undercover. This change added another 365 days to my project. It is now time to test fly my millennium "Q-912". I have learned a lot of new things while making the moulds for the upper and lower cowlings. Now I have everything to complete my Q-2 project. Just a few more rainy weekends is what I still need.
Best Builder's Regards,
Rude Brandenberger, Wilmslow, Cheshire, England
This email address is being protected from spambots. You need JavaScript enabled to view it.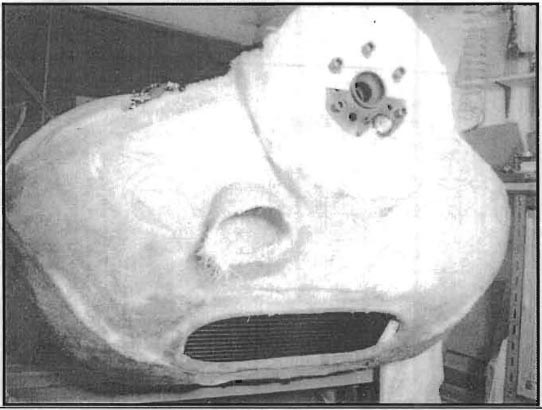 COWLING MOULD MAKING: Materials used: "Bewax", release agent (denatured ethanol), polyester resin, chopped glass fibre, Gelcoat resin, pigment paste (white).
COWLING MOULD MAKING: 1) Gelcoat resin mixed with pigment paste is painted over the bewaxed/release agent prepared mould. 2) After approx. one hour (Gelcoat slightly sticky/tacky) I over painted with Safe-T-Poxy 2 the Gelcoat and started with the lamination of one-ply chopped glass fibre mat, followed by two plies of UNI direction 90? crossed. Peel-Ply was added and 24 hours later, ....SURPRISE..... a nearly finished engine cowling.
The spinner was modified to fit the WARP DRIVE propeller hub.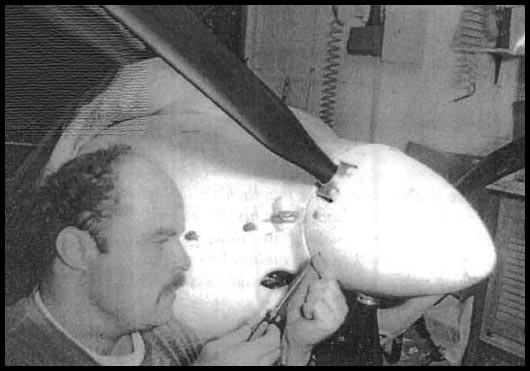 Rudi is putting the final touch on the prop spinner installation. This certainly was a major modification for Rudi. His workmanship looks outstanding.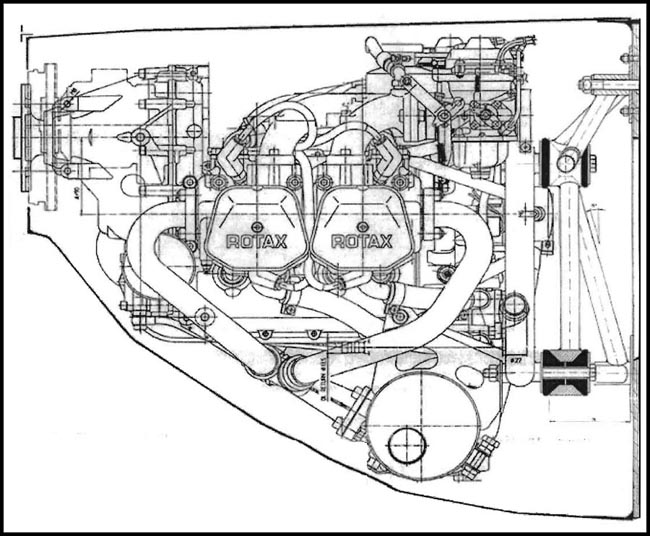 Ed. Note: You can see by the following two photos that Rudi has ended up with a nice clean installation on his Rotax 912. Hopefully in the future Rudi can give us some more insight and pointers on how to get things looking this good. I think most of us know the formula includes a lot of hours and patience.
SAM HOSKIN'S SUMMER ADVENTURE
Sam Hoskins had been on both the east coast and the west coast with his Q-200. There was a time lapse of several months in between each trip. Even so, Sam thought he held the record he defined as:
U.S.A. coast-to-coast record in a Q-200 at 9 months and 22 days. Which was established last year (Palm Beach, Florida Jan. 2, 1998, Monterey, California September 23, 1998).
Sam wanted to break that record. So he planned to fly from his home in Illinois to the San Diego area to start the record run then head to the east coast in one day. Sam sent out the following E-mail to let us know he made it.
"Just a short note as a safe arrival notice. I'm back in Murphysboro, IL. The big flight was Tuesday, June 22. I departed French Valley Airport, Murrieta, California about 1:00 a.m. local time. I arrived at Dare County Regional, Manteo, NC about 9:50 p.m. local time, same day. Preflight planning shows 2047 nautical miles. I guess that makes 17:50 hours for the trip and the Hobbs showed about 16 hours. Four fuel stops. The whole trip racked up 4,537 nm.
The two highlights were crossing the USA in one day, and my visit to the Wright Brothers Monument at Kill Devil Hills."
Ed. Note: In a phone call from Sam he also mentioned he had a sore butt after the almost 18 hour trip. Sam plans on writing up his experience and I'll try and get it in the next newsletter.
WAY TO GO SAM!!
Here's some circuit breaker info I got off the net.
I'm using a 75A marine circuit breaker, Blue Sea Systems #7101. Waterproof, vaporproof, surface mount, manual reset. Weighs 104 g. Rated for 30VDC max., @75 degrees. If the ambient temp will be higher, they include a table showing how much to derate the capacity. List was $37.50, my cost at a marine supply house: $30.16. They also make a 7105 (50A), 7100 (50A), 7102 (100A) etc. up to 150 A. The company is in Bellingham, WA (360) 738-4195.
Hi guys,
My Rotax 503 Q-1 (4251F) now has more than 200+ hours and it just had its third annual. The only real maintenance problems are cracks in the exhaust every 50 hours or so. The Rotax requires standard R&R, but everything is solid state.
I've been flying up to Saratoga Wyoming (SAA) lately. It's a great place. It has a FREE hot spring that is just six blocks from the tie-down. CHECK IT OUT.
Ion Huss, Boulder, CO
P.S. I live 1/4 mile from the tie-down at the Boulder airport (1V5) 303-440-3579, See ya!
Tom
My Q-1 project is still moving at a steady pace. I'm currently working on the canard, with the wing, fuselage, vertical fin and rudder built. I plan to use the Onan with 20 hp heads since I'm located near sea level it may have a chance. I purchased the kit 2 years ago with the fuselage assembled but not glassed on the outside. The canard is a GU with the large tire option. The engine was the 22.5 hp, but I have already gone through it to inspect for corrosion and to replace gaskets and seals and install the 20 hp heads recommended in the newsletters. I have most of the past newsletters and have found them to be a must for building my Q and look forward to getting my next one with hopes of more Q-1 info.
I'm including a few new tips I have found and used while building that made some procedures easier for me.
1.) To square and cut foam block to length and align templates on blocks can be done easily by using two 1/2 inch wooden dowels and a string stretched between them providing the table is STRAIGHT. My table is built according to plans. The dowels are located one on each side at the middle of the table by drilling holes through the top and bottom of the table. Insert the dowels and stretch a string across the tops of them with moderate tension. The dowels should slide up and down to adjust string height for template alignment and should fit snug. Attach large template to end of foam block without concern for level line being level. Align string with template level line by sighting from end of table. Now lift the foam block, move it to the other side of the string, align second template with string, and attached to foam block. Note that templates will be level with each other with no chance to twist in the core. The angle of the first template will be transferred to the other end of block exactly, if the table is STRAIGHT. (See fig. 1) Align string with template level line by sliding dowels up or down. One man hot wiring can be done easily to trim foam block ends using the same dowels.
With the dowels raised up all the way and the foam block slid between the dowels. The side of the dowels can now be used as guides for the hot wire when cutting blocks to length. Just make sure that the dowels are parallel to each other and 90 degrees to table surface.
2.) A long cheap straight edge can be hard to find and keep straight. I noticed the old 8-foot fluorescent bulbs I had not thrown out yet. They worked for me, but be VERY CAREFUL, safety glasses and gloves are a must. The bulbs may break, making a dangerous mess.
3.) Damaged areas in urethane foam can be easily repaired by tapered holes and matching plugs to fill them. Use two tapered thick plastic cups of the same size. Glue #40 grit sandpaper to the bottom of one cup and use it to grind a tapered hole into the foam to remove the damaged area by pressing the bottom against the foam and twisting until damaged area is removed.
Now take the other cup and remove the top portion so that the remainder is a little taller than the hole depth that you previously cut. Use this cup bottom and cookie cutter in scrap foam to make the plug to fill the hole. With a little practice, you can make repairs that you can't find when you're done. (See fig. 2)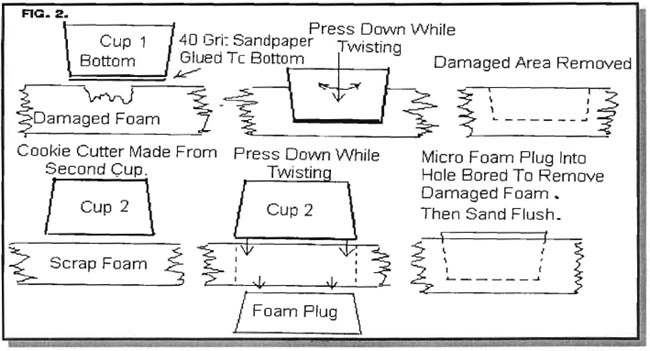 Roy Shannon, Edgewater, FL
904-428-0409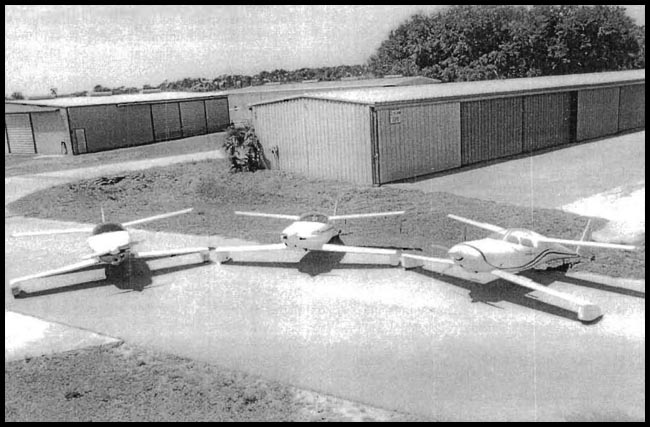 Les Hildebrand, Karl Johnson and John Touchet - all located on Gilbert Field, Winter Haven, FL

---
You can order a PDF or printed copy of Q-talk #75 by using the Q-talk Back Issue Order Page.