QUICKIE NEWSLETTER 5 page 3
Details

Category: QAC Newsletters
Published: Friday, 23 June 2006 00:06
Written by Quickie Aircraft Corporation
Hits: 3303
.....Will have an appreciable effect on the backlogs after September. We will do everything possible to minimize those backlogs.
.....In general, we expect our second year of production to be much smoother than the previous one.
CURIOSITY DEPARTMENT
.....Recently, the Wall Street Journal, that prestigous reporter on the business community, featured General Aviation on its front page. You may be interested in what they had to say:
....."The manufacturers concede there has been a slowdown in sales of their smaller planes, the type used mostly by pleasure fliers rather than businessmen. But they say it's too soon to say whether this is due to high prices ($20,000 and up) and rising fuel costs (nearing $1 a gallon in some areas), or to a normal wintertime sales slump.
.....Cessna says 80% of its planes are used mainly by businesses. 'There aren't that many people any more who just go out to bore holes in the sky', says a spokesman."
.....With an attitude like that, is it any wonder that one has to build one's own aircraft to be able to afford to fly?
REPLACEMENT ENGINE PARTS
.....Several builders have asked about replacement parts for their Quickie engines. The Quickie Owner a Manual gives data for spark plugs and other coomon parts. Any internal engine parts may be obtained from the local Onan dealer. This is true also for engine manuals. Onan has a vast dealer network around the world, and no builder should be further than 40 miles from a dealer.
.....Some builders have expressed a desire to obtain another engine for a backup, and to protect themselves against future price increases. Since we currently have engines in stock and are selling them on a first come-first served basis, we would be happy to oblige.
REVIEW OF FIRST YEAR OF QUICKIE SALES
.....June, 1979 was the first anniversary of the beginning of Quickie sales, even though the project development and flight testing goes back over 4 years.
.....We think that it is appropriate to review the results and talk about the future.
.....The first year of production saw four home-built Quickies fly. These aircraft have universally seen better performance than our Pilot's Manual data. This is what we have expected, since we were conservative in our estimates and realized that there were many skeptics out there looking for anything to complain about.
.....We have seen Quickies with radios, Quickies made trailerable, etc. The building time for a fully optioed Quickie has been as low as 500 manhours; this substantiates the 400 manhour figure that we give for a basic aircraft with no frills. The empty weights have been consistent with the 240-245 lb empty weight that we give for a basic aircraft.
.....Quickie Pilots universally report that they have a very fun aircraft to fly. When they total up their operating costs after a few months, they will have a further reason to be happy.
.....In the coming months, those of you who have been skeptics on performance, on ease-of-construction, and on safety will see many examples to alleviate your concerns.
.....The next year should be a very satisfying time for those of us at Quickie Aircraft Corporation. Production has smoothed out, there will be a large inventory to work from, builders are flying and testifying to our statements on performance, safety, and construction ease, and we can be justifiably proud of our accomplishments over the past four years. We hope that we have shown people that big is not necessarily better, and that even though you cannot buy a 60 mile-per-gallon e'.i-o, you can buy a 100 mile-per-gallon aircraft for less than the cost of a new car. We Chink that the Quickie is a proper application of advanced technology, and we plan to continue our efforts to promote efficient, sensible transportation and fun.
Above - Busily modifying engines
Below - Part of our inventory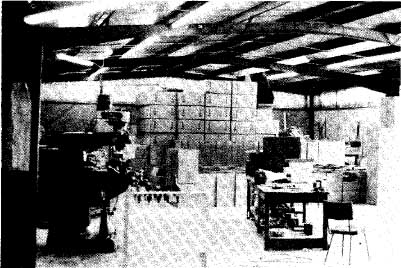 THE QUICKIE AS A SC0L PROJECT
.....Lourdes Academy, Oshkosh, Wisconsin is nearing completion on a Class Quickie project. They expect to have the aircraft at Oshkosh.
.....We understand that none other than Stove Wittman has agreed to do the first test flights.
.....This is a fine example of far-sightedness on the part of a school. Reports indicate that the students like the idea of working on a project which promises to have considerable usefullaess once it is completed.
.....We wish them well on this, and future projects.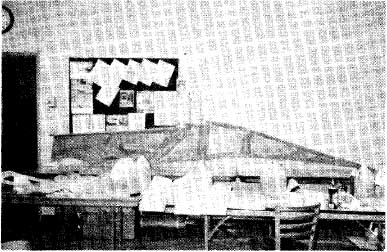 Beginnings of an aircraft
- Lourdes Academy
3