Q-talk 71 - Sep/Oct 1998 - index
Details

Category: Q-Talk Index
Published: Saturday, 31 October 1998 06:11
Written by Tom Moore
Hits: 1891
SEP/OCT 1998
ISSUE NUMBER 71

---

QUICKIE BUILDERS ASSOCIATION

---
OTTA "WOW" 1998
by Tom Moore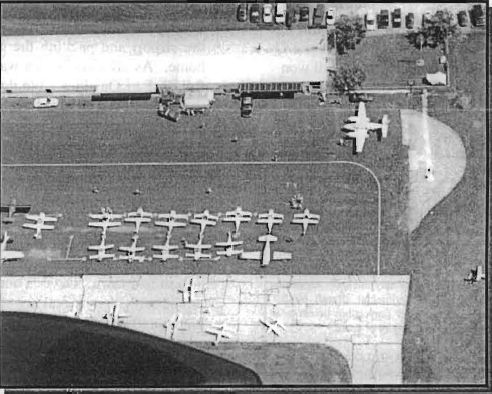 This year's Ottawa get together was a huge success. There was a big turn out of planes and builders that resulted in a good time for all. The only complaint of the whole weekend was the heat. This was a special Ottawa because it almost didn't happen. Spud Spornitz from the Dragonfly group had to pull out as the head man a few weeks before it was all going to take place. Fortunately Don Stewart, another Dragonfly and Ottawa regular stepped in, took hold of the reins and made sure the show went on. Everyone that attended was very appreciative of the good job Don did on such short notice. Thanks go out to both Spud and Don for a job well done.
Most of the planes started arriving on Friday afternoon and there was a full house by the end of the day. With a large turnout of planes parked on the ramp, the talkin' and gawkin' went into full swing. When everyone ran out of energy, they headed to town to meet at the local steak house for a good sit down meal. After dinner, the next day's activities were discussed and Jon Finley gave the pilot briefing for the Performance Evaluation that was to be held at around 07:00 a.m. on Saturday morning. The course was going to be the same 60 sm triangle that was run last year.
Saturday morning found everyone at the airport waiting for a heavy fog to lift. At 8:00, with the forums set to start and the fog still lingering around, the evaluation run was delayed.
The QBA forum was the first forum out of the blocks and most of the people who attended seemed to be awake. Alan Thayer gave a good presentation about his work with the Graphlite Rods that was discussed in the last issue.
After the QBA forum it was decided to run the Performance Evaluation. Bob Malechek repeated his first place performance of last year with an average speed of 192 mph. Remember this average speed is from a standing start so his top speed (???) was well above this. This was four mph faster than Bob's 188 mph average last year. It looks like Bob has been doing a little tweaking on his plane. Paul Spackman turned in a very respectable 142 mph average in his Q-2. I'll have all of the final results from the event in the next issue.
The rest of the day had everyone looking at planes and talking with all of the builders. There were plenty of guys giving rides to anyone who wanted one. Several of the guys went up and did some formation flights past the airport. Bob Nuckols gave another outstanding forum on aircraft electrical systems and there were several good forums on VW engines. Steve Bennett had a large audience when he tore a VW engine apart and put it back together.
Nathan Peck flew his Q-1 to Ottawa. This is the same plane that he landed on the highway on his way to Oshkosh. Nathan reported the forced landing turned out to be the result of an over torqued sparkplug. The offending plug came loose and Nathan's two cylinders Onan became a thumper. Not quite enough power to stay airborne on one cylinder!
By the end of the day, we had a total of 16 Q-birds show up with two of these being Q-1's. The full list follows this editorial.
The day was finished off at the Ottawa Country Club with a good dinner and refreshments at the annual banquet. Everyone continued to have a good time and enjoy the company around them. There were several awards given out to the builders/pilots that attended this year. Bob Malechek won two awards, one for "Best Overall Q-Bird" and one for "High Time Q-Bird". His plane is nearing 1000 hours and still won best overall. Bob was also given a $25 gift from the food trailer folks for giving the most rides of any of the pilots there. I nicknamed him "Mr. Carnival". Every time I looked up he was giving someone a ride.
Bob Farnam won the award for traveling the longest distance. He took off from Livermore, CA and traveled 1421 sm to get to Ottawa. He was traveling in comfort though. He won the award for "Best Interior".
There was also an award given to the person who brought the best building tool/idea with them to Ottawa. Dave Weber won this award for his use of this 3M tape to hold fiberglass material in place after it's cut. Kris Browne had a great idea for making a duplicate stick grip. He covered the original stick grip with RTV silicone and then peeled it off. It was then filled with epoxy and after it cured, he had a nice looking replica of the original.
Sunday morning found most of the group going out to the airport and packing the planes up to head back home. As always, Ottawa was a great place to get a full dose of Quickies. We don't have anywhere else that we get this good of a turnout of planes and people. This year turned out to be a real good one. There are plans to change the date of Ottawa for next year. The heat really took its toll on everyone. The plan for next year shows October 8-10, 1999 as the date of the big event. That is Columbus Day weekend.
Special thanks go out to Dave and Susie Richardson for shuttling a whole multitude of people between the airport and town. Dave is one of the many builders I talked with that is making steady progress on their planes and will be flying into Ottawa in a few years.
With the good turnout this year, I had a chance to talk to a lot of people about the newsletter. Everyone wants to see the newsletter continue and I got several commitments for articles. This will not cover the whole year, but I am counting on the rest of you to make up the difference. So it looks as if the newsletter will continue on for another year. Just remember, the newsletter needs your support.
Keep building, it's worth it!!

OTTAWA 1998
| | | | | | | |
| --- | --- | --- | --- | --- | --- | --- |
| | | | | | | |
| Dave Carlson | AZ | 39425 | Q-2 | REV-64 | 575 | 250 |
| Bruce Crain | OK | 96BJ | Q-200 | O-200 | 704 | 117 |
| Terry Crouch | IA | 14TC | Q-1 | ONAN | 340 | 340 |
| Bob Farnam | CA | 200QK | Q-200 | O-200 | ??? | 48 |
| Paul Fisher | IA | 17PF | Q-200 | O-200 | 730 | 680 |
| Les Hildebrand | MO | 93PL | Q-200 | O-200 | 730 | 320 |
| Sam Hoskins | IL | 202SH | Q-200 | O-200 | 640 | 917 |
| Al Kittleson | TX | 200AL | Q-200 | O-200 | 800 | ??? |
| Larry Koutz | GA | 39LK | Q-200 | O-200 | 690 | 375 |
| Bob Malechek | TX | 870BM | Q-200 | O-200 | 659 | 950 |
| Jerry Marstall | NC | 222RR | Q-2 | REV-64 | 667 | 40 |
| Earnest Martin | NC | 479E | Q-85 | C-85 | 725 | 550 |
| Tom Moore | TX | 321TM | Q-200 | O-200 | 695 | 111 |
| Nathan Peck | KS | 21PR | Q-1 | ONAN | 294 | 300 |
| Paul Spackman | WY | 131PS | Q-2 | REV-64 | 585 | 95 |
| Richard Wilton | MN | 170R | Q-2 | REV-64 | 640 | 86 |
Other Articles In This Issue
---
You can order a PDF or printed copy of Q-talk #71 by using the Q-talk Back Issue Order Page.