Q-talk 71 - LETTERS
Details

Category: Q-Talk Articles
Published: Monday, 31 August 1998 07:11
Written by Tom Moore
Hits: 1388
Tom,
The newsletter is a source of constant inspiration and I really appreciate all your work.
You will notice that I have enclosed some photographs. One of the advantages of QBA is that maintenance/design issues get advertised and the members get to think up ways to fix them. My three biggest concerns with the Q-2 design were:
1. The wheel mountings on the outboard canard which was solved so nicely by Scott Swing's tricycle gear mod.
2. The sensitivity of the canard to in-flight contamination by rain and bugs which has been largely solved by the LS-1 canard and the reflexor.
3. The fuel system. I have been concerned about the propensity for the composite tanks to leak, the difficulty with inspecting and repairing them, the tube style header tank gauge and the fuel pumping mechanism, particularly the backup pump system using the squeeze bulb. I have put a lot of thought into this and Jim Wright and I have come up with the following solution to the tank maintainability and inspection issue.
Our first step was to conceptualize the metal tank and attachments. We built up a cardboard mockup and trimmed it as needed to make it fit in the TQ-200. We envision installing straps to hard points in the fuselage and glassing in mounting flanges forward and aft to set the lower tank edges into. This will prevent aft shifting with ac/deceleration's along the x axis. The straps will hold the tank in place for z axis ac/deceleration's and the fuselage curvature and side flanges will support the tank for y axis ac/deceleration's.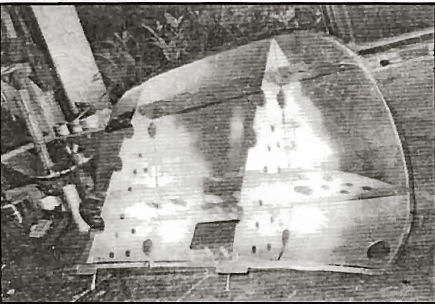 Inside view of the upper tank skin with baffles attached and port for inspection access and sender mounting.
The tank is removable for inspections and sports a scupper drain, pressure vent and electric fuel sensing float type probe mounted in a generous upper inspection panel sealed with a gasket, fuel tank sealant and sealed nut plates. Yes, it is about 5 lbs. too heavy, but I am a great believer in making maintenance easy (we have a Mooney and a Cessna that we fly a lot and have handfuls of STCs and field approvals which we have installed not for speed but for maintainability). We will build an aluminum header tank, which will have an identical float type fuel probe. Both floats will send to a single fuel quantity indicator and will be selected by a SPDT switch. The header tank will also be removable (but not easily removable), have a dependent drain and pressure vent. The header tank will be the subject of a later article.
The main tank is constructed of .050" 5052 H32 aluminum sheet purchased from Aircraft Spruce & Specialty. This is one of the most weldable types of aluminum. We will use a stiffener under the cushions to help distribute the load although you can jump on the upper tank skin and barely cause any oil canning. The tank rigidity is achieved by interior baffles which are well depicted in the photos.
The scupper is manually formed (5052 is very amenable to beating) and has a welded, threaded, external fitting which will receive a CAV-180 style drain. I like the CAV drains because they are easy to replace seals on and are not disposable like the more expensive flush valves. The scupper is covered by a roughly 3" x 6" fine mesh aluminum screen to filter out any large contaminants. Brass would probably work as well. The fuel line is a 3/8" aluminum tube, which is welded in position. All internal rivets and seams, even welded seams are covered with FAR PMA approved fuel tank sealant like the stuff used to seal the wet wings of Mooneys. This is done after pressure checking the tank with the outflow of a vacuum cleaner, soapy water and a paintbrush. Remember to cap the fuel line or you may spend a minute chasing that large leak down.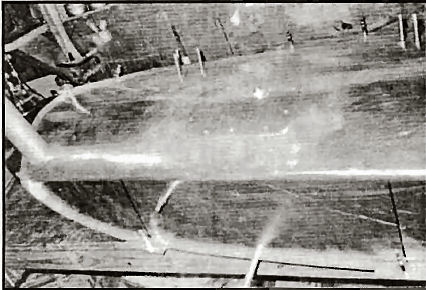 Assembled tank ready for final riveting, welding and sealing with fuel sender upper access set in place.
I really believe this is a superior design. My experience with wet Mooney wings and removable Cessna 172 tanks has biased me strongly in favor of the removable, welded aluminum tank. It will be years before we fly, but I'll report on how it works then.
I have previously reported on the instrument panel, but now that I have finally developed some film, I enclose a photo and will repeat the description. The instrument panel is laid out of .060" 2024 T3, stiffened with a right angle, hardened aluminum extrusion across the lower margin and installed with bolts so it is removable. It is amazing how light the panel is after you cut all of the holes in it. The flight instruments portion of the panel will be lighted using MS-25010 sockets and a lexan overlay. This has worked beautifully in our Mooney and should work well in the TQ-200. The transistorized 3-amp power supply sold by Maule aircraft for $60 is my lighting control of choice. It is an FAA PMA approved part. A fellow in Tucson (Don Howell at HAVECO) has purchased 80 chopped up B-52's and sells the MS 25010 sockets for them, in excellent condition, for 25% of the new price. My cost was $5.30 each and I will use a dozen in the panel. They are lighter than post lights and much more reliable. The other instruments will be internally lighted. Don also sold me a magnetic compass from an old Buff. I flew B-52's for the Air Force for 10 years so I have a soft sport in my heart for Buff parts. You can reach Don at (520) 429-0025 or by fax at (520) 742-9243.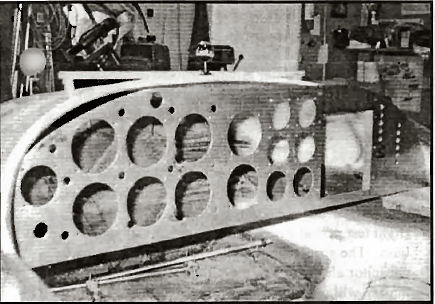 The radios are selected and the radio harnesses are being wired. College Park Avionics of College Park, Maryland (301-927-0505 (ask for Randy) gave us the best bid on the job. The electronics will include a Narco AT-150 transponder with AR-850 encoder, a Narco Mark 12D+ nav/com with glideslope (ID-825), King KR-22 marker beacon receiver, Sigtronics SPA-400 intercom and a Garmin 155 TSO GPS with a dedicated King KI-202 indicator. College Park will install an IFR certified Garmin GNC 300 GPS for you for $7,300 complete with indicator, annunciator and antenna. The back-up radio will be a portable handheld. We are going to install a full set of gyros with a venturi driving the attitude and directional gyros backed up by a Precise Flight intake manifold standby system and an electric turn and bank.
Pete Mapes, San Antonio, TX
Tom,
I promised, here's the story of my incident, which happened on return from Ottawa. Like everyone else, I had a great time at Ottawa and greatly enjoyed meeting other Q and Dragonfly fans. The trip from the San Francisco Bay area was very enjoyable, marred only by the temperature throughout the route of flight. Our route took us from Livermore APT to Elko, NV, then to Rock Spring, WY. Takeoff at Elko was at a density altitude of 7500 feet, so takeoff and climb was slow, but not too bad. On arrival at Rock Springs, we found that the long runway was out of service for resurfacing, so only the short runway was available. Our plan was to go on to Western Kansas or Nebraska for the overnight, but Rock Springs had a density altitude of nearly 10,000 feet. With the combination of denalt and short runway, I elected to spend the night in RKS and continue on in the cool of the next morning. The flight the next day into Ottawa was uneventful. The airplane was running great!
We departed Ottawa Sunday at midday, and flew to McCook, NE, then on to Cheyenne. Again, lots of heat and high denalts. Cheyenne also had THEIR long runway shut down for maintenance, but at least their shorter runway was long enough to permit us to refuel and leave for Rock Springs. Cheyenne was experiencing a denalt of about 9500 feet, so climbout there was only about 350 fpm at our weight (about 1210#). Flight to Rock Springs was about 1 hr 40 min. The flight was mostly at 8,500 and 10,500 msl. When we arrived at RKS, they were reporting a denalt of near 10,000 feet. I had filed and been talking to Casper Radio, and with their help, had detoured around several thunder bumpers in the RKS area. I closed with Casper, talked to RKS Unicom (no TWR) and then made a normal approach and touchdown on the smaller runway. I figured later that my touchdown speed was about 95 mph at that denalt.
Then a strange thing happened. Imagine those times you have driven a car late and sleepy, fighting drowsiness. You may startle awake with the sudden realization that you have drifted out of the lane, or onto the shoulder. That's exactly what it felt like. I made a good touchdown and then suddenly realized I was off the runway a few feet to the right. The airplane was under complete control, just off the runway. I immediately steered back to the center of the runway and slowed to taxi speed, but not before hitting a breakaway runway light with the right canard. I couldn't see the damage from my seat, so taxied in and parked the airplane. When I got out to look, I had one of those "Aw s**t" moments. Interestingly, the Q didn't swerve at all when I hit the light, although I saw the light go flying.
Further consultation with knowledgeable pilots at LVK, including a retired Navy jet pilot has led me to what I believe happened. Hypoxia! Later calculation showed that I had been flying at a denalt of between 11,500 and 13,500. I felt fine, but clearly I was under the influence. Ironically, I had bought a portable oxygen system at OSH this summer, but it wasn't delivered until a week or so before we left for Ottawa. I didn't have a chance to build a secure mount for it, so I left it home. After all, I had made that same flight many times going to OSH, and never had a problem because you don't have to fly more than 10,500 most of the way. But I had never made the trip in such heat. You can bet that a high priority with me now is the installation of the oxy system.
The airplane was unflyable, so I left it parked and finished the trip by airline. No injuries (if you don't count ego). Went back the next week by pickup with our Chapter's large flatbed trailer (16 hours drive each way), took the plane apart and dragged it home. Fortunately, my next-door hangar neighbor, Glassair builder Bob Buckthal, volunteered to come along and help. Thank God for good friends. Took us all day Sunday until midnight to get there, then most of the day Monday to take it apart and pack it up, then we drove straight through the night to get home Tuesday afternoon. The wing has a dent, and a three-foot spanwise by 10 inch chordwise delam area where it took the hit. I have cut it open and it looks to be straightforward to repair. The spar was untouched. The other damage was to the right elevator, which took a hit underneath, apparently from a section of pipe. It is holed underneath and is delamed around where the pipe hit. The trailing edge is split open for 8-10 inches also. Haven't yet decided whether to repair or build a new one. I plan to attempt repair and then see how I did. If I don't like it, I'll build a new one.
So that's the extent of the bad news. The good news is: no one hurt, the airplane flew beautifully and was very comfortable. Also the damage isn't really too bad, although it will be down for several months by the time I get the repair painted. I'm going to do a full condition inspection also, which will move the timing for that into the winter months instead of the summer. Also plan to build an aux. fuel tank. One of the shortcomings, which this particular trip pointed out, is that the standard fuel doesn't give you a lot of choices in the great West. I also have installed the "crowbar" over-voltage protection circuit that I got from Bob Nuckols excellent forum at Ottawa. I did in fact have a failure of the voltage regulator during my 40 hours flight test period which resulted in high voltage on the buss. The spectacular explosive failure, so I shut down the master without any damage. I'll feel better with the "crowbar" in place.
Bob Farnam, Livermore, CA
A great air shot of Paul Fisher with Ottawa in the background.
---
You can order a PDF or printed copy of Q-talk #71 by using the Q-talk Back Issue Order Page.