Q-talk 49 - LETTERS
Details

Category: Q-Talk Articles
Published: Tuesday, 28 February 1995 06:11
Written by Tom Moore
Hits: 8300
Mr. James Masal, Texas, USA
Dear James,
Enclosed is my annual contribution to the Masal Papers with pleasure. Keep up the good work. I see some of the lads are still reinventing the wheel.
Considering Minnesota climate, I have once again put my toy away for the winter. My hangar is unheated and I don't have any method of putting a Tanis system on the Revmaster, so I rent a spam can from the local FBO when I feel the urge to fly. Managed to get about a hundred and twenty hours this past summer which isn't too bad but hope to do more next year.
My Tri-Q just keeps operating like a jewel with no need to change anything. Still burns about 3.5 gph and gulps oil - at a rate of about a pint every twenty-five hours, which seems time to change anyway. Pennzoil at $1.19 a quart at the local farm supply store. My reflexer is a great addition and I only regret I didn't install one a lot sooner. However, as mentioned earlier, I would be willing to trade for something else if the opportunity arose.
Have a good year!
Walt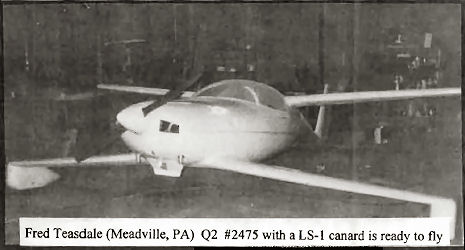 Hi Jim,
Dues time has rolled around again so here is my check for 1995.
There is not much news from the Quickie-1 builders anymore but I noticed an item in the Nov-Dec issue of the newsletter that there was some concern on the durability of the fiberglass/Safe-T-Poxy fuel tanks and I can report on my experience with Quickie #374 that has been flying since 1981. When I fabricated the tank, I took the precaution of fully coating the inside of the tank before assembly with pure Safe-T-Poxy. I check the carburetor and the fuel filter regularly and to date I have never found any evidence of a breakdown of the tank. The writer of the letter, Dave Naumann, does not specify what type of fuel he has been using. Is it auto gas? I decided from the beginning to always use avgas and this might be the difference. I would like to hear more on this if anyone has some thoughts on it.
I'm still flying with Onan power (I jest) and it has proved to be a reliable engine after I incorporated all the mods discussed in early Quicktalks. At the present time, I'm fighting a pesky oil leak that somehow follows the timing plunger up into the points and ignition box. Once I solve this, I'll let you know in case others have the same problem. Also, it might be good to remind others to check the elevator center pivot for play. Thanks Jim, have a great new year and I hope to see you again in Oshkosh.
Dick Pettit, 170 Sylvan Court, Circleville, OH 43113
(614) 474-5419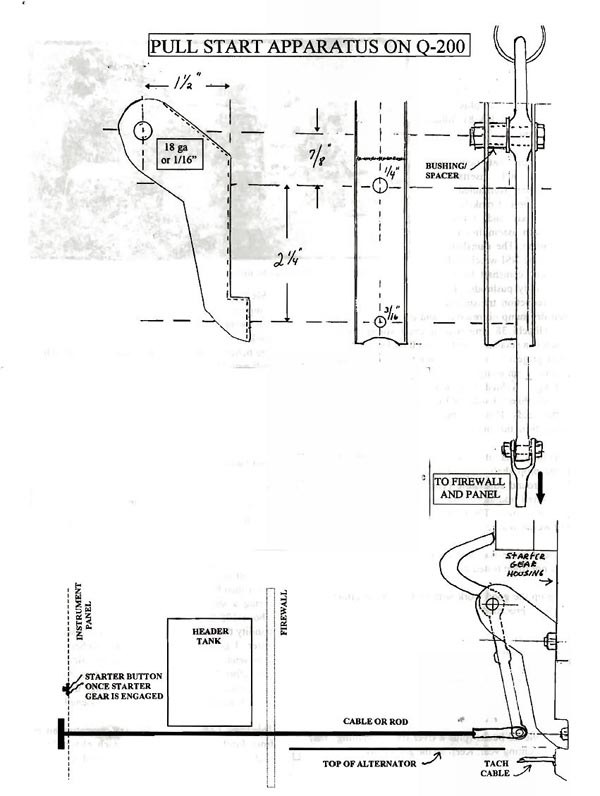 1. This pull start apparatus should be made out of cardboard and tried on the engine to be sure of the proper clearance and travel.
2. The unit is bolted to the bottom of the starter gear housing and to the top of the tachometer drive cover.
3. The starter lever should be straightened out (cold) to work better.
Note: My starter button was installed so that when the pull-start was pulled back, it would engage the electrical start button after the gear was engaged. This didn't work too good, so I installed the button on my panel so that I could push the starter button after I engaged the gear.
Bill Varga, Fairview Park, OH
Dear Jim,
Enclosed you will find my $20.00 renewal plus some pictures of the EA 81 Subaru conversion.
The engine has new rings, bearings and inserts. The heads were overhauled at the engine shop. Crankshaft was magnafluxed and I balanced the piston assemblies to 1/10 of a gram. The camshaft was ground by NSI, which included hi-torque camshaft lifters and heavy-duty pushrods. I am also using the NSI spur gear reduction transmission assembly, 1.69 to 1 and their dry sump oil reservoir and oil pan kit. Alternator is a Hitachi 38 amp with internal voltage regulator, which is a small unit and fits well under the cowl. The latest project is an electric multi point fuel injection system. I am using an intake manifold from an EA 82 and have welded four adapters for the Bosh-like injectors into the manifold just above where it attached to the heads. This puts the injector nozzle only a few inches from the intake valve.
Hopefully, this little engine will put out about 115 h.p. at the prop shaft. I plan to use a three-bladed warp drive ground adjustable prop. Yet to be acquired are two small radiators and some kind of solid-state ignition system. The entire package, including fluids, will weigh in at less than 235 lbs.
A speed brake was just installed in my Q Bird, but I have not flight tested it yet.
Keep up the good work with Q-Talk. Your efforts are greatly appreciated.
Best regards,
Marion Brown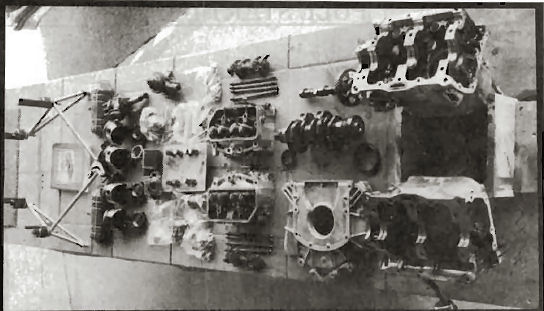 Once he crams all this under the hood, Marion Brown will have a real fire-breather.
Dear Jim,
Here's the 20 bucks (plus a fiver for the mailing list) for the coming year. Keep up the good work.
This past year I took the little Quickie down for a complete refinish job. Looks pretty decent now. I am still paying for initially using a "light filler" called (I think) "Featherlite" which I applied in 1982 (can you believe it?) during the finishing process. The darn stuff never hardened fully.
When the bird sits in the sun, bubbles start forming under the finish. Yuk! I would dig down with a pocketknife and find that darned pink filler, which I missed, have to dig it out, and start the refinishing job all over. It took over a year of numerous false starts. This time I used "West System" as a filler and am very satisfied.
I have been flying the Quickie without vortex generators on the canard just 'cause I wanted to fly after the refinishing. Obviously I am extremely careful to avoid any rain.
A few observations for those who are interested. Without vortex generators the bird is about 4 to 5 MPH faster than before, but I noticed a disturbing tendency during a slight power on descent. The faster I go (above 105 to 110) the bird goes from positive pitch stability through neutral to negative pitch stability. The faster I go the more it heads for mother earth. This same tendency was noted when the bird first flew years ago before I added the vortex generators. After adding the vortex generators, the first time, that tendency towards negative pitch stability was lessened.
This time I elected to add vortex generators bit by bit from fuselage out and test fly each phase. The first flight was with less than 1/5th applied to each side, with no real difference noted in pitch stability (and I didn't want to try it in rain), but did I notice one unexpected difference. Instead of my indicated airspeed topping out of 105 mph at full power (Yea Onan) it topped out and maintained 120 mph! Don't understand this exactly, but my Aerospace engineers at the Cape keep coming up with different theories. Any out there that make sense?
I have not finished the job yet but when it is I will let you know the final results. Eventually I expect a loss of 4 to 5 mph and much better flying characteristics if caught in the rain. Please folks, know this bird was not designed to fly in marginal conditions (rain, high altitude, weather conditions, etc.) and enjoy it for what it was meant to be - a sport airplane for day VFR fun.
One other small note: I question the Safe-T-Poxy and gasoline forming a light brown residue as reported by Dave Naumann. Could the culprit have been the sloshing sealer? I have had gasoline in my Safe-T-Poxy tank since original manufacture for 13 years. No bad results. No crud forming. I check the filters often - No problem!
Keep building and flying safe. I am now at the 500 hour mark.
P. Stroud
Dear Jim,
Made some progress on my Rotorway powered Q-2 this past year. I fabricated my turbocharger exhaust system and completed some major cowl work. Next step is intake system for a Bosh K-Jetronic fuel injection system and then the radiator installation. Still have that formidable task of finishing wing and canard. I used to laugh at homebuilders that took more than 5 years to complete a project. I would be happy to be in their shoes!
Sure appreciate your efforts! Have a great New Year!
Very truly yours,
Bob David - S/N 2654
Dear, This is me!
Well another year has gone by and still no rebirth of my Q-200. I seem to get stuck on details and the gears of progress seem to grind to a halt, and OH YES! I have excu --- I mean reasons that the plane is not done. Work, working on other people's planes, money, time, my psychic says the time is wrong ...
A short synopsis of what was to be a small repair. My homebuilt alternator fried its armature on the way home from the Ottawa fly-in (1992). So the engine had to be pulled. While the engine was off I was going to increase the angle of incidence of the canard. It was harder than I expected and I took it totally off to inspect for any damage. I then decided to change the shape of my wheel pants. I also was going to take out the hump where the spar goes down the canard. I found fuel damaged foam along the spar. I fixed the damage to the foam, reglassed, changed the shape of the wheel pants, built a swing away engine mount, am working on the alternator that mounts to the fuel pump pad. Then comes the part I hate. Sanding to get that smooth finish! I am to the point that I just want to put it back together and fly. The trouble is I would not be happy. This whole mess started because I like to experiment and I thought changing the angle of incidence would improve my speed. After all, if Charlie Harris can go 200 MPH then my plane should also. The trouble is that I have changed so many things that if I do get to that speed I will not know why -- But then, why care! Well this has rambled on long enough. Enclosed is $20.00 for another year of information and your comments. I am still producing the Database of all the Quicktalk info from the start to the present time. It is 19 pages long and goes for $6.50 ($5.00 + postage). Mail to: Larry Koutz, 2709 Clayton Dr., Valdosta, GA 31602. (912) 247-5297.
Is that you,
Larry Koutz
December 30, 1994
P. S. Probably not of too much interest to you, but my last two years have been pretty much devoted to the design, development and tooling for the Aqua-Minder water meter system. The propeller business for ultralights has been slow for me and I needed a new product. I am enclosing a brochure for your perusal.
Dear Jim;
Another year and time to renew. So here's the $20 and a short note to let you know what's going on here in southern California.
My Tri-Q was finally registered in early November as N337L. It received the FAA inspection on 2 December with no discrepancies. I have received my BFR and am presently attempting to obtain time in similar aircraft i.e. canard types such as Dragonfly or Cozy. I am not aware of any other Q2/TriQ aircraft in this area.
I have been on the runway several times for fast taxi and the aircraft tracks very well at high and low speeds. On the most recent run, I was launched by a high spot on the runway and hit hard on the nose gear. Scratch one nose gear and prop. No damage to the engine or cowling so maybe in a week or so it will be ready to go again. One disconcerting result of this incident was that the nose wheel came loose from the gear leg, bounced up and poked a hole about the size of a quarter beneath the rear of the main tank. Beware!! No ignition, but it could have been a real problem. It may be a good idea to put a few layers of Kevlar on the bottom of the fuselage below the main tank area, especially on the Tri-Q since the nose wheel can be a sudden source of FOD (Foreign Object Damage) from heavy handed drivers.
I am enclosing a picture taken in the EAA hangar at Brown Field where I am located for the test flying and probably later also.
There are several innovations I have incorporated and I will provide more information on these after it is flown. In brief, I used a pencil laser from Radio Shack to align the main gear. The fuel system has an automatic pumping arrangement using sensors in the main tank. It also works on manual full time if desired. The instrument panel has a lighting system using micro lamps from Radio Shack. These lamps are now red and located behind a Plexiglas mask over the instrument panel. Seems to work well but time and vibration may be a problem. There is a vacuum system running a DG and attitude gyro with an electrically operated turn coordinator. I mounted my battery on two AL rails so that I can change its location if necessary for CG purposes. It turns out that its present location is great, just forward of the fuselage disconnect line, so I mounted my ELT just forward of the battery behind the right seat. The empty weight is 685, which seems heavy, but when considering the Tri gear, instrumentation, G35 battery and heavy paint, it all seems reasonable. The fuel capacity is just a shade over 23 gallons. My gross should be over 1100, but that will be something to sort out during the test flights. With just a Revmaster for power I may have a single place aircraft. I am presently using a handheld radio, which is connected to the antenna located in the tail cone. It is working great and the SWR is very close to 1:1. The transponder antenna is on a plate attached to the AL battery rails.
The engine works great and no problems with high temperature with the demands that have been placed on it so far. The 8.5 hours on the test stand was well worthwhile. Of course, the cooling while airborne will still have to be looked at. The cowling fits too snug around the forward area. I have wrapped all of the exhaust system, which should help to reduce the heat inside the cowling, but I still may have to provide some additional clearance. All cylinders have CHT/EGT sensors so I should be able to keep up with that area. I am mounting a sensor just aft of the carburetor venturi to see if I will require additional carburetor heat. There isn't much room around the air filter to allow heat to be fed in but it can be managed if need be.
At this time I want to express my appreciation for the work you have done and in particular to those many contributors who have made the process of building this aircraft much easier and more interesting. Since this project was started in 1982 I have had plenty of time to digest the comments and ideas expressed in Q-TALK. Thank you and get them in the air.
Bob Lockwood, Jr., El Cajon, CA
(619) 447-2738
Hi Jim,
Well I finally got the registration for 4251F - Q1 #164, it only took three laps and seven months. The Rotax conversion is complete per Jinx/Hawks "suggestions". I am going for simplicity on this thing so I've paired the electrical system down to a Kill switch. It worked well on the dirt bikes! I went with dual EGT and CHT. I'm testing a TINY tach (actually Charlie Harris has it right now) that I got at a lawn mower shop. It's cute - 1 1/2" x 2 1/2" x 3/8" and has one wire that wraps around the spark plug wire. The one-inch tall LCD display runs for years on an internal battery. When it isn't getting a signal, it displays elapsed run time! All for about $35.00.
Just like Howard Hardy said, the cowling took 3 or 4 laps to get the scoops right. It's ugly and required way more effort than it should have, *SIGH*. When she heard what I was going to spend for a prop my wife "just call me bomanicious" CD volunteered to build one for the same price. She borrowed Howard's prop maker and master and "whipped" one out in about 25 hours. Thereby robbing IVO of $200.00 and making $3.00/hr to boot! She says the next will cost a lot more!
I made a plywood plate that bolts to the firewall so the Q will stand around on its nose. This turned out to be very handy for doing the inside mods to the firewall, fiddling with the brakes and elevators, and especially painting.
In a deal similar to the prop fiasco, CD painted the Q with SYSTEM 3. We prepped the canard and wing with Morton's Eliminator and had great results. The flying surface came out magnificent! At the time she started with the SYSTEM 3 all the manufacturer would say about painting a composite was: "try it and tell us how it works". After playing with the intro kit it looked OK, so we went for it. A word about the intro kit here; it's probably out of date and will not work as well as fresh stuff, and anything with pre April 1994 dates on the can will be very trying.
CD's notes on painting with the SYSTEM 3:
1. This stuff is expensive, $300+ to paint a Q1.
2. Keep a five gallon water bucket handy and put the spray gun in it ASAP between coats, as this stuff will gel and clog the gun quickly.
3. Shake the primer a lot in the gun as the solids in the primer precipitate rapidly.
4. SYSTEM 3 has a very good help line (now!).
5. The primer wet sands nicely!
6. Wait a week before finish coating.
7. Sand lightly before finish coating.
The finish coat ended up with "dust" in it. CD said it was from not having the gun clean enough, so she rubbed out the whole airplane *SIGH*, it looks great now though!
The meter was running on the space we rented for the airplane shop so I had to move the Q out to the hangar once it was "done" to make way for the Long-Eze. We can afford only 6-8 months of rent so I need to concentrate on glass works. Then once I burn out on the L-EZ I can fly the Q.
- NEWS FLASH - In a desperate attempt to see the sun first hand, I called Howard and met him at the hangar in Longmont (CO) and we fired up the mighty Rotax! It ran great! We only got 600 RPM and 900 degrees EGT static, but new jets and a 1/2" off each prop tip should fix that.
OOP's, there we go again - thinking about taxi testing instead of EZ rudder linkage - BACK TO WORK.
Ion Hess, Colorado
P.S. Yes, CD's prop does move air!
Dear Jim:
Dave Smiley and I are still working on our Q2, though slowly. We have more primering and finishing to do. I like your comment one time about "95% done and 95% to do".
We used a bellcrank to cross the cut line for both the rudder and the T-tail trim, one on top of the other. Looks like it will work.
At this time we have no neat ideas on finishing. All the little things that are not obvious, with a little thought.
Keep up the good work,
John Granzella
Dear Jim,
Thought I'd get the 1995 dues in ahead of my annual status report on the "Winged Dinger" (#2684).
I'm getting ready for paint as soon as I do some final "touch-up" on the surfaces. I'm going to use the "SYSTEM THREE" water base polyurethane that Jerry Marstall spoke of at Ottawa '94. Pictures and letters to follow shortly!
Bye Now
Richard Barlow
Dear Jim,
Here's the year's renewal - #2784 (QAC number) still poking along. Progress is glacial ... but glaciers do move. I've just finished the fuselage - canard fairing. Engine installation done. Panel 80% complete. Electrical - 10% done. No finish work yet. Controls all OK. No particular builder's tips - sorry. I'm not holding out - just don't have anything to report. I enjoy reading about flight work - and crashes to learn from.
Was at Oshkosh this summer - Q's seem to be dying out. Oh well - still a good design, I think. Still can't get 160 mph on a O-200 anywhere else, I don't believe.
This makes my 12th year on the Q-200 - is that a record? I teach school - plan to hang up the chalk in a year or two. Maybe then I can finish it off!
I have all the QBA's from #1 to present. Makes quite a thick book now - wonderful reference!
Regards -
J. H. Schenck
Masal,
"Bone in his leg" my ass! It was raining here both days of the Ottawa fly-in. Here's my 20 bucks for another year of abuse. I don't have much to contribute since I'm working on a tiny canard type. Want to know about the Davenport shimmy dampener? Nose dragger airplanes have no panache. So why am I building one? Who knows? I can give you a couple of small tips. Hot melt glue guns make a great way to temporarily attach small jigging blocks. Brake lines: I got some 1/8" aluminum tubing to use for brake lines on the advise of Terry Yake. It tolerates the heat well and gives good, solid brakes. It will also go inside the Nylaflow tubing we use for brake lines, so it can be retrofitted. Neat, huh? If I think of anything else, I'll send it to you. Still a great newsletter. I enjoy it and the CSA flyer about as much as anything I get. Keep it up.
Robert Bounds
Jim Masal,
A nice note of thanks and a picture of Brian Martinez with his family and Q-200 reminded me I had not paid my 1995 dues. And how nice it is to talk with fellow Quickie builders and flyers.
N2AM continues to perform well. Our local "Saturday Scrambled Egg Squadron" continues to get new additions who doubt that "such a little thing" can take off last, but land first on a 60 mile flight.
A note from Les Hildebrand tells me he had 39 1/2 hrs flown off as of 12/19/94 and expected to get his area restrictions lifted this week. That should give us a semi-Ottawa area resident Quickie for next year's Convention and Fly-In.
Happy Landings
Art Jewett
Hi Jim,
Another year is upon us, I can't believe it - time flies, but the Tri-Q doesn't, not yet but getting closer.
I try to do a little each day, just installed the canopy and the controls are all hooked up. Cutting the openings in the cowling then I can hang the engine - beginning to see the light.
Enclosed is a check for another year. Hope this finds you in the best of health and thanks again for all the good information.
See you at Osh-,
Gordon Hanson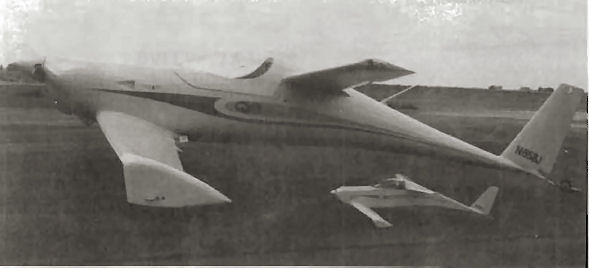 Bob Gillespie's litter (Twin Falls, IA) Congrats to Mom!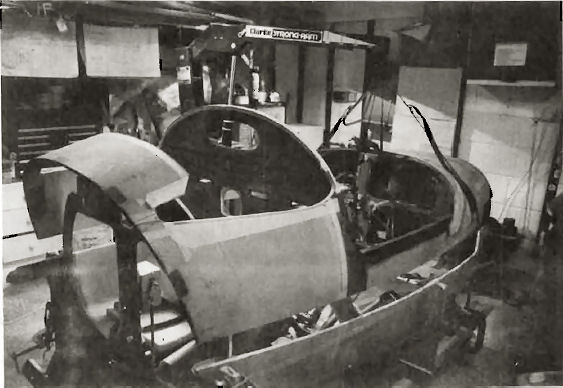 Rudi Brandenberger, ENGLAND, prepares to join fuselage halves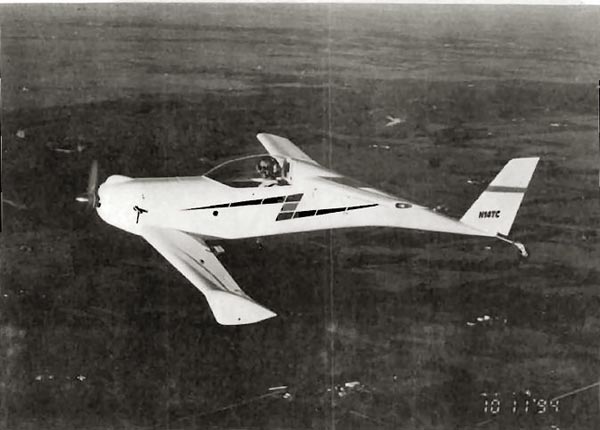 Terry Crouch, Bettendorf, IA finally goes for a ride.
---
You can order a PDF or printed copy of Q-talk #49 by using the Q-talk Back Issue Order Page.