Q-talk 149 - G-CUIK at the LAA Rally UK - 3 September 2011
Details

Category: Q-Talk Articles
Published: Tuesday, 18 October 2011 20:00
Written by Chris Rayner
Hits: 3862
by Chris Rayner
United Kingdom
This is what happens when you wait till last to leave - your parking place gets very lonely!
The LAA rally (previously the PFA rally) is the biggest light aircraft event in UK and one of the biggest outside USA. Since I first went in 1998, it has been at Cranfield, Kemble and is now at Sywell where it has been located for three years. I believe Sywell was where the PFA rally first began, way back and at that time had only grass runways, but just before they returned a hard runway was built, making it suitable for Q's.
Gary McKirdy and I tried to fly in three years ago, but due to an unreliable radio and being baulked on final by an RV9 that thought it could get down before us (but couldn't) and finding the air very busy, we aborted and flew to another airfield. Last year we had more success, partly because there was a fog bank over the east of the airfield and we approached from the west so had very little traffic and flew straight in.
This year on the Saturday, the weather was not very co-operative again – quite normal here though. I had a slot pre-booked at 10.31 but even at 11.00 the cloud base was only just beginning to lift above the 800ft it had been over Enstone, our base (an ex-WW2 bomber base, so plenty long). Things started to look a bit better, so we heaved and dragged the beautiful but heavy Stearman in the hanger, out of the way and then by comparison, practically carried the Q out. We took off, not on 045 degrees towards Sywell as it looked very murky – we headed north and then took a right once the visibility improved. Even with this diversion, the flight was only about 25 minutes and not above 1800ft due to cloud.
Of course the weather caused the aircraft to arrive bunched up which, along with a 20 knot headwind straight down the runway gave us added problems. We were on final at three times the speed of some of the slower aircraft. There was a published circuit for arriving aircraft and also to go around. We saw some interesting interpretations of this, none more so than when we passed about 100ft above an autogyro travelling on our exact reciprocal direction. Something we hope they will change for next year is that we were required to make a single radio call on final, giving aircraft details and whether landing on the grass or hard runway. Until that call is made, when there's a bunch waiting to land, the following aircraft don't know what to do. We had to go around once and only succeeded on second attempt by plenty of weaving and side slip. Once we were down and were running along photographers' alley, we counted nine aircraft in line waiting to land.
We were marshalled to a spot in the far corner of the parking area and after we packing our stuff away and pushed down the canopy, we headed off braced against the English summer weather to hand over our £10 entry fee. Although this is the largest fly-in in UK and one of the largest in Europe, there is not a large number of stalls and perhaps only about half a dozen manufacturers, so it doesn't take all day to look round. Well that's true if you're just looking around, but when you're with someone who has a fairly long history in UK light aircraft, the covered areas mostly serve as somewhere to meet old acquaintances and in my case, as I'm pretty new to this game, meet some new ones. Although Richard Thomson (rebuilding Tri-Q G-BMFN) was an old one I did know and was pleased to meet!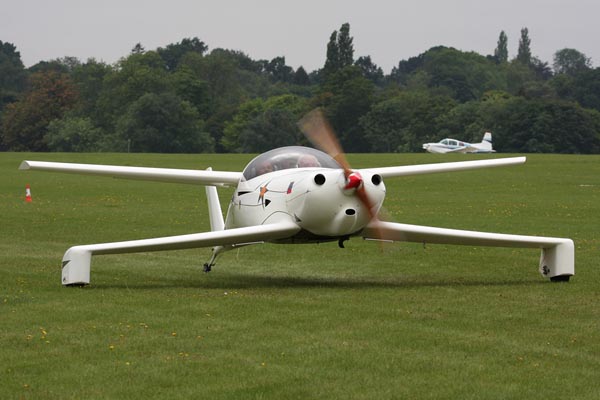 Pulling away from our parking spot.
We met guys, talked, looked at stuff, talked and looked some more until time was getting on and we should leave. We headed back to the "Q", by now looking very lonely at the far side of the field. Gary was about to climb in and I was carrying out the pre-hand swing and pre-flight checks, when four guys, one in a kilt(!) came striding up. One of the four, in a strong Scottish accent said "Thaht's ma plane and thaht's ma writin' on it!". Indeed it had been – it was Nigel Campbell, who I had bought the part built kit from in 1998. He was pointing to the date – Sept 1986 – he wrote on the bulkhead behind the seats. He was delighted to see the plane, finished and flyable after all that time and he was intrigued to spot the parts I had kept and the parts I had replaced. He had flown down in the RV4 he swapped to after stopping work on the Q, but still had a soft spot for my plane, or at least for the almost endless hours he put into the early stage construction without much obvious progress being made. I was also delighted, because Nigel's work had been excellent and the only changes I had made were my personal preference – mainly to simplify and lighten, not to correct poor work.
By the time we finished our last minute surprise meeting, we were getting close to bumping against the 19.30 curfew to land back at Enstone. We were probably last to leave and so the sky was quiet. Gary said "How about a fly-by?" Great idea and ATC, by now with time to spare were very happy to agree to an aborted approach. Then straight back to Enstone, another aborted approach, this time to shift any crows that were enjoying the warm tarmac as the air temperature dropped and then a touch-down just in time on a deserted runway. An easy shove to get G-CUIK back in the hanger, followed by a late day heave to return the Stearman, then slump into the SLK for the 45 minute drive home.
It had been a good day.
The meeting and chat with Richard, when we found out he is getting quite close to finishing his re-build and knowing that a few others are also getting close, got me thinking about the status of the UK Q2 derivatives that I know about. I also began to wonder about the possibility of a decent showing at the next rally. So I have included a list below of the aircraft I know of and what I believe is their current status. It is not complete, definitive and possibly wrong, but it's better than we had before. If the current owners are to be believed, there's a chance we could have a squadron of Q's next year. A full report will follow if that happens!
G-CUIK, Q 200, C90/O-200 engine, flyable and in use, built/owned by Chris Rayner
G-BWIZ, Tri Q 200, First Flight Successful!, owned by Mick Davies
G-BSPA, Q2, Turbo Revmaster, should be flyable within 12 months, owned by Gary McKirdy
G-BXOY, Q235, O-235 engine, should be flyable within 12 months, built/owned by Clive Clapham
G-BMFN, Tri Q, O-200 engine, should be flyable within 12 months, owned by Richard Thomson
G-OSAW, Tri Q2, Revmaster engine should be flyable within 12 months, owned by Simon Wilson
G-FARY, Tri Q, Limbach engine, currently not flyable, owned by Adrian Bloomfield
G-KUTU, Q2, Revmaster, believed not flyable, built/owned by Robin Nash
G-KWKI, Q 200, O-200 engine, believed not flyable, built/owned by Robin Greatrex
G-BSSK, Q 200, O-200 engine, believed not flyable, built/owned by Don Greatrex
G-BPMW, Q2, believed not flyable, owned by Paul Wright
[Editor's NOTE: Mick Davies reported his first flight on the Q-list! Congratulations! See his report elsewhere in this issue.]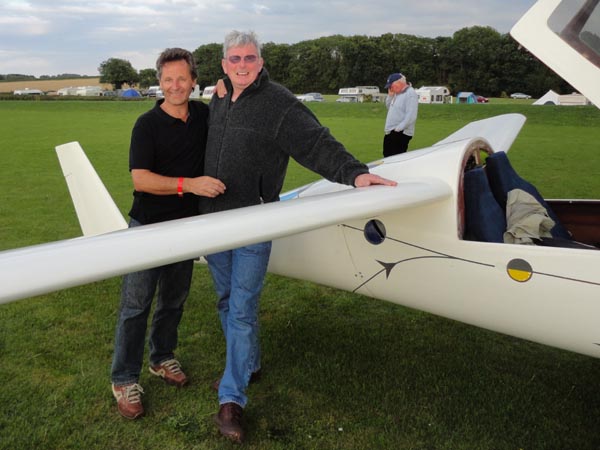 This photo shows the guy (Nigel Campbell)who started my kit in 1985
and me who continued it from 1998. I am the happier, smaller guy.
Gary McKirdy is in the background, checking in with home to say we're late!