Q-talk 147 - 3 Up 1 Down
Details

Category: Q-Talk Articles
Published: Tuesday, 28 June 2011 15:16
Written by Dan Yager
Hits: 3815
3 First Flights – 1 Successful Landing
by Dan Yager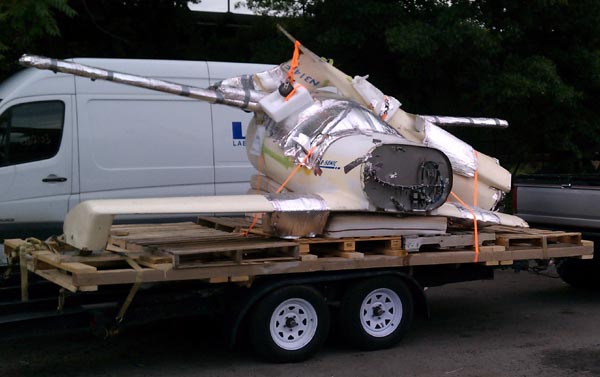 We all get a little excited when we hear someone is getting ready for his or her first flight. Unfortunately, all too often in our community, our excitement is quelled by an accident report. Since the last newsletter, 3 individuals took off on their maiden Q flights, but only one of these landed successfully. This is not exactly what I would call a stellar record.
The two individuals that crashed purchased Q-2's with hundreds of successful flight hours on them. The first crash involved the Subaru powered Q2 built by Jon Finley. At the time of the accident, the airframe had 850 hours on it. The community has heard very little about this crash, since the buyer feels reluctant to be "ripped apart" on the Q-list, as he puts it. Nevertheless, I thought it pertinent to let everyone know that it occurred. The buyer has promised to come forward later and write an article about the lessons he learned "the hard way." He (and his passenger) walked away from the crash, and both of them consider themselves very lucky.
The second crash involved the Q2 built by Dr. Steve Kulczycky, and at the time of his passing Dr. Steve was the highest time Q pilot with nearly 3000 hours in his logbook. The new owner was attempting to fly from Abbotsford through the Rockies to his home base in Alberta. He made a forced landing on the highway near Field, British Columbia. The individual was MedEvac-ed to a local hospital and is recovering from non life threatening head injuries.
When the Q-list got wind of the second accident, it became apparent that this is a too frequent occurrence in our little community. I began wondering if there was something more we could do, as a community, to reduce the number of first flight accidents. (Especially, when a Q is sold to a non-builder.)
I'm well aware that we can't suddenly transmit all of the knowledge gained by an experienced Q flier to a buyer off the street, but perhaps we could do a better job of transmitting some of that knowledge before handing over the keys.
To that end, I propose that we begin collaborating as an "Association" to develop a document for each of the designs that both the seller and buyer can reference during the sale of any Q-type airplane. The goal of the document should be:
To dispel myths surrounding the designs. (Including performance hype.)
Enhance the buyer's confidence in the aircraft being offered.
Boost the seller's confidence in the pilot the plane.
I would like to compile the information, and make it available as a FREE downloadable PDF from either the Q-list, the QBA website, or both. In my opinion, the document should include the following sections:
Section I - Checklists:
1. Pre-flight Checklist
2. Annual Condition Inspection Checklist
3. QAC Pilot's Operating Handbook (With QBA Updates and Revisions.)

Should include W&B information
Understanding Max Gross Weight and what that means to performance.
Refresher on Density Altitude – And the penalty for failing to calculate it.

4. Aircraft Current Pre-Sale Condition Checklist

Is there anything that needs to be repaired
Are all of the "Jim-Bob Six Pack" items completed.
Total Hours on Engine
Total Hours on Airframe
Section II - Lessons Learned:
1. Pilot Profiles

How much experience did Current High Time Q fliers have before their own "first flight"
How much time should a buyer reasonably expect to have before successful first flight
Stories from experienced Q fliers highlighting their own "dumb" mistakes, and how to avoid them.

2. Crash reports

Compilation of crash reports for the Q designs highlighting common errors in judgment and/or competency.
Crash reports that highlight builder errors/repairs that should NOT be repeated.

If we as a community create these documents together, the seller could send a link to prospective buyers. Then print out the checklists, and discuss them with the buyer.
HOWEVER, I NEED YOUR INPUT. I will compile all of the information and format the PDF files. If you have additional suggestions, questions, or smart remarks, please leave them in the comments below, or let me know in the Q-list! In addition, send me your experiences with either first flight, buying/selling an experimental aircraft, checklist items, or your analysis of a Q accident report.
I look forward to hearing from each of you. Remember, together we build (and sell) better and safer planes.