Q-talk 137 - Sept/Oct 2009 - index
Details

Category: Q-Talk Index
Published: Wednesday, 23 December 2009 16:24
Written by Doug Humble
Hits: 2458
Quickie Builders Association


Together we build better planes!

Sept./Oct. 2009
Issue Number 137
---
19th Annual Field of Dreams Tandem Wing Fly-in
Big Blowout in Beatrice!
The Blowout is in reference to the wind that blew on Friday. Boy, did it blow! We had consistent winds of 38 mph gusting to up to 50 mph. Fortunately, it was down the runway most of the time. That's enough wind to make any fly-in host hope his pilots use good judgement. I am proud to say everyone showed good judgement and most came in on Saturday when the winds were much more manageable.
Those that did arrive on Friday are capable pilots and did a fine job of landing in those conditions. First it was Paul Spackman who made a first attempt and then did a go around. While it was hard for your host to watch, he made it down on his second attempt with really no problems. Then came Jay Scheevel in his Cherokee. Then the Johnson brothers in their Cessna. Finally, Bruce "I ain't afraid of a little wind" Crain and his lovely wife "Honeylamb" (Joanne) in his TriQ-200. I expected Honeylamb to be a little green in the face as I walked up to the airplane, but she is obviously a veteran of Bruce's landingsbecause she had no signs that would appear from the meek.
So, with these pilots and those of us that drove in, we decided that it would be more comfortable to eat pizza at the "Hut" instead of the "hangar". This makes less work for the host anyway.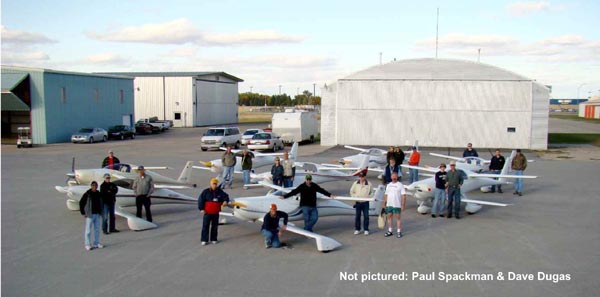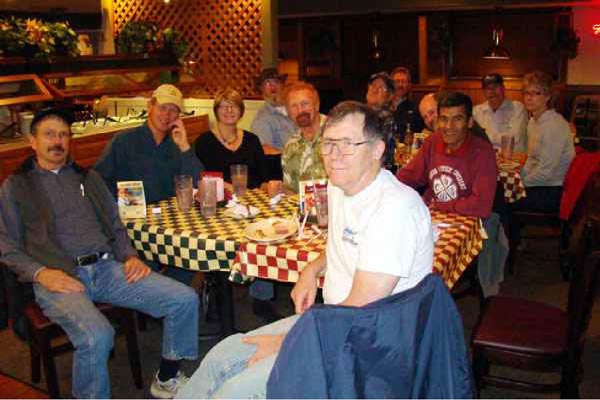 Saturday morning was still overcast, but with much lighter winds, and by noon we had most of our pilots. We hung out in the FOB lobby and watch a video from the Livermore CA fly-in and just did the provincial hangar flying. One of the drive-ins was none other than Grand Pu Bah, Jim Masal. Recently he had made more trips to the Livermore CA fly-in than to our Midwest fly-in & this host was beginning to get a complex about his absence. His historical value is a must at any tandem wing fly-in. (I think this is another way of saying we like the old guy to show up.)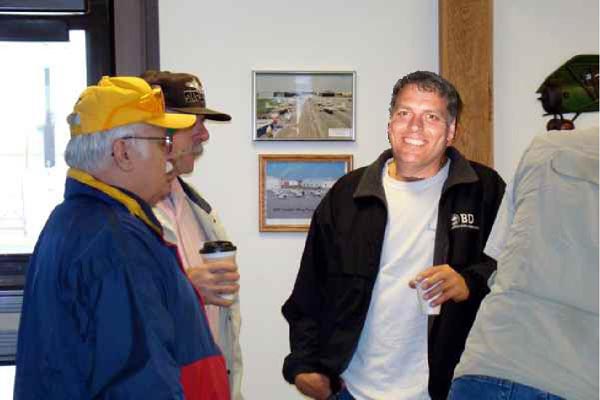 While some watched the Livermore video, others had brought their laptops and began showing photos of their projects to others.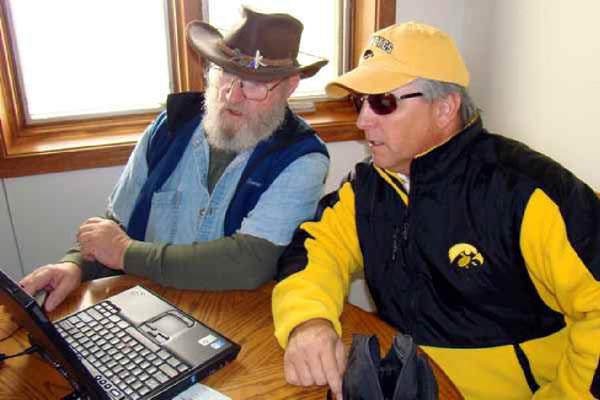 This informal information exchange went on until people's stomach's began to growl. So off to Woodee's Diner for lunch.
About this time Jon Finley dropped down from the heavens and did a spectacular fly-by in his Subaru powered Q2. The only problem was that we were all at lunch. A quick call to his host and he joined us for lunch where he described his spectacularfly-by to those that would listen.
By mid afternoon we had nine Quickies on the flight line. One of these birds was Jerry Marstall's newly refurbished TriQ-200. As I was passing by, I over heard Terry Crouch exclaim that it seemed odd to him that Jerry had his plane at the FOD fly-in, but he didn't.
One feature that Jerry has added to his Q is a fire suppression system that he adapted from a race car system. The canister is installed on the fuselage wall near the pilot's leg. The system has two sensor/release mechanisms. One on the engine side of the firewall and one in the cockpit. I have asked Jerry to give me an article with more details for next newsletter.
We also had a good variety of engine types on hand as well. Along with Jon's Subaru, Mitch Hargin from Clarinda, IA had his Tr-Q powered by a Type 4 VW on the flight line. This aircraft had been built and flown by Dave Davis. Mitch has been owner of this airplane since April.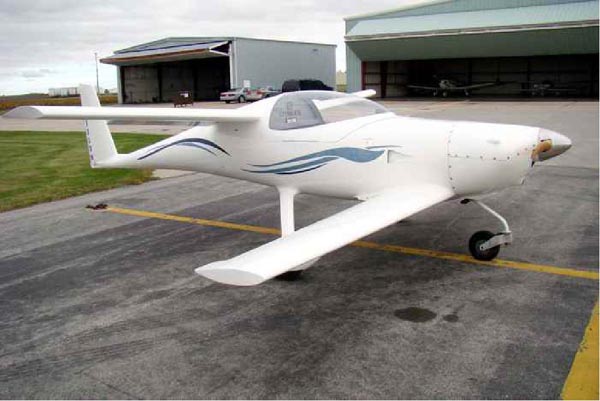 It wouldn't be a good fly-in unless we had Sam Hoskins show up. Well, it was a good fly-in! We all know Sam has been refurbishing his Q200. Let me tell you, not only is it fast, but it is now a looker. Sam did a great job with the exterior paint. You have to see the chameleon blue stripe in person to do it justice. However, we need only to look on the inside to be reminded that he built this Q for racing. While many instruments have been removed and updated, the interior still has it's sparse, no frills look to it.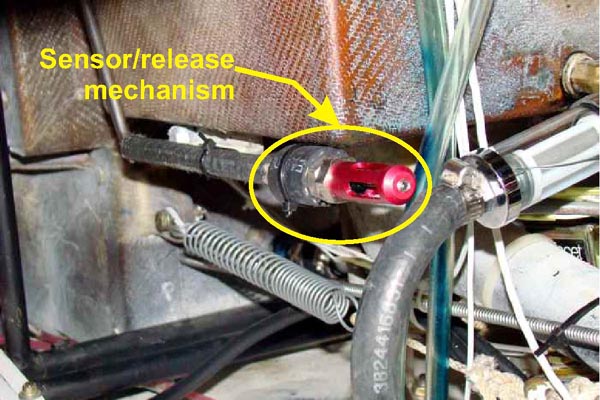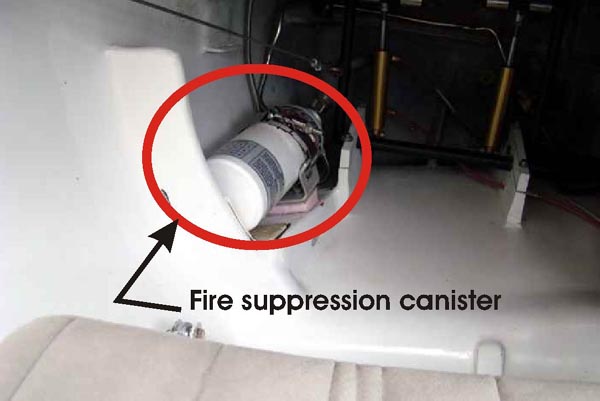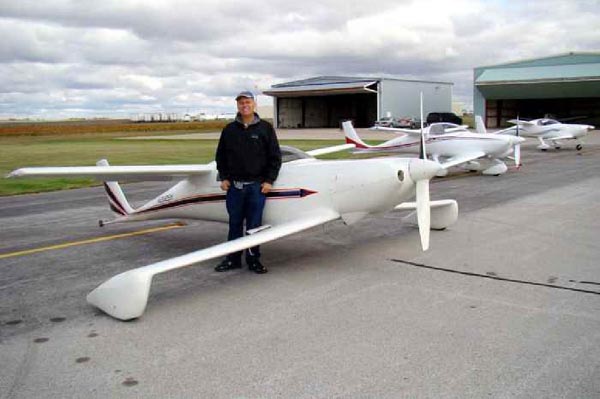 Jay Sheevel from Grand Junction, Colorado brought a home made device to measure the difference between the wing and canard incidences. He set about measuring and recording most of the Quickies that had showed up. He plans on providing me an article based on the results of his findings. He believes the results will help his comfort level in mounting his own wing and canard.
In the afternoon we pulled the aircraft into the big hangar and had a cowls off session.
Paul Spackman and his nice Jabiru powered Q2 from Casper WY had to take off for home Saturday afternoon just prior to us taking our group photo. Once the photo shoot was over, we headed a short distance up the road to Risky's Sports Bar for dinner. We had been seated just long enough to get our drinks when in walked Dave Dugas from Athol, MA and his Cozy flying friend Rod. They had just arrived & what a pleasure to see them come from such a long way. They fought weather for several days, but safely persisted so they could join us. The shame is that by 10 aM the next day, they had to start the long journey home. Needlessto say, Dave won this year's long distance award.
Speaking of awards, after our fine dinner at Risky's, we gathered back at the FOB lounge to have our meeting. The high time award went to Sam Hoskins and the best overall award was given to Jerry Marstall. We also decided to have the FOD fly-in back at Beatrice next year and I'll be honored to host all of you at the 20th year for this event. Dave Dugas asked if anyone would be interested in a fly-in in the northeast sometime. We all agreed that "If you build it, they will come."
After the meeting at the FOB lounge, we continued the hangar flying in the lobby of the New Victorian Inn. This is becoming a tradition at the Beatrice location. In the photo below, Jay Sheevel shows the group his program where he makes modifications to his Q in a CAD program.
Another tradition at the FOD fly-in is Alan Thayer's green shorts. They were once again in attendance this year. I tried to talk Alan into wearing them over a pair of pants, but he would have none of this and wore them alone in the cool weather we had.
On Sunday morning, I drove Bob Clark over to the airport early so I could open the hangar door in preparation of everyone departing for home. As I was talking to Bob inside the hangar, I unlatched the two door latches and hit the switch to open the door. As I continued to talk to Bob, I heard the door grown and I noticed the end of the door near the switch was not moving. I quickly reached for the stop button, but before I could hit it, the door cable broke and brushed my hair. So, there I was with 10 airplanes from all over this great country sitting in a hangar waiting to go home and no way to raise the door to let them depart.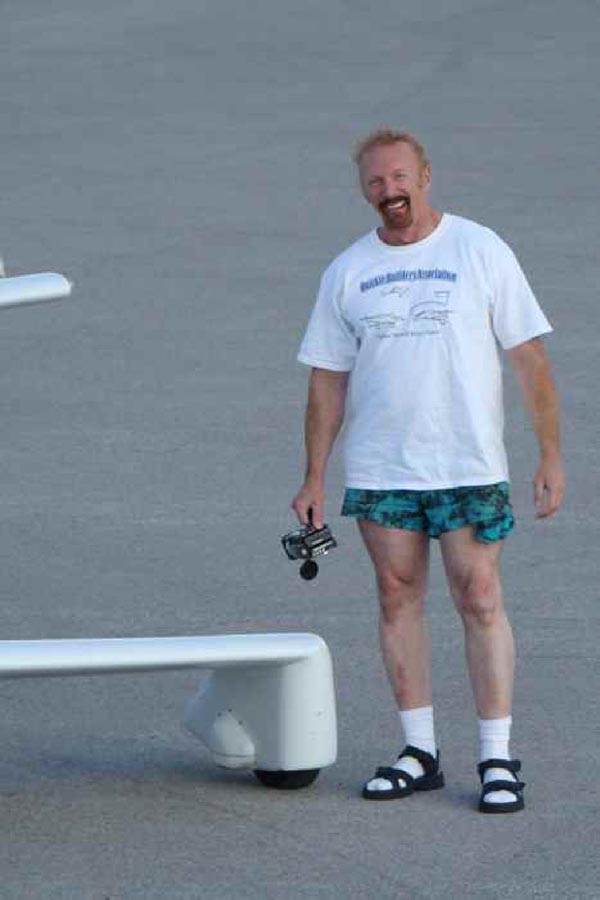 I rushed up to the FBO where the attendant called the maintenance staff. Within an hour, they had replaced the cable and assured me that this wasn't the first time this had happened. I still felt bad.
As a host, you never know how things are going to turn out each year. Every fly-in has a different personality. This year it got it's character from the weather we had to deal with. If someone had told me during the blowing wind on Friday that we would have 15 total airplanes fly in by the end of the weekend, I would have at least been skeptical. As it turned out, it was a success. Thanks to all those that showed up and we'll see you again next year!
Hawkeye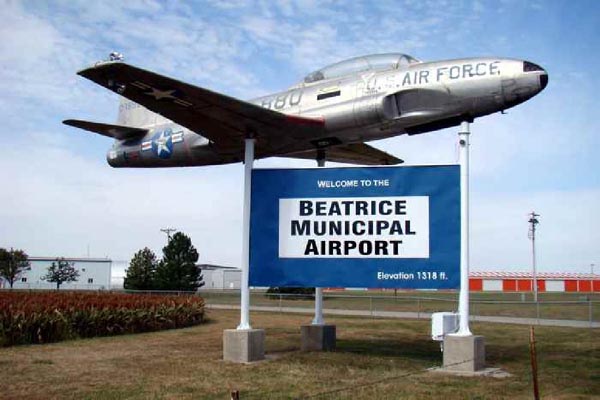 Special thanks goes out to Sam Kittle and Alan Thayer for sticking around and helping me install this new sign at the airport.
---
Articles from this issue:
THE GREED FOR SPEED - by Jim Masal
Vortex Generator Experiments - by Paul Spackman
Mid-winter Canard Fly-in Now Being Planned - by Brent Bourgeois
I Gotta Have Me One of Those - by Jon Finley
Please DON'T Send Money! - by Doug Humble
QBA on the grow! - by Doug Humble
Where was Sam hiding? - by Doug Humble

---
A current QBA member may have one free ad per issue. It may be a maximum of five lines of type and will be edited to fit space available. Items advertised must be owned by the QBA member. The ad contact must be a member name. Ads will be run for two issues and then the ad must be resubmitted. [EDITOR'S NOTE: Please note that these ads may no longer be valid. They are included here only as part of the online archive.]
For Sale: Tri-Q2 Selling due to age. Revmaster 65 HP engine. Never flown but is ready for taxi testing. Located in Aurora, IL. $10,000 OBO. Call GordonHanson 630-545-2107.
For Sale: LoPresti style cowl for Q200 and streamlined wheel pants for Tri-Q. Contact Earnest Martin at This email address is being protected from spambots. You need JavaScript enabled to view it. or phone 828-230-5378
For Sale: Q2 with LS1 (project) Too busy with family matters to put my Q back in the air, so I have decided to sell her. While this was a flying airplane, I am selling this as a project without an engine. I had a hard landing in Sept. of 2005 and wrinkled the top skin on the passenger side canard. This has been repaired and is in primer. This airplane has the following features: LS1 canard; wing tip lenses covering 3 position strobes and lights; three panel belly board; reflexor; dual sticks; dual finger brakes and forward mounted instrument panel for improved knee room. Instruments that come with it include Westach 4 in one engine monitor, airspeed indicator, altimeter, rate of climb, electric turn coordinator, compass, engine tach.; manifold pressure, (No Comm. radio), Narco transponder, & an intercom. Good flying bird for someone to put back in the air. Can be converted to a Q200. Photos available. Asking $6900. Call Doug Humble at 402-2509075 or email me at: This email address is being protected from spambots. You need JavaScript enabled to view it.
For Sale: I reformatted the large Appendix Sheets for the Q-2 plans and they are now available for immediate download on my website as PDF files. Simply go to www.quickheads.com and visit the "Stuff For Sale" link.
For Sale: Unstarted Q200 kit with O 200A engine This is an unstarted kit with the exception of the hot wired foam cores still protected in the original foam billets. Includes original fabricated pieces, wheels, tires/tubes, brakes, cables, & assoc. hardware, etc. in original packaging & shipping boxes. Also included is a set of CF spars for the LS1 canard. The engine has 786 SMOH, comes complete with its engine log & is in a pickled state with preservation oil & dehydrator plugs. Builder's manual, Q200 mods, templates & many newsletters. Just add a prop & instruments of your choice to complete the package. Am now in final stages of completing a Velocity and have no time to tackle the Q200. Selling Price: $7500.00 Located in Ontario Canada Call: 613-692-8285 or Email: This email address is being protected from spambots. You need JavaScript enabled to view it.
See more ads at: http://www.quickheads.com/forsale.html
---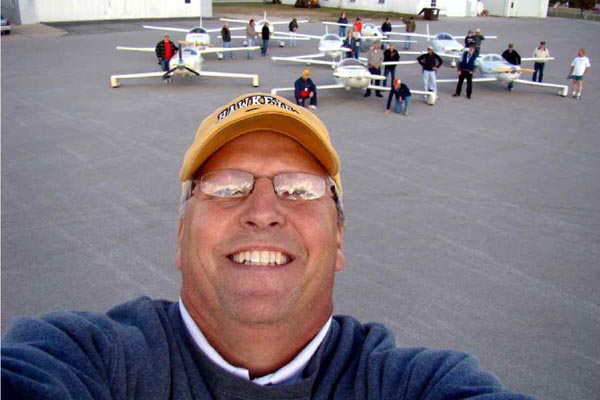 Really honey, I was at the fly-in all weekend!
---
You can order a printed copy of Q-talk #137 by using the Q-talk Back Issue Order Page.