Q-talk 124 - July/Aug 2007 - index
Details

Category: Q-Talk Index
Published: Wednesday, 23 December 2009 16:24
Written by Doug Humble
Hits: 2350
Quickie Builders Association


Together we build better planes!

July/Aug. 2007
Issue Number 124
---
"According to Jim" or AirVenture 2007
by Jim Masal
I asked Jim Masal to help me out this year as I was hosting my 7 year old son at his first AirVenture. Jim was gracious enough to host the Quickie Forum and to submit this article describing his take of the event.
This year at Oshkosh I frequently asked acquaintances and strangers: "Have you seen anything special that I shouldn't miss?" They must've been overwhelmed because I often got unintelligible answers. But for your review, here are some of the things that stood out in my mind.
Traffic. It almost astounded me how many vehicles were moving on the convention grounds: cars, trucks, SUV's, honey wagons, gators, golf carts, yellow school buses. There HAS to have been vehicle/person contact somewhere but, of course, those are statistics that EAA would want to bury. Most drivers were very careful tho.
Tower. Sticking up like a sore thumb with a missing fingernail was a modern new tower under construction. The FED's hope to be operational by 2008, but EAA staffers are not holding their breaths.
NO! Thousands were displaying the massively distributed "Say NO to user fees" buttons and my initial impression was they were having an effect on congressional visitors, & even FAA's Marion Blakey.
Beach Boys. Some 15 to 20,000 attended the opening evening's Beach Boy concert. EAA reported some 560,000 attended the convention. Ahhhhh, I remember the good ol' days when Paul was president and he'd report 50-60,000 new attendees each year. I thought this was bogus because he was at 800,000 one year and seemingly inching up to a desired one million. I can believe 560,000.
Flight Line North to South. The top of the Warburd area was awash in Chinese and Yak 2-place trainers. Didn't seem to be quite as big a flock of T-6's, but still an eyeful. There was a nice Caribou, 6 B25's on the ground, a pair of OV-1 Mohawks and, surprise, two P-38's. A rare Curtiss Helldiver, a P-47D, Wildcat and a dozen or so P-51's, were also noted. The P-51 ranks were depleted by two when the air show went silent Friday afternoon. Just on landing a rare P-51B clipped the left stab of a D model, did a spectacular wing over flip, slammed in, caught fire and killed the driver. The damaged D driver was unhurt. These guys were in an exhibition fly past and why the back guy thought a formation landing was necessary I can't figure. He was a race guy tho and they can be aggressive.
Moving south there was the usual quantity and distribution of homebuilt types. Nothing attracted my jaundiced eye except a few clever and interesting paint designs. Lots of airframes that have been coming repeatedly were there again.
Aeroshell Plaza held a lot of military iron, principally a huge C-17 and a black U-2
'Tween the Plaza and the tower was the classy, splashy and elevated and covered Hondajet "stage." It was lit like a rock star and was magnificent. Free hats, bottled water, literature... Honda went all out (anybody remember Tony Fox and the Foxjet??).
'Tween the plaza and the woods was a corner acre of LSA's with surprisingly high dollar price tags for the new, but necessarily affluent young pilot. I think the EuroFox was cheapest at around $4550,000.
Slightly south and west of the tower was a mish-mash of tented/open air acres of interesting aircraft displays. I HAD to see the ECJ... Eclipse Concept Jet which could be snottily described as a jet Bonanza "V" tail from a designer on dope. It is a elegant 4-place with swoopy lines and an exaggerated V-tail cradling a single jet on the top aft fuselage. (The proposed PiperJet looks very plain next to this one).
The "company that taught the world to fly" had their Cessna Skycatcher LSA in a nice display. Cirrus and Van (RV-12) also have LSA's to catch a piece of that action.
The relentless Mr. Monnett surprised us with one of his vee tailed jobs equipped with an all electric engine. It's only in test phase, but just imagine!
Ultralights. Wandering into this area was disappointing for me. Some 136 were registered but the area is much thinned out from its golden days. It seems the trend has decidedly shifted to LSA and Sport Pilot. Tiny and spiffy helicopters are still of steady interest, however.
Fender Benders. Besides the P-51 amalgamation there were 2 local highway landings. One by a T-6 that hopped over a state troopers car and a young pilot slammed in a trainer hard enough to snap the fiberglass gear off.
Miscellaneous. Fisher and Hoskins were the only Q's there as part of the 985 homebuilts (2,617 total aircraft on show for judging). Other numbers were 1,014 vintage, 365 warbirds and 117 seaplanes.
You were a dweeb if you weren't walking around with a big NO button to protest proposed user fees and if you didn't get one of the 1.4 million (just kidding) XM black tote bags that were handed out... then god bless yew. 784 exhibitors were on the grounds along with 40,000 campers. Cruising the 4 large metal exhibit buildings I was just dumbfounded to see that headsets have become the sneakers styles of the flying set. When I trained in the mid sixties you had to be super-cool to have a headset...
And as for us Q guys, we had a respectable forum with about 25 attendees and were able to cheer on some of our old plodders and a couple of new guys. And a couple of old guys from the land that time forgot reappeared, notable Steve Eckrich who once earned a
closed course record in his Q-1, which he reports is alive and well, though neglected.
At the doggie roast it seemed close to 20 people found their way to the correct location and had a high ol' time with the bakery buns... I didn't expect to come and work (they weren't pre-cut, and no one had a knife). We sighed and mused about the good ol' days when Oshkosh would have 6 Q-1's on the line, but we can' complain about the "regional" fly-in's we now have that always have a dedicated and appreciative (small) crowd of our faithful.
Jim Masal - "Oldest" Editor Carrollton, TX
---
Articles from this issue:
Field of Dreams Fly-in Sept. 21st - 23rd - by Doug Humble
AirVenture Cup Race - by Sam Hoskins
Post Accident Update - by Tim Sorensen
Bob Clark Flies his Tri-Q - by Bob Clark
Canopy Support Construction - by Earnest Martin
On his way to AirVenture... - by Reg Clarke
QBA on the Grow - by Doug Humble
Where was Sam hiding? - by Doug Humble

---
A current QBA member may have one free ad per issue. It may be a maximum of five lines of type and will be edited to fit space available. Items advertised must be owned by the QBA member. The ad contact must be a member name. Ads will be run for two issues and then the ad must be resubmitted. [EDITOR'S NOTE: Please note that these ads may no longer be valid. They are included here only as part of the online archive.]
For sale: Q2 with LS1- Ready for instrument and engine installation. New Revmaster engine has been baffeled and upgraded. Instrument panel setup for IFR, missing artificial horizon. Wheel pants w/landing lights, tail with strobe. Duel bendex fuel pumps. This craft has been designed like no others that I have seen. I have just been informed from the party that was going to finish this plane, has taken another job and won"t be able to do what he contracted to do. Buyer can finish and still be builder. All records, photos plans and quickie news letters. Email me for more info. at: This email address is being protected from spambots. You need JavaScript enabled to view it.. I also have transponder and radios if interested. Plane is located in Sanford Florida, some pictures are listed on the Quickie photos at Yahoo Groups under chucksgallery. I will sell for the cost I have invested
For Sale: Q2 kit- Near un-touched kit, has nearly all of the
kit except the liquid epoxy and the Q-2 propeller. I paid for the Q-200 conversion parts as QAC was about T-U and got the cowl, extra plans, engine mounts and other hardware, but not the carbon fiber spars. It does have the following extras: second canopy, tinted, VSI, 2 reduced-size (Legal size) copies of the construction plans/instructions, some QBA pubs from way back, mechanical liquid epoxy pump, construction table, heavy sheet aluminum hot wire templates, & jigs. The kit is near Marietta (Atlanta) GA; Contact Charles Wirt in Miami FL W=305-685-0000, H=305-681-4540, M=305- 502-3695, Email= This email address is being protected from spambots. You need JavaScript enabled to view it..
See more ads at:
http://www.quickheads.com/forsale.html
---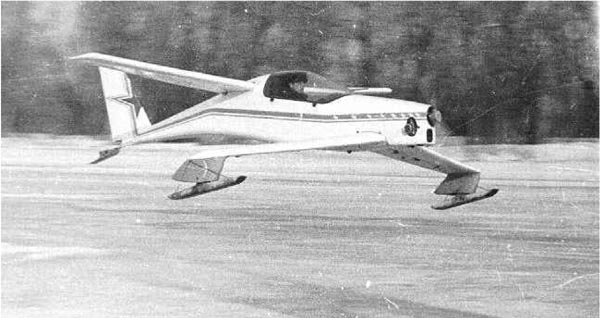 Terry Crouch may want to consider this Q1 mod for the Iowa winter months.
---
You can order a printed copy of Q-talk #124 by using the Q-talk Back Issue Order Page.