Q-talk 123 - May/Jun 2007 - index
Details

Category: Q-Talk Index
Published: Wednesday, 23 December 2009 16:24
Written by Doug Humble
Hits: 2333
Quickie Builders Association


Together we build better planes!

May/Jun. 2007
Issue Number 123
---
SUN 'n FUN - Iowa City Style
I know the title "Sun 'n Fun" is taken, but this is exactly what occurred in Iowa City at the Tandem Wing Spring Fling fly-in this year. Airplanes from all directions descended on this little airport to have another go at discussing why these are great little airplanes.
Paul Spackman from Casper WY came in from the West. So came Lynn French from Broken Bow NE. And Kris Lierfallom from aviation school in North Dakota.
From the East came Earnest & Donna Martin from North Carolina, adding to his Paul Spackman comes in for a landing while Lynn French waits to take the active runway recent milestone of 1000 hours on his Tri-Q200. From the North came Kevin Boddicker from NE Iowa and Jeff Sell in his nice Pulsar from Wisconsin. Bruce & Tom came from Michigan.
From the South came Jeff Letempt, the only Dragonfly to attend. Short hoppers were Paul Fisher, Terry Crouch and Bob Clark, who flew his KR2 to the event from Ankeny Iowa. And one of our local hosts, Greg Zimmerman, taxied his Tri-Q200 to the event all the way from his hangar!
Not only was the hotel within walking distance, it has an aviation theme to it. For example, Earnest and Donna spent the night in the Amelia Earhart room.
We knew we were welcome when we drove up and saw our name on the hotel sign! And good selection of eateries were just a short drive away
The old United hangar was our meeting place for the next three days and it provided us shade, shelter and fast acess to watch who was on final.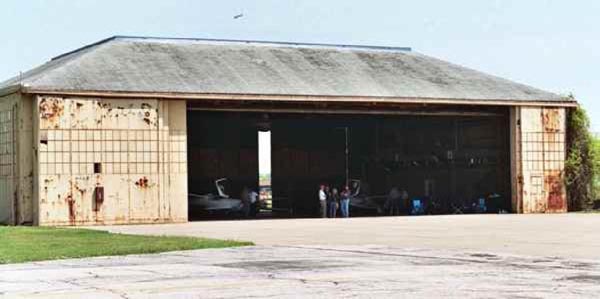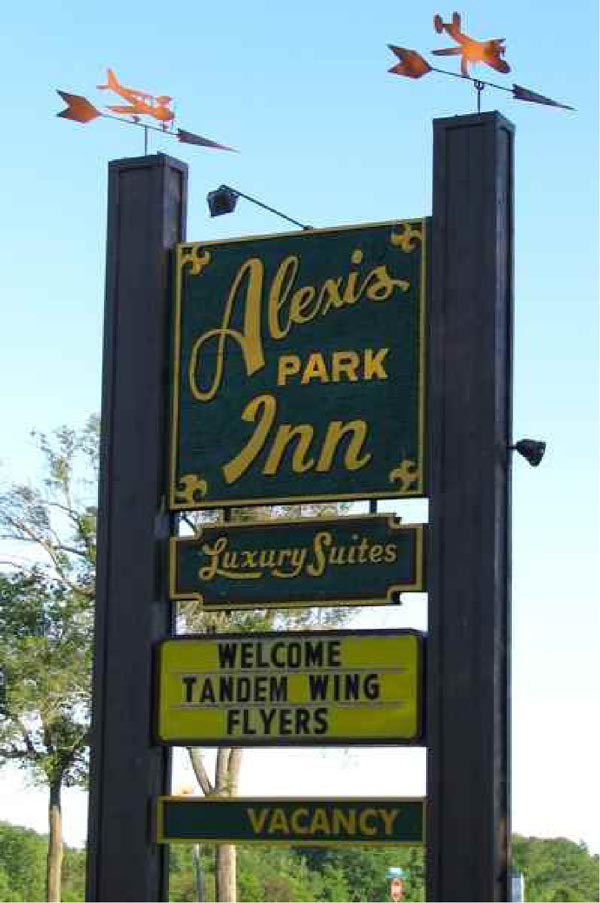 On Saturday morning we convened a short distance away at Greg's hangar to enjoy his version of breakfast at the airport. Greg and his friend, Jeff Sales cooked a great hot breakfast. Eggs, hash browns, bacon, sausage, toast, nut breads, the works. No one went away hungry from this one!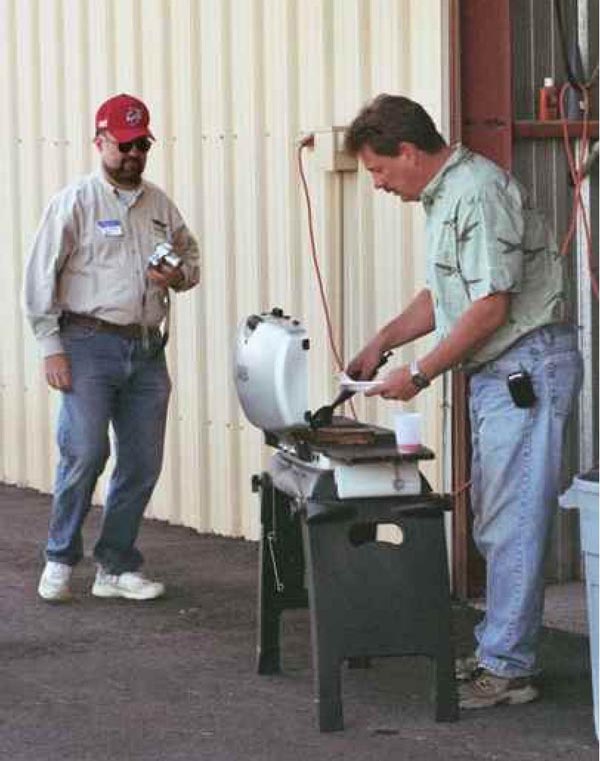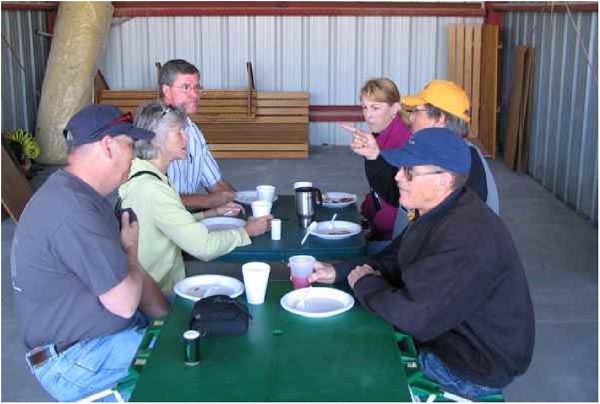 The weather was nice throughout the day, but most of the flying took place after dinner when the winds died down some.
First flights were given to Kris Lierfallom and Bob Clark. Here is yet another one of those familliar grins we have all seen over the years from Kris who got a ride from Paul Spackman.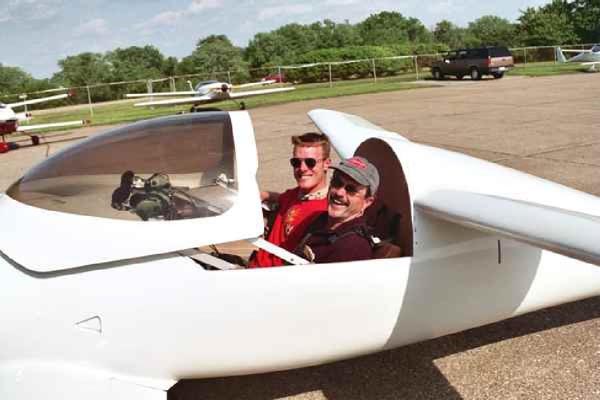 We started a new tradition at this fly-in to honor those who are no longer with us. Shortly after our good friend and former editor Dave Richardson passed away, I was asked by Susie Richardson to find a photo of Dave and his Tri-Q and email it to her for his services. While I was searching for that photo, I came across a photo of their Tri-Q interior which showed a nice towel with the words "Tri-Q Pilot Dave" embroidered on it. I found an appropriate time and asked Susie if I could have it so I could take it to our Quickie fly-ins and have the guys take the towel flying with them as a way to keep his spirit with us. She was delighted to give it to me.
Paul Fisher was the first to take Dave for a flight and Terry Crouch shot this great photo for us to share with the rest of you.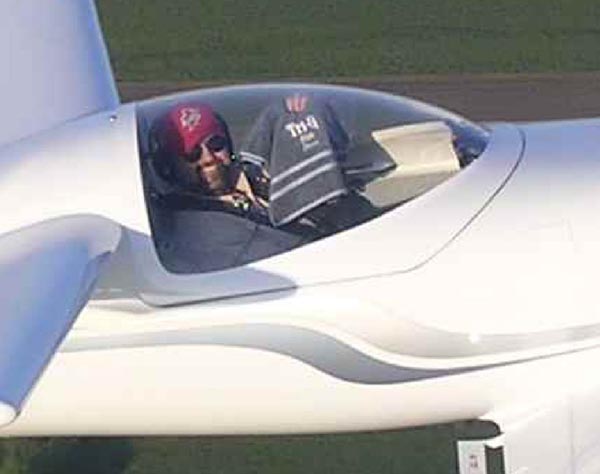 Dave's towel got passed around to most everyone and someone came up with the idea of starting a log book for Dave's Towel to log the hours he gets to ride with everyone. I have started that logbook and will be bringing it to all the fly-ins I attend.
This was Kevin Boddicker's first fly-in with his Tri-Q. This was his first xcountry. As I was looking over his aircraft, Kevin mentioned that he mounted his stick up side down in order to get the clearance needed in front of the fuel tank so as not to have to cut a channel in the tank for clearance. This is necessary for any Tri-Q with a flat canard. He said he got this idea from Lynn French. Kevin sent these photos showing his stick installation. I placed a couple more photos out at the QBA Members Only page at the web site.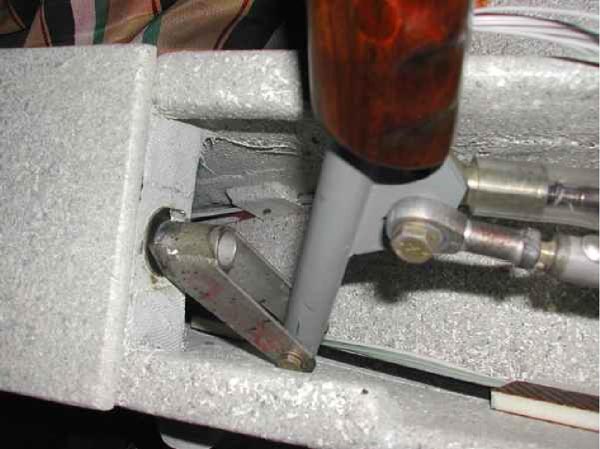 Here is a shot of Kevin's interior which was inspired by Sam Hoskins (in other words, sparce!)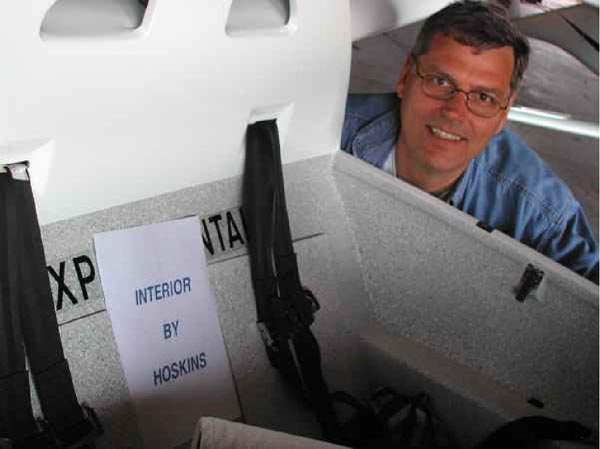 One of the things you do at these fly-ins is inspect other airplanes for ideas and gadgets for your own airplane. The one item everyone was looking at was on Earnest Martin's airplane. He has designed a nifty canopy strut system that keeps his canopy open.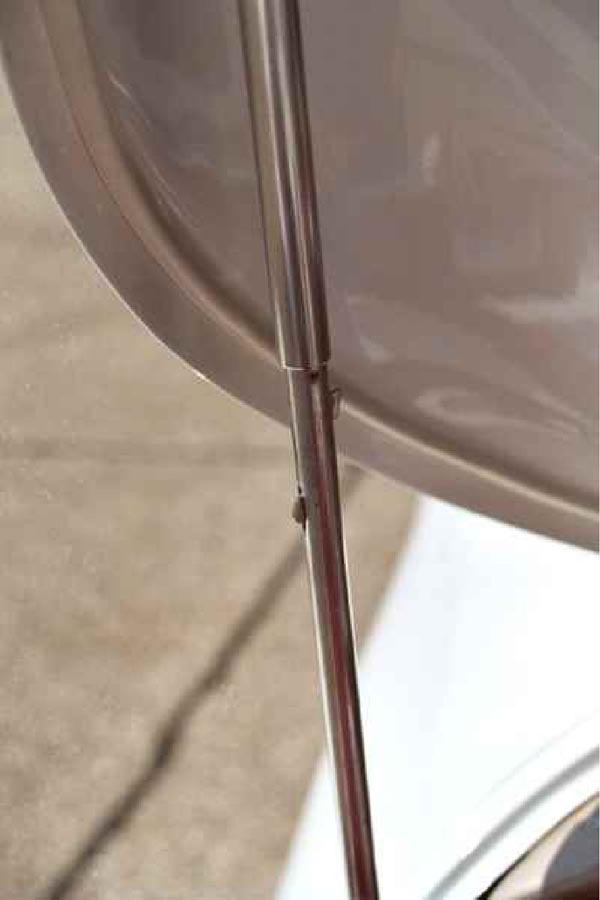 His inspiration was the common umbrella. Made from two aluminum tubes that slide into one another, there is a spring loaded latch that holds the canopy open. Now, I could try to describe it here in more detail, but Earnest promises to write his own little article, complete with drawings on how he made this. For now I'll wet your curiosity with a couple of photos.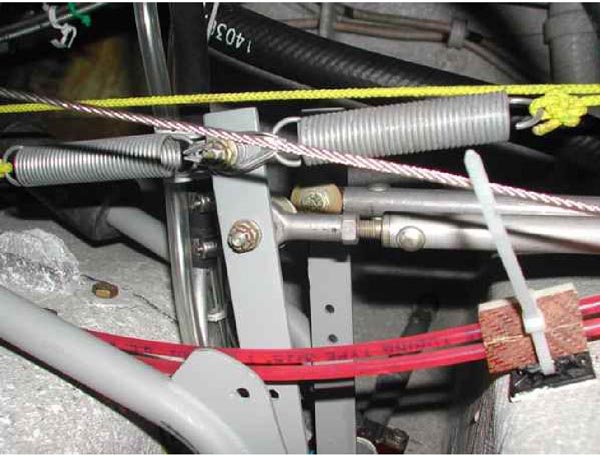 It is safe to say the fly-in was a success. If the old United hangar is still there, we should try to do it again next year!
---
Articles from this issue:
AirVenture Plans - by Doug Humble
Post Iowa City Update - by Doug Humble
Tri-Q Mobile Tail Stand - by Jerry Marstall
Frightless Freight - by Dave Richardson
START YOUR PLANNING FOR: 17th Annual Field of Dreams Fly-in - by Spud Spornitz
Where was Sam hiding? - by Doug Humble

---
A current QBA member may have one free ad per issue. It may be a maximum of five lines of type and will be edited to fit space available. Items advertised must be owned by the QBA member. The ad contact must be a member name. Ads will be run for two issues and then the ad must be resubmitted. [EDITOR'S NOTE: Please note that these ads may no longer be valid. They are included here only as part of the online archive.]
For sale: Q2 with LSI - Ready for instrument and engine installation. New Revmaster engine has been baffeled and upgraded. Instrument panel setup for IFR, missing artificial horizon. Wheel pants w/landing lights, tail with strobe. Duel bendex fuel pumps. This craft has been designed like no others that I have seen. I have just been informed from the party that was going to finish this plane, has taken another job and won"t be able to do what he contracted to do. Buyer can finish and still be builder. All records, photos plans and quickie news letters. Email me for more info. at: This email address is being protected from spambots. You need JavaScript enabled to view it.. I also have transponder and radios if interested. Plane is located in Sanford Florida, some pictures are listed on the Quickie photos at Yahoo Groups under chucksgallery. I will sell for the cost I have invested
Wanted: Q1 Onan cowling. Contact Keith Welsh at: This email address is being protected from spambots. You need JavaScript enabled to view it.
For Sale: Q2- 20 hrs & ready to fly. Ready for new paint. Full set of plans. LS-1 Canard. 480TT. Reflexor, T-tail. Split fuselage. 4 HR Revmaster -Reworked by Revmaster ($1700.00). New 75 HP heads w/ SS valves ($650.00) w/20 amp alternator. Slick mag and Electroair Electronic ign.($950.00). New Revflow carb. Lightweight starter. Aymuth-Demuth prop. Whelan Strobes & Position lights. Infinity Stick/PTT. Taxi light. Cleveland wheels & differential brakes. Pass. side rudder. Full Panel including Terra Com w/intercom, Terra Nav, Terra OBS, Terra Transponder, Trimble loran, Will sell Trimble panel mount GPS Add $300.00. Contact: Steve Ham 317-538-9186
See more ads at:
http://www.quickheads.com/forsale.html
---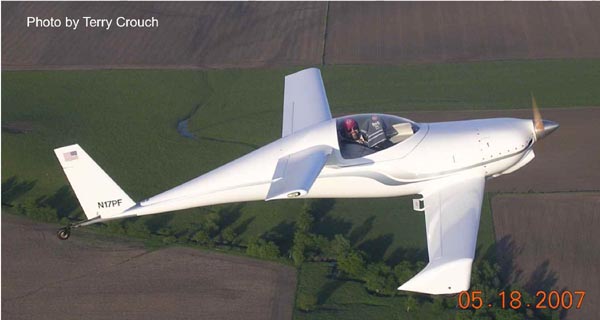 Dave Richardson logging time with Paul Fisher
---
You can order a printed copy of Q-talk #123 by using the Q-talk Back Issue Order Page.