Q-talk 118 - July/Aug 2006 - index
Details

Category: Q-Talk Index
Published: Wednesday, 23 December 2009 16:24
Written by Doug Humble
Hits: 3942
Quickie Builders Association


Together we build better planes!

July/Aug. 2006
Issue Number 118
---
Unlike many of you, I have not been going to the big air show in Wisconsin for 20 plus years. I'm ok with the fact that it is now named AirVenture, but I do know what the "old timers" are referring to when they say they are going to Oshkosh. My first trek to Oshkosh was in 1998 and even I have seen some visible changes in AirVenture during this short timeframe. We were surrounded by so many Ford vehicles this year that I was wondering if the car show added an air show, or if the air show had expanded the role of a sponsor. Thankfully it was the latter.
In concert with making opening day worth coming to, Ford sponsored a concert! The Beach Boys played all their hits for us on Monday evening. Maybe I should say Mike Love and his back up band sang Beach Boys songs. No matter, they sounded great and despite a thunderstorm that blew through, there was a nice crowd on hand. Maybe the most interesting thing for me was to watch the "stage on a truck" built and taken down in less than 48 hours. Where there is a will (and money), there is a way.
I don't know what the attendance was, but it did feel like the tactic worked, because the density of the crowd throughout the week was thick. It also felt like the crowd had a better representation of youth, which is always a good thing.
This year's weather was consistent -hot and humid with a 30% chance of rain. It rained every night I was there. I even tried to be artistic with the weather and this B-1 bomber.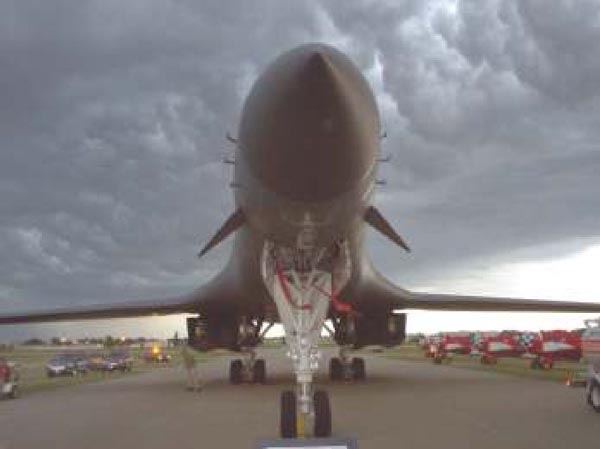 I'll let you decide if I succeeded.
Our own Sam Hoskins was in the AirVenture Cup Race, and while he came in third in his Sprint
Class, he once again bettered his personal best speed and averaged 202.03 mph.
Congratulations go out to Sam for representing our aircraft type so well! Here is a little of what Sam had to say about the race;
"Actually, the race went well, since I posted my fastest course time ever at 202.03 mph. I was feeling pretty good when I showed up, until I found out Klaus (Savier) had entered.
The plane flew well and the engine hummed along at 3,050 RPM. My oil temp never got above 190 and the cylinder temps stayed around 325, so my cooling system is working very well. Again, a full plenum and no oil cooler is all you need.
We had seven planes in the Sprint class. Though I took third place, I did manage to beat a Lancair 235, an RG Velocity and a Long-Eze. There was also a Glastar in our class, but he's not exactly what you would call competitive.
All told, there were 60 aircraft registered in the various classes and I managed to best 22 of them, including a whole mess of RVs.
Naturally, winning isn't everything, but it is fun to pass other planes on the course. I see my GPS recorded my max speed as 196 kts. - sure would have been nice to be my race speed."
The buzz this year seemed to be focused around the light jets and the LSA aircraft. Honda jet announced their partnership with Piper who will be the sales and service force for the new jet in the US. The Eclipse 500 got its certification during the show. (Impeccable timing; don't you think?) Diamond unveiled their D-Jet VLJ. So it appears everyone is trying to get into the act. The other big buzz was the LSA entry that Van's is working on. The prototype was in their booth. Also, Cessna had an LSA prototype in their area but no introduction date or price was being talked about. They must be seeing if there is an interest.
There were several examples of the Jet fuel piston engine (diesel). Delta Hawk had one of their engines in a Velocity as a test bed. More on this engine at: http://deltahawkengines.com
I was quite taken back when I came across a six cylinder engine sitting on a Quickie Q1 frame. It also was a diesel. John Coltrane of San Clemente, CA had refurbished a previously flown Q1 and Greg Stevenson Engineering designed and built the engine. John works for Aerochia (areochia.com), an aircraft speed mod shop. I never could track Greg down at AirVenture to discuss his creation, but John tells me Greg has received funding from various sources including NASA. This engine is rated at 100 hp and John tells me it weighs in at approximately 120 lbs. with everything attached, including the accessories, prop and spinner. Apparently a 4 cylinder version has also been developed. John hopes to have the airplane airborne by the end of the year. Greg would like to market the engine, but as an auxiliary power unit first.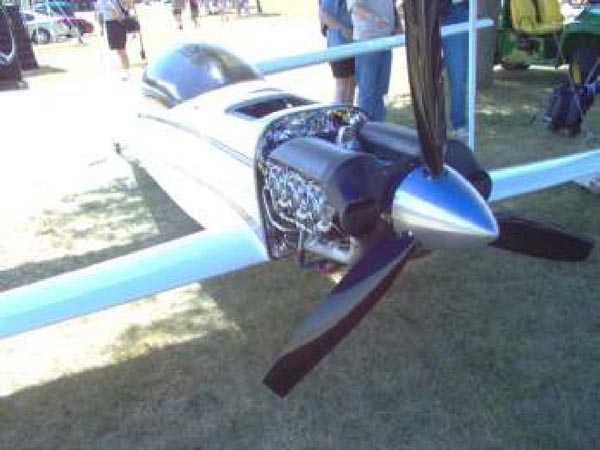 I counted four Q birds in attendance this year. Michel Moreau of Quebec, Canada, Robert Last of Morgantown, WV, Paul Fisher of Taylor Ridge, IL, and the aforementioned Sam Hoskins.
This year was touted to be the reunoin of the heavy bombers and the highlight was the appearance of the Canadian Warplane Heritage Museum's Lancaster bomber. One of only two still flying.
The most impressive thing I saw this year was the flight demonstration of two F-22 Raptor jet fighters. While one did impressive fly-bys, the other literally loitered above appearing to spin in place without losing altitude. I know this ability to spin in place has something to do with thrust vectoring, but I have no idea how they do this. I'm so glad they are on our side!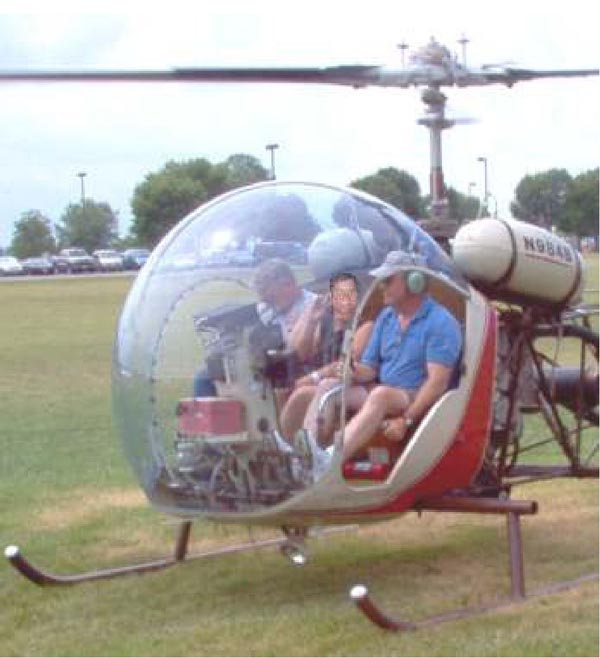 I ran across fellow QBA member Mike "I won" Brown over at Pioneer Airport giving rides in the helicopters. With a big grin he told me he had the best volunteer job at AirVenture. "It even comes with a hotel room!" If you ever run into Mike and have no less than three days, ask him how he got into flying. :)
At our Quickie forum, we appeared to have about 35 people in attendance. That evening we had our hotdog roast at my campsite where we had 20 plus show up. While we were all seeking relief from the sun at my camping neighbor's shade tent, Kevin Boddicker reminded us that last year he stayed near the grills to stay warm.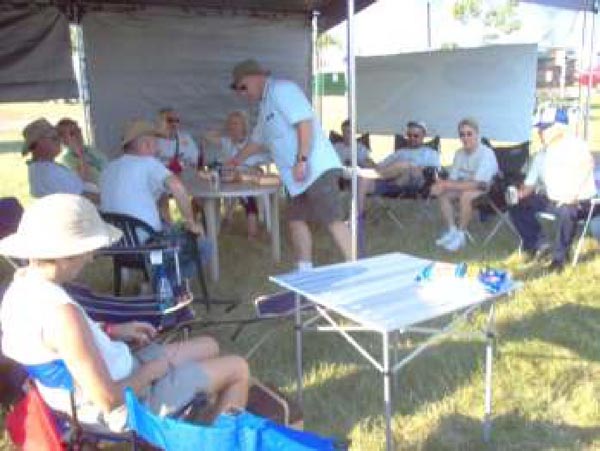 Thanks go out to Paul Fisher who helped cook the dogs (as long as I did not wear my Hawkeye chefs apron). Paul's wife was amazed as she had never seen him cook before. Paul was almost disqualified from attending next year's hotdog roast by discussing metal airplanes with former newsletter editor Tom Moore. However, Paul promises me the metal airplane is his son's and that he's keeping the Q200 for himself. Good decision!
AirVenture ended on a sad note when a TBM taxied into the back of an RV6 killing the passenger. They just have to do something different with those big birds who can't see in front of them!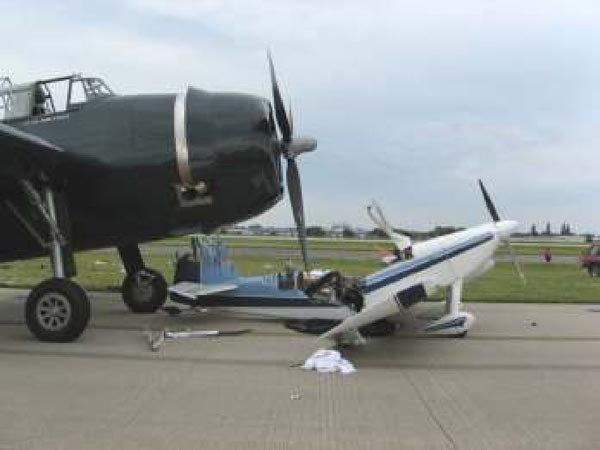 This year was no different than any other year. I had a great time at Oshkosh and I'm already planning for next year.
---
Articles from this issue:
Where was Sam hiding? - by Doug Humble
First Flight of a California Q2 - by Larry Severson
So, you're 6 foot 8, 250 lbs. and you want a Q2 - No Problem! - by Jerry Marstall
Sam & Sandy Hoskins Do a West Coast Trip - by Doug Humble
16th Annual Field of Dreams fly-in - by Doug Humble
QBA on the grow! - by Doug Humble

---
A current QBA member may have one free ad per issue. It may be a maximum of five lines of type and will be edited to fit space available. Items advertised must be owned by the QBA member. The ad contact must be a member name. Ads will be run for two issues and then the ad must be resubmitted. [EDITOR'S NOTE: Please note that these ads may no longer be valid. They are included here only as part of the online archive.]
For sale: Flying Q2 with75hp Revemaster with all engine inst., Revflow carb and powder coated exh. 74 hrs since complete engine rebuild. Comes with two Terra TX720 transceivers, two Terra TN200 nav., one with glide slope, TRI NAV course deviation indicator, Pointer3000 ELT, TERRA 270 transponder, airborne vac pump, vac. artificiall horizon, 2 David Clark head sets, a hand held GPS & Bernie Warnke prop. Has toe brakes, reflexor, landing light & Wheelen nav. lights. Has cabin heater and vortex generators. 437 hr. on airframe and 426 hr. on new tires. Color is yellow with blue trim and blue interior. Forward opening canopy. Airplane runs & flies great. Lost medical. This is a great buy at $20,000. Located in Sioux Falls S.D. Contact Jerry Kennedy at: This email address is being protected from spambots. You need JavaScript enabled to view it.
For Sale: Superquickie 60HP to be parted out. Aircraft is currently flying. 336.9 total hours, never damaged. Oshkosh "Lindy" winner in 1989. Will be sold complete, including trailer, minus engine, prop, and spinner. Engine is a 1835 VW built from a Great Plains kit. 112.4 hours total time. Both can be seen on Great Plains website, at: http://www.greatplainsas.com/vwtsolan.html $9500.00 airframe & trailer. $4500.00 for engine, prop, & spinner. Tom Solan 208-640-6952 or This email address is being protected from spambots. You need JavaScript enabled to view it.
For Sale: Lopresti Style cowls for Q200's and very streamlined wheel pants for Tri-Q's. Contact Earnest Martin at This email address is being protected from spambots. You need JavaScript enabled to view it. or phone 828-230-5378 Photos may be seen at the QBA web site in Issue 111
Dynamic Propellor Balancing for Experimental Aircraft Contact Jon Finley at 952-423-6391 or This email address is being protected from spambots. You need JavaScript enabled to view it. www.finleyweb.net/balance
For Sale: Recently completed and great flying Q2 with 50 hours. 75 hp RevMaster engine. 160 mph cruise on 3.5 gph. $18,000 OBO. Located in Stockton CA at KSCK. Call Floyd Welch at 209-329-8145
For Sale: Q-200 project. Major components complete. Subaru EA81 engine available. Some instruments. All plans and most old newsletters. Eric Beeson 720-201-7992 Longmont, CO or This email address is being protected from spambots. You need JavaScript enabled to view it.
Wanted: Q1 Onan cowling. Contact Keith Welsh at: This email address is being protected from spambots. You need JavaScript enabled to view it.
---
Rene Robertson of Maple Ridge, British Columbia, Canada. Sometimes you can tell a lot about a guy from his hat!
---
You can order a printed copy of Q-talk #118 by using the Q-talk Back Issue Order Page.