Q-talk 99 - Trailer Tricks
Details

Category: Q-Talk Articles
Published: Wednesday, 23 December 2009 21:24
Written by Roy Shannon
Hits: 1052
As I promised at Sun-n-Fun this year, I am sending some info on my Q1 project and the trailer that I designed. My Q1 has a 20 hp Onan, large tire option, GU canard and its empty weight is 291 lbs. Construction started in Oct, 97 and the Airworthiness was received 5-17-03. I am currently working on my tail wheel endorsement in preparation for test flying my Q. The plan has always been to trailer my plane instead of renting a hangar at the airport. To do this well I was going to need a well-made trailer that would allow easy access. After searching old newsletters for trailer ideas but not finding exactly what I thought I needed, I sat down and made a list of requirements. First, since it would be stored in my garage, it needed to be as small as possible so I could work around it with the plane loaded. Second, the plane needed to be loaded onto the trailer and unloaded easily by 1 person. Third, the plane needed to be supported well enough that the normal pulling would not cause damage or abnormal wear.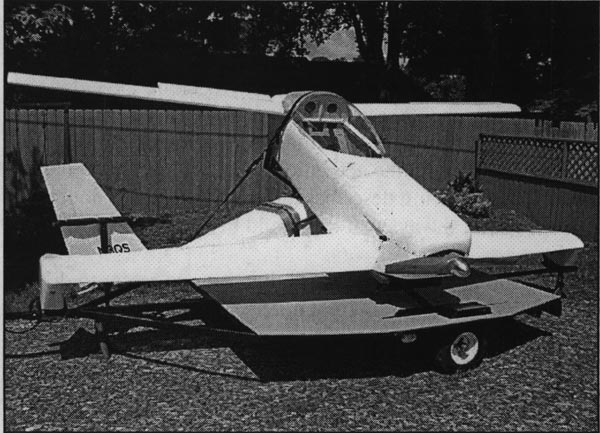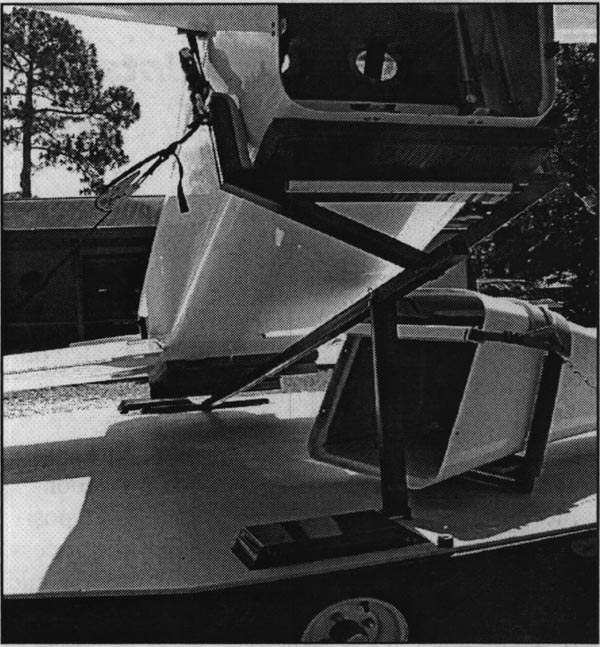 Pricing the individual trailer parts added up quickly. As an alternative, I found a new small trailer for $139.00 through a Harbor Freight catalog that had all the trailer parts I needed. The frame was useless at its original size, 3 1/2' by 4', but it could be cut up and used for brackets and such. 1 constructed the frame using mostly l"x2" and 2"x2" steel tubing and various sizes of angle.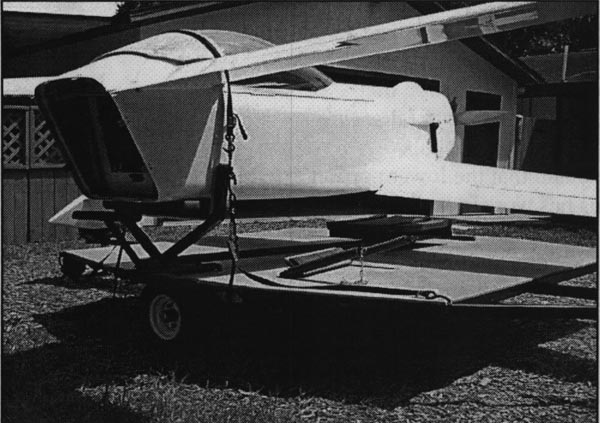 While trailering, the majority of the Q's weight is carried on the fuselage cradle, leaving the main gear to support very little. The main gear is locked in place by steel plates notched to hook over the axles inside the wheel pants. A bolt welded to the plate then tightens down to the wheel support with a nut. Securing the rear of the fuselage presented a challenge. After much thought, I decided to layup a thick fiberglass mat on the wing cover and glue 1/2" foam to the inside of the layup. The fuselage could then be strapped to the fuselage support on the trailer. The tail is mounted on the on the right front of the trailer bed, slightly under the fuselage. To unload the plane from the trailer, the tail must be removed first before the fuselage is lowered. Loading ramps were also made. These are housed in supports under the trailer that use roller-skate wheels to allow the ramps to slide in and out easily. To date the trailer and Q have traveled around 120 miles at speeds up to 65 mph with no problems, other than curious drivers getting too close. Judging from their smiles as they go by, 1 guess they are having fun trying to figure out what that thing is on the back of that trailer. Once at the airport, I can easily unload the Q by myself and have it ready to fly in less than 15 minutes or have it loaded and ready to go home in equal time.
Though I built this trailer to fit my Ql, I also made the rear wheel supports and fuselage cradle removable if I should need to use it as a flat bed trailer someday. The trailer tongue is removable, like a receiver hitch, so less space is needed when parked in the garage. I drew no plans for this trailer, so I have none to share, but if anyone is interested in information (pictures, drawings, dimensions, etc) I'll be happy to share. With a few changes, the same design could be used for a Q2. Well that's all for now. It is close to first flight and I have lots to do and learn before then.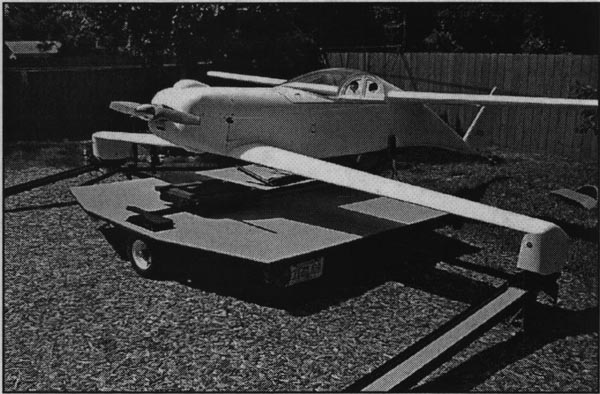 This email address is being protected from spambots. You need JavaScript enabled to view it.
(Ed Note: Roy has done some really fine work on his Quickie and this trailer. He did a test to see just how quickly he could assemble his plane. It took him 8 minutes! At the time he had all of his tools ready and no inquisitive bystanders like he usually has at the airport. Very impressive! We can't wait to see Roy and his Quickie at Sun-n-Fun next year.)
---
You can order a printed copy of Q-talk #99 by using the Q-talk Back Issue Order Page.