Q-talk 90 - Featured Pilot - Paul Fisher
Details

Category: Q-Talk Articles
Published: Wednesday, 23 December 2009 16:24
Written by Dave Richardson
Hits: 5191

Paul Fisher
Just like Luke Skywalker, Paul Fisher had a destiny. His grandfather flew in the Signal Corp. His father was a B25 instructor and his uncle flew 35 missions over Nazi Germany. Paul would be the third generation in the family to be a pilot. After learning his eyesight would not let him become a jet jockey, Paul dismissed the idea of joining the military and learned to fly privately in the mid '70's. By 1980, Paul had been to Oshkosh a few times and the building bug started to take hold. He purchased an Ultralight kit called a Weed Hopper. The company's 40 hour build time stretched to a couple of hundred hours over the course of a year. Paul successfully flew his Weed Hopper. A friend later crashed the plane but was not hurt. The urge to go faster and carry passengers surfaced. He checked out several types of experimental aircraft and decided on the Q2/200. When he learned that a Quickie dealer was only about 40 miles away, he felt this would be the best solution. The location would help him get assistance during the building process. Paul and a partner, who was a wood worker by trade, purchased a kit and they got started. Paul was set, he had a craftsman on the team and a dealer close by. Well, within 6 months, the craftsman got married and moved to Missouri and the dealer only lasted only another 6 months beyond that.
Paul joined the local EAA chapter where he befriended two guys building EZs and Terry Crouch working on his Quickie. This group worked together on the large layups of each of their respective projects. The owner of the project they were working on would be the supervisor and make sure all the details were addressed. This arrangement worked well because everyone in the group knew how to glass and there were plenty of skilled hands to do the work.
When it was time to find an engine, Paul located a Cessna 150 that ran out of fuel and crashed in a state park. The engine and prop were untouched by the crash. He was able to see the engine run on the old fuselage with the original propeller before purchasing the engine. Paul's thinking was he wanted a known quantity spinning the fan because he would be testing an unknown quantity in his plane. He did not want to worry about both.
If Paul was building his plane today, he would not take so long to do things. He would not fret over small details and just finish the plane. This would allow him to fly sooner because he knows now how much fun they are to fly. In an effort to help Paul complete his project sooner, a fellow EAA member offered this advice. "Remember, we're not building a watch, here. Do the best job you can and move on."
Paul's Dremel was never far away during the building of his Q200. An advantage of belonging to the EAA chapter that does the Emergency Aircraft Repairs at Oshkosh was the ability to check out just about any tool he needed during the building phase. He did not have to buy many specialty tools for just a few uses.
Paul's first workshop was a detached two car garage that was very hard to keep warm during the winter months. That situation was discouraging and slowed the building process, but he never thought in terms of giving up. When the weather would change, he resumed his work, picking up where he left off. He always knew he would finish his plane.
Paul has over 900 hours on his plane now and really enjoys its flight characteristics. He feels that being part of the QBA helped him complete the project because the newsletters were a constant reminder. He also feels he has met a "great bunch of people."
Paul's advice to builders transitioning to pilots is that these planes are not Cessna 150s. They are fast, unforgiving and a plane that you have to be ahead of all the time. They are not hard planes to fly, they are just fast.
One memorable flight for Paul was when he flew to the Bahamas with 13 EZ guys. It was a bit unnerving to fly 90 miles across open ocean before seeing land.
In 1994, Paul and couple of EZ guys attended an Edwards Air Force Base Open House. They landed on runway 22 where the shuttle lands and
had to taxi for about 2 miles before they got to their exit ramp. The group of homebuilts were placed in a 747-sized hanger with a B2 Stealth Bomber parked in the rear. Paul has the pictures to prove it. The local EAA chapter awarded Paul a certificate recognizing his stupidity for flying halfway across the country to a one day event. He later had the certificate framed and proudly displays it on his wall today.
Paul works as a manager in the computer systems department of John Deere. He and his wife, Tama, live in Taylor Ridge, IL. They have an 11 year old son, Roy, who also shows an interest in flying and may well become the 4th generation of pilots in the family. Tama's father was also a pilot and retired from the Air Force with over 15,000 hours.
Paul has been a very positive influence in the QBA by attending many of the fly-ins and offering rides to willing builders.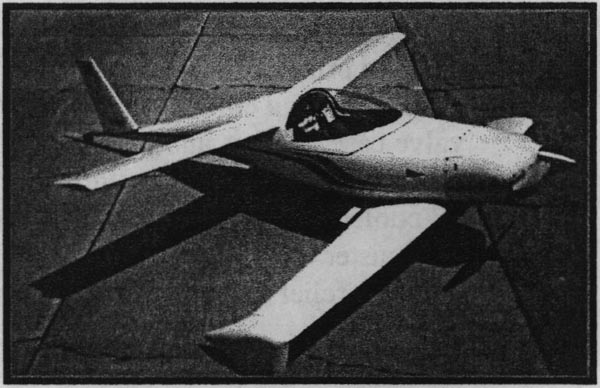 ---
You can order a printed copy of Q-talk #90 by using the Q-talk Back Issue Order Page.