Q-talk 88 - Alternative to the Hobbs Oil Pressure Switch for Hourmeter
Details

Category: Q-Talk Articles
Published: Wednesday, 23 December 2009 16:24
Written by Bob Farnam, Livermore, CA
Hits: 2215
My recording hourmeter is electric and is built into my electric tachometer. Because of that, it runs at full clock speed anytime it is switched on. In my case, I was using power from the master bus to turn the hour meter on and off. As a result, the hourmeter ran anytime the master was on, whether because of maintenance or whatever. Once it ran for 28 hours before the battery ran down because I forgot and left the master on. I was beginning to pile up hours on the hourmeter, which weren't real.
The obvious choice for a switch is a Hobbs oil pressure switch, but even that overstates the hours and is another place for an oil leak. So I decided to do something else. I went looking for a low pressure air switch that could be used to sample the pitot pressure and turn on at some airspeed less than flying speed. This way, the hour meter wouldn't run when idling on the ground but would turn on near flying speed. The switch I found is made by "World Magnetics" of Traverse City, MI. The model I chose is a PSF100A-1.5, where the dash number 1.5 indicates the switching pressure in inches of water. The list price is around $14 and the total cost with shipping and handling was around $25. The switch is available preset to pressures of 0.5, 1.0, 1.5, 2.0, 3.0, 4.0, 6.0, 8.0 and 10.0. A pressure of 1.5 " of water equates to an airspeed of about 60 mph.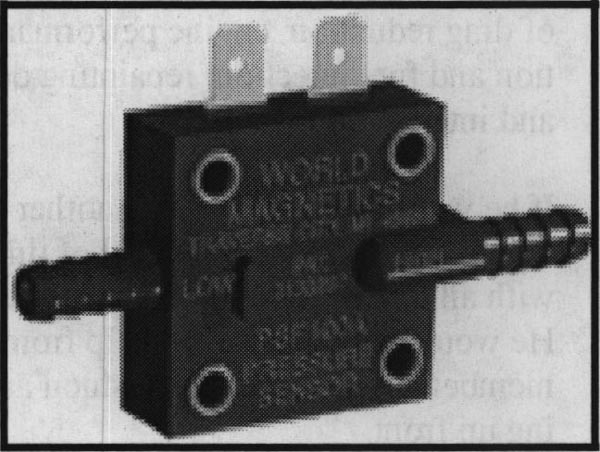 Other advantages of the air pressure switch are that it is inexpensive, very light, and confines the wiring to the panel. It is tapped into the pitot pressure hose with a tee fitting and mounted next to the hourmeter. It has been used in my airplane for about 100 hours and so far, the time recorded is very close to the clock I use for my pilot logbook.
World Magnetics 810 Hastings Street Traverse City, MI 49686
231-946-3800 phone 231-946-0274 fax
---
You can order a printed copy of Q-talk #88 by using the Q-talk Back Issue Order Page.