Q-talk 87 - Matoon2
Details

Category: Q-Talk Articles
Published: Wednesday, 23 December 2009 16:24
Written by Dave Richardson
Hits: 1397
Every fly-in seems to have a personality of its own, ranging from the crazy fast-paced aviation orgy of Oshkosh to the simple, laid back gathering of planes, friends and soon to be friends. The second installment of the Midwest Tandem Wing Fly-in at Mattoon, IL has confirmed the signs of being on the laid back end of the spectrum. I believe there was only one real scheduled activity for the whole weekend. Host Steve Laribee, a Dragonflier, reserved the large meeting room at the airport restaurant for 6:30 Saturday evening. Don't read "laid back" as uneventful because it was far from it. In fact, we even had some "firsts" occur.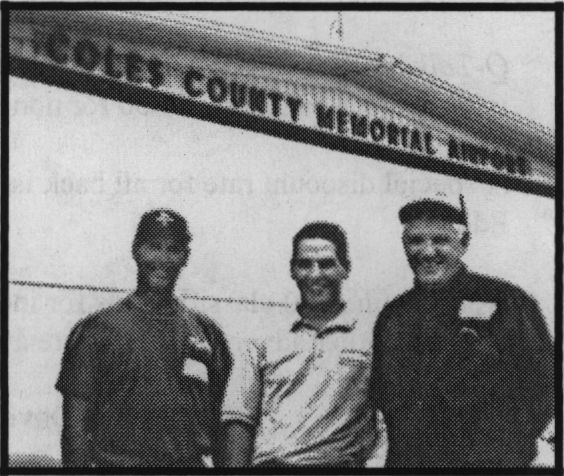 Mattoon is located in beautiful farmlands in east-central Illinois. The Coles County Memorial Airport manager, Shannon Youakin and her husband, Dominique Youakim, airport VP, made us feel at home, offering the full use of a huge hanger, air conditioned offices for indoor camping and shower/flush toilets facilities. The best part, it was all free!
The weather was far more cooperative than last year, allowing eleven planes and approximately forty people to attend the gathering. There were many onlookers from the community as well. The pilots that flew to Mattoon were excited to share their flying experience with us "ground bound" builders who had to drive in. A few of our pilots flew to the event in pairs; Paul Fisher and Jon Finley, the "F-Troop" and Jerry Marstall and Earnest Martin, the "M&M's".
Not to be out done, the two Q1 guys created their own ride-sharing program. Terry Crouch and Keith Welsh have talked for years about flying each other's planes. It would be an opportunity to test the difference between Keith's GU and Terry's LS1 canards. Keith placed about 30 pounds of lead into his plane to compensate for their personal weight difference. They also added some padding for good "over the nose" visibility. Once Terry was strapped into Keith's Quickie, Keith administered some last minute checkouts and warned Terry of what he would do if he didn't bring it back in one piece.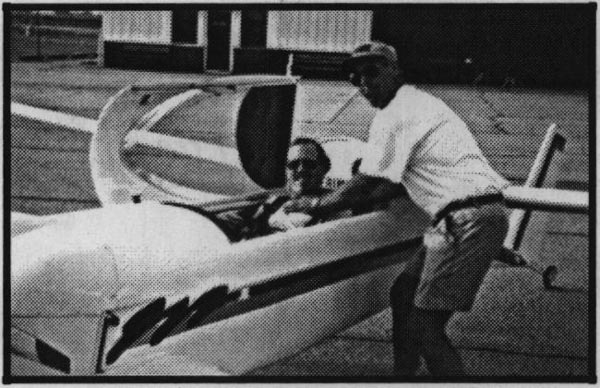 Keith anticipated that Terry would do a few high-speed taxi runs first. He was amazed when Terry taxied the plane out to the end of the runway and just took off. Then Keith thought Terry would stay in the pattern and come back down in a few minutes. Instead Terry immediately headed south until he was almost out of site. Keith was at least reassured when he could still hear his Onan putt -putting along. Eventually he could neither see nor hear the wayward Quickie. As the minutes passed, Keith struck a pose somewhere between wringing his hands and bidding a prayer. Not knowing what was going on got the best of Keith. He borrowed a handheld and made a nervous call to his plane. His first response was from the FBO. He called out again with no response. He finally pressed the mike key and asked "Terry, are you there?" Nothing but silence. A few long minutes later, Terry radioed that he was five miles north, inbound for landing. Keith was visibly relieved. Someone yelled out, "There he is!" as he popped out from behind the tall hangers. Terry got lined up for his downwind leg, base to final and landed Keith's Quickie like he flies it all the time. As Terry taxied back to the hanger, Keith was overheard saying "You know... letting someone fly your airplane is different than letting them use your truck!"
When Terry returned to the hanger, he was met with applause from the Quickie crowd. He popped open the canopy and reflected what he had learned during the flight, noting the performance difference of the canards and what effect the placement of the main wheels has in ground handling. He then jumped out of the plane and said, "That was great. Next time, how about your wife?" to which the crowd howled. Terry has agreed to write an article describing his experience and what he learned. Look for his interesting observations in the next issue of Q-Talk.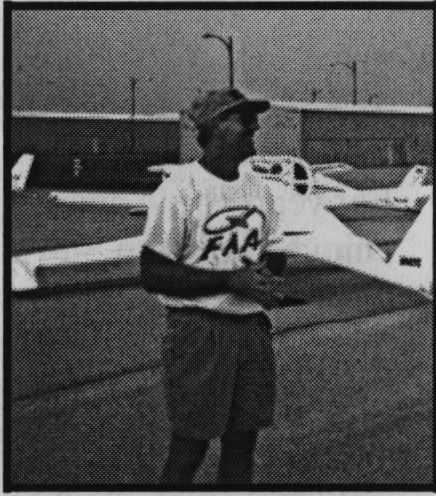 Since it was easier for Keith to add 30 pounds to his plane so Terry could be in good CG rather than to remove 30 pounds to be able to fly Terry's plane, Keith opted to only taxi the other Quickie. The experience did provide a good comparison of the ground handling characteristics between the two airplanes.
Susie and I also had a fun experience while at Mattoon. We were able to fly in formation. I flew with Earnest Martin in his Tri-Q 200 and Susie was with Paul Fisher in his Q200. Paul pulled along the side of Earnest to allow me to take some photos. Soon Paul indicated that they were breaking off from the formation. They did a sharp 60-degree plus bank and zoomed off into the distance. I told Earnest, "Paul is going to have his hands full with Susie in there!" I was right. She screamed, "AAAHHHH!!" during the peel-off maneuver. She was, however, all smiles after the flight, telling people about the wild ride and praising Paul's piloting skills and airplane.
Several other Quickie pilot hopefuls were getting rides that weekend. Kevin Boddicker, his son, Jeff, and Bud Starnes' significant other, Sandra, just to name a few. Paul Fisher even took Keith Welsh for his first two-place Quickie ride. These rides are very encouraging for builders. It recharges their batteries to continue to work on their projects when they return home.
While there, Les Hildebrand sold his Q-200 to J.J. Jawarski from the Indianapolis area. J.J.'s friend, a fellow Quickie guy, Steve Ham. told him about the notice on the Q-List indicating Les' Q-200 would be at the fly-in and it was for sale. A deal was made and we now have a new Q driver in our midst. J.J. is doing well and has been flying the plane everyday since. He hopes to fly the Q-200 to Ottawa this fall.
Our hats are off to Keith Welsh and Steve Laribee for inviting us to their wonderful location and for all their hospitality. They even provided a huge ice chest of cold pop and water for the warm afternoons. How nice! We all had a great time and we are very happy to hear they have agreed to host the event again next year. Thank you!
Pilot

Type

N-#

ST

Wgt

TT

Crz

Terry Crouch

Q1

14TC

IA

340

475

105

Keith Welsh

Q1

494K

IN

305

290

105

Jerry Kennedy

Q2

214FK

SD

675

340

150

Paul Fisher

Q200

17PF

IL

727

889

170

Les

Hildebrand

Q200

93PL

MO

734

458

185

Sam Hoskins

Q200

202SH

IL

640

1196

165

Jim Doyle

TriQ2

56DW

IL

692

784

165

Jerry Marstall

TriQ2

222RR

NC

671

163

160

Earnest Martin

TriQ200

479E

NC

760

735

175

Jon Finley

Q'baru

90MG

MN

675

430

130

Steve Laribee

DF Mk II

88SL

IL

670

525

165
---
You can order a printed copy of Q-talk #87 by using the Q-talk Back Issue Order Page.