Q-2/Q-200 Metal Parts
Details

Category: Quickheads BLOG
Published: Tuesday, 03 February 2009 00:00
Written by Dan Yager
Hits: 3461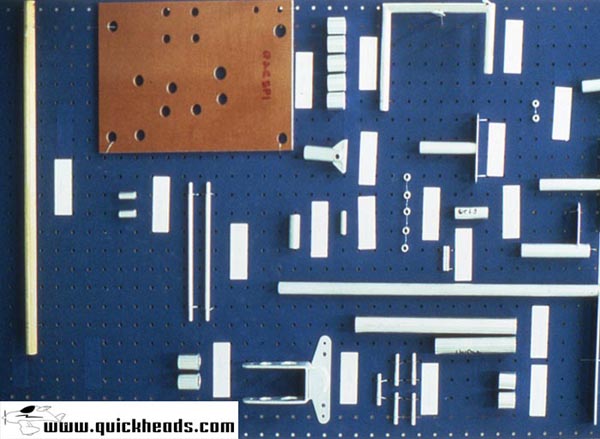 The above picture was given to me by Mike Huffman who was a Quickie Dealer back in the 80's. This photo is of a pegboard he used to drag around with him to trade shows. On the pegboard are represented all of the metal pieces that were pre-manufactured by QAC. . . That's right ALL of them.
What strikes me immediately, is that there really aren't THAT many distinct pieces represented here. In fact, there are even fewer pieces that require welding or any sub-assembly. The majority of metal pieces that went into the kits needed to be manufactured by the home builder, and there are layout drawings for them in the plans and templates.
Lately, I've gotten several e-mails and inquiries through the forums about how to aquire these pieces. There are several builder who still have a stockpile of some of these parts, but a few of them are getting harder to find.
So, like most of the things I'm doing, I've decided to have drawing made for all of these pieces as I remove them from my plane for inspection. When I compile a complete set of drawings for each of the designs, I will make it available here for everyone to use.
The first drawing of QCSM7 was drawn by Brad Tompkins and appears below. Eventually, it would be nice to have someone willing to manufacture these parts again.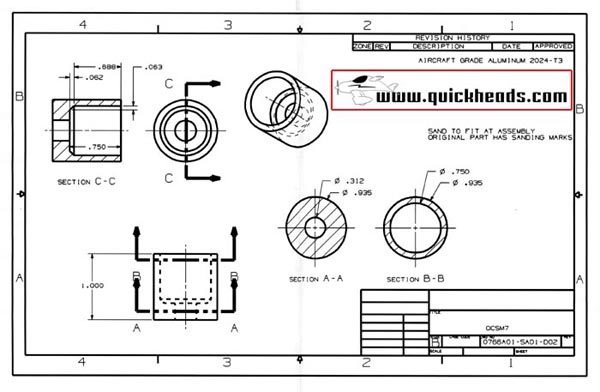 Consider this just a little teaser post, so that you know what I'll be working on during the coming weeks. As always, I invite your comments below or in the forum.