Q-talk 148 - 2011 Livermore Fly-in
Details

Category: Q-Talk Articles
Published: Tuesday, 30 August 2011 12:27
Written by Alan Thayer
Hits: 3688
by Alan Thayer and Sam Kittle
Livermore, CA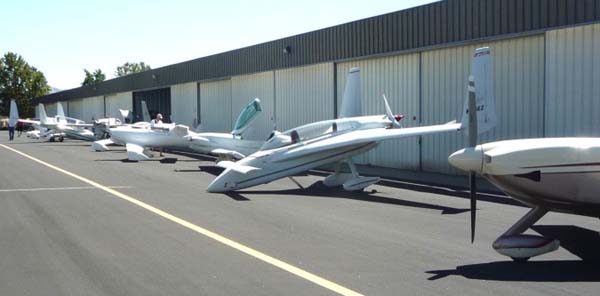 We've all heard the saying "When least expected, expect it!" Sam and i couldn't possibly have imagined how well the 10th Annual West-Coast Tandem-Wing Fly-in would be attended when all was said and done. In fact, our expectations were quite low as a result of less-than-encouraging initial response to our notices, but by the time the weekend of August 26-28 came along, Tandem-Wing madness had indeed descended on Livermore, California, bringing along with it a record crowd for our kick-off dinner at Beeb's restaurant Friday evening, and for our Saturday evening chicken and potato salad banquet deliciously served up by Sam. For the first time in years, once everyone had sat down, we had no food left whatsoever, every piece of chicken had been devoured and nothing remained of the 12 pounds of potato salad that Sam had made earlier that morning. Even the cheesecake and cookies desert disappeared in record time. (We didhave extra Polish sausages though, so no one went away hungry.)
All this to say that the 10th annual Livermore Fly-in was a great success, with many old friends returning and new faces and airplanes making their first-ever appearance, nurturing the hope that they will return again next year and bring along with them other first-timers in their own right. Our airplanes have proven themselves over and over again, in efficiency, safety, and joy of flying, when built and maintained properly. And all of the beautiful planes that were flown in were indeed top-notch! Despite a massive hurricane ravaging the East Coast that entire weekend, the weather on OUR coast couldn't have been better, with temps in the low 80's throughout the day, once the usual summer-morning stratus burned off, providing us with a superb summer evening for our big Saturday banquet. Last year, things turned so cold and windy, that we had to close the hangar doors, just to keep the warmth in, but not this year.
Friday evening, our special guest speaker, Marc Zeitlin and his wife were introduced, and Marc fit in like a glove during the entire weekend, answering questions and sharing great stories. He was one of the earlier employees hired by Scaled Composites and after serving in several capacities, now heads up development and testing of the rocket engine powering SpaceShip 2 for Virgin Galactic. I can only imagine what must be going through his mind as he designs testing parameters for this kind of technology, never before tried on such a large scale, and then determining how to proceed to keep the entire project on track. Though he was not able to get into specifics, (otherwise, as he noted, he would have to kill us) we understand that progress is exciting and right on schedule. Marc is articulate and inspirational, and we all enjoyed his company throughout the weekend. Along with his expertise in aviation, he succeeded in adding a new dimension of meaning to the term "commitment." Months ago, he had agreed to be our guest speaker, and stuck to that commitment... despite the fact, as we learned Friday evening, that the next day, Saturday, was his and his wife's 25th wedding anniversary! What a way to spend such a momentous occasion as that, at a fly-in! Deanie, his lovely and talented wife looked at me and said matter of factly "Well, at least we're together here!" bringing a huge smile to all our faces. I had circulated a card for everyone to sign, and surprised them with the best of wishes from all attending that Saturday evening.
This year, we welcomed 15 planes to the event. Among the planes which were flown in was Marc and Deanie's powerful Cozy Mk 4, which whisked them both to LVK from Tehachapi in about an hour and 20 minutes. Marc is also a previous Q-2 builder, which has flown, and we are trying to track down its current whereabouts, since he sold it and started construction on his Cozy. I really envy Marc big-time, his hangar partner at the Tehachapi airport is none other than Mike Melvill! Jack and Diane Huston's beautiful and newly-painted Glassair was also flown in, making their first long trip since re-assembly after being painted. Congratulations, Jack and Diane on such a beautiful paint job! Also flying in was Tim Iverson in his Dragonfly, which has seen just over 1,000 hours of flight, and still gets him around efficiently and safely. He reports that his fuel burn, with his Hapi engine keeps him really happy, and is ridiculously low. Mark Summers, former LVK resident, now retired in the northern California mountain town of Truckee, flew in and enjoyed the day in his hi-tech Q-200. Innovations in his plane abound, and are too numerous to mention, but include a very costly and ravishingly beautiful gold-colored tailspring weight, for weight and balance considerations. He is rapidly completing construction of his Lancair, but continues to fly his Q, much to the delight of all those attending.
Fellow fly-in organizer (of the Columbia Canard fly-in, that is) Don Denhardt also surprised us in his LongEz, and enjoyed meeting other canardians, albeit with somewhat larger canards! And new-comer to plastic canard airplanes, Henry Halllam, flew in just in time to hear Marc's afternoon presentation. His VariEZ is new to him and to the area, but he enjoyed flying it in from neighboring Oakland, where it is hangared. One of his friends, also attending, is an aerospace engineering student at Stanford, sporting a nice red Stanford sweatshirt, so we may have a future designer here!
That's about it for the plastic planes which were flown in from out of town, but Jay Scheevel flew in in his Cherokee 235, and took advantage of the opportunity to make more measurements on canards, as he had started doing last year in Beatrice, completing a substantial study on decalage and angles of incidence that will surely be of interest to us all once it is completed, and the results are compiled. Mike Perry also arrived in his Cessna 182 from the Central Coast area, and has been a faithful attendee of our Livermore events almost from their very inception.
Our local planes included Q-200's built by Bob Farnam and Jim Patillo, Brad Olson's Q-200, Ray McRae's beautiful and well-traveled yellow LongEz (now just 5 hours shy of the 2,000 hour mark), a beautiful LongEz built by John Meyer, and Alan Thayer's Q-2 Jabiru and Q-1.
We also had many, many faithful friends who drove in, with the Brothers Johnson driving in all the way from Ogden, Utah, and Mike and Carol Evans making the 400 mile trip from the Los Angeles area. Dragonfly builder/pilot Brad Hale also hopped on a commercial flight from Southern California to be with us and Pat Panzera also made the trip in from Central California with his wife and grandson. Many, many others also drove cars and motorcycles just to be with us, and their efforts are hugely appreciated.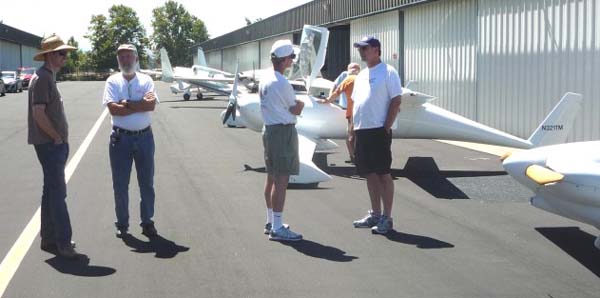 Marc Zeitlin's illustrated presentations couldn't have been more interesting, starting off with the events leading up to, and lessons learned from a prop-depart incident which he and his wife experienced in his Cozy after settling down on the west coast from his former New England location. Lessons learned include listening to what your airplane is trying to tell you.... little noises and slight differences in vibration are means by which your airplane is communicating that something needs attention, and the lesson learned is to pay attention the very first opportunity you have when you are still on the ground! In Marc's case, after the loud "bang" occurred, flying, navigating, then communicating are vital lessons we all need to implement in a similar event, in that order. Keep your airplane flying, then navigate to a safe landing area, then let air traffic know of your intentions, in that order. One of his slides showed the prop flange, heavily damaged in the incident, leaving us all to wonder how it was that damage wasn't worse.
Marc's next presentation was on Belleville washers, and his very well-documented research convinced more than several of us that Belleville washers is the way to go for greater peace of mind and confidence that your prop will always be torqued to the proper values, despite differences in humidity, especially for a wooden prop. Surprisingly, even wooden props coated with glass or carbon fiber, as those made my Catto and Gary Hertzler are ALSO susceptible to shrinkage, and should also be checked periodically for proper torque values, though the variations are less than for varnished wooden props.
After our chicken dinner, Marc then dazzled us with his presentation on developments with SpaceShip 2 and four outstanding videos were shown, demonstrating initial drop tests, and the rocket motor firing on a test stand. Some people are just downright amazingly blessed to work at a place like Scaled, and we understand that a large work force there is hard at work on what is to become the first-ever commercial, suborbital, space transportation system. He discussed things such as launch permits and parameters that the mothership must follow to allow the SpaceShip to blast itself vertically into the vacuum of space, officially defined as 100,000 meters, or 62 miles altitude.
Right as we were all leaving my hangar late Saturday evening, as if right on cue, the Goodyear blimp made an astoundingly low pass right over my hanger row, wowing everyone with the size of that huge bag of helium, and the roar of the engines, as it made its slow and laborious final approach to its mooring mast for the night. Yes, it was just as if I had actually ordered that to cap off a great evening of fun and aviation!
Nothing beats fly-ins of this nature to enhance safety, building efficiency, and the encouragement factor to keep plugging away, and so many comments were shared that events like these are not to be missed. If you haven't ever attended a fly-in such as ours, be sure to plan on attending one, as nothing is more difficult than building an airplane in a vacuum. Friendships, technical know-how and answers to questions are only some of the many benefits offered at a fly-in, and ours in Livermore this year was no exception. Our thanks go out to all of you who attended, as without your presence, there would simply be no fly-in. Let's continue to make our planes the safest and most efficient means of traveling in the sky, enjoying the building process as much as flying them, as a result! Sam and I have some exciting things that we are already thinking about for next year's event, so stay tuned!
Alan Thayer and Sam Kittle,
2011 Livermore Tandem-Wing Fly-in Co-hosts