Q-talk 148 - Sploshkosh Redux
Details

Category: Q-Talk Articles
Published: Tuesday, 23 August 2011 15:34
Written by Doug Humble
Hits: 3841
by Doug Humble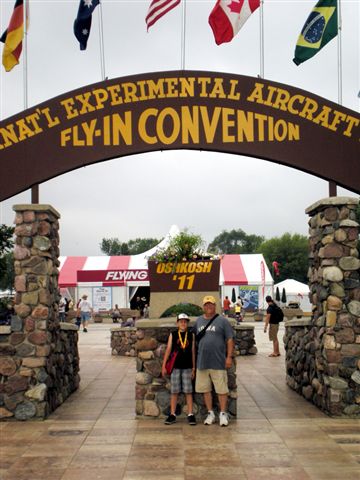 Last year we thought we had seen the worst of the rain and water. Well I beg to differ. Last year when I arrived I knew that Camp Scholler was a lake and didn't have to spend time there and it rained only once during the week of AirVenture. This year it was dry when I arrived and muddy when I left. I think it rained every day. It was not a pleasant year to tent camp. Water everywhere.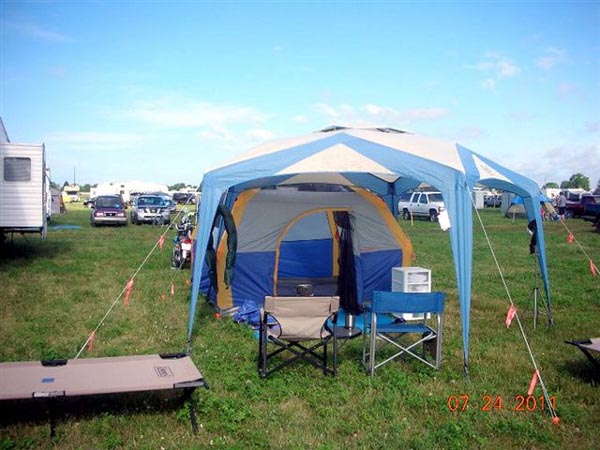 On our first night, a storm came up around 3 AM and blew our rain fly off. Dylan and I threw every thing but the cots into the back of the van and went and knocked on Steve and Linda Bennett's camper door. They had always said to do so if this very situation came up, but this was the first time we had to accept the invitation.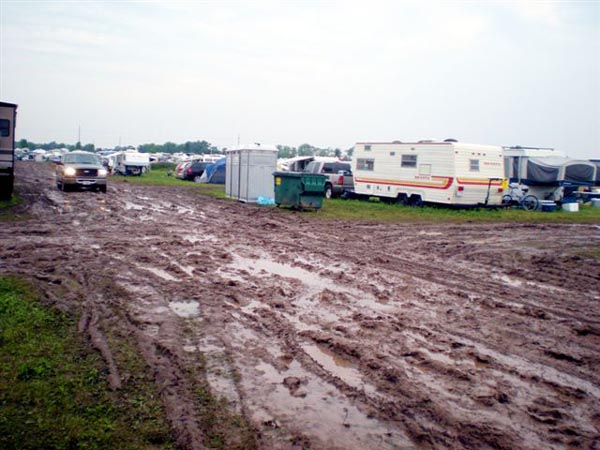 The next morning we assessed the damage. Then Dylan donned his swim trunks and bailed out the tent. (That's what kids are for, right?) The sun was shinning and everything dried out in a couple of hours. I did discover that had I simply zipped up the windows on the tent, I would have kept out most of the water. Doh! We went to Wally World and bought some tarp clips and secured the rain fly by staking it down and we were back in business.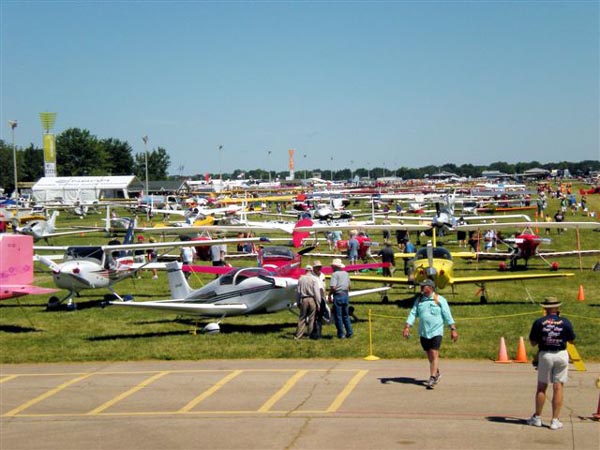 Now that we got the camp site secured, we could do what we came here for. Go look at airplanes!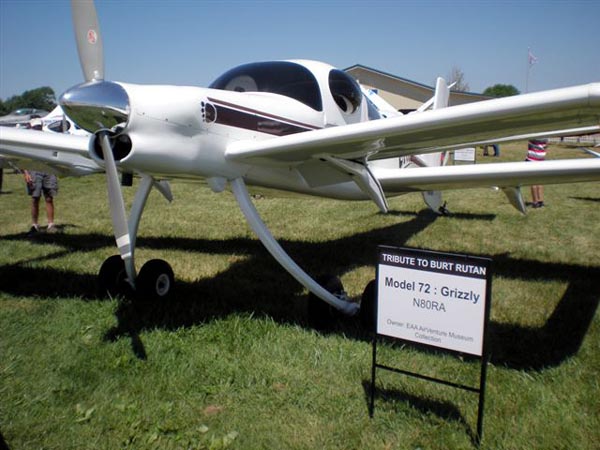 This year Burt Rutan designs were honored and they had a nice collection of Burt's creations on display near ConocoPhillips Plaza (formally AeroShell Square). They were not roped off, so a person could get up close and personal with them. You could see an EZ, the Boomerang, the Grizzly, the V-Jet II, and the Solitaire glider, just to name a few. There was to be a fly-by of Rutan designs on Thursday morning, but I think this got scuttled because of an accident involving a military jet running off the runway. Too bad, because I think Terry Crouch was invited to participate.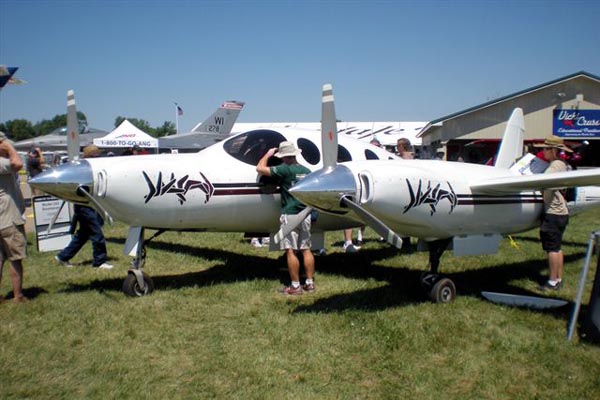 What excited me most was that I saw two, yes two, Quickie Q1's parked in the home built area. I have heard stories about the days when many Q1's would be seen, but I personally have never seen any Q1's at the big show. It must take a Rutan festival to get them to show up these days. Terry Couch brought his Onan powered, award winning specimen. . .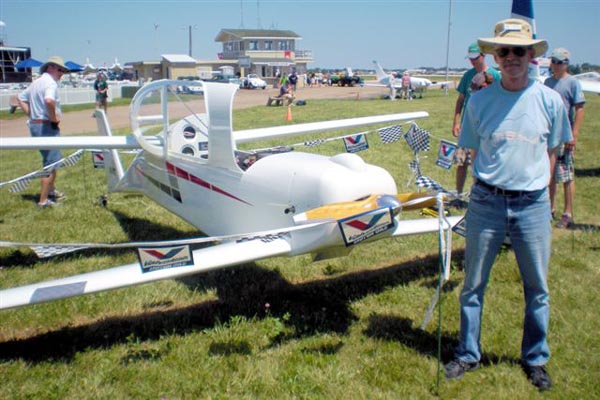 . . .and Nathan Peck flew his Rotax powered Q1 in to AirVenture. Way to go fellas!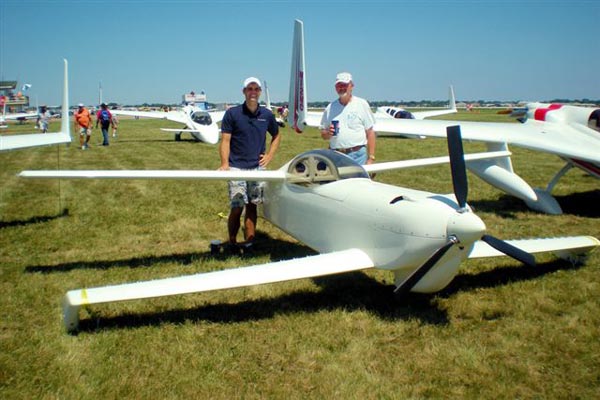 Sam Hoskins made his umpteenth visit to Oshkosh After winning his division in the Cup race. Sam did say that the competition this year in his division was "a little thin." I heard that Bruce and Joanne Crain came and went before the day of our QBA meeting.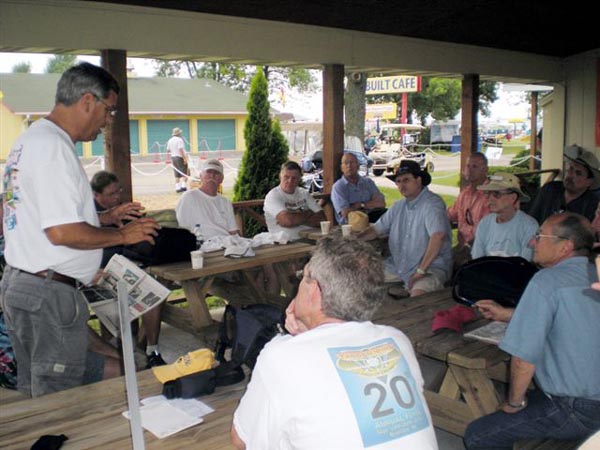 We had a great turnout this year for our QBA "type club" meeting under the porch at the Homebuilders HQ building. Twenty Quickie enthusiasts showed up to talk about their projects. Sam spoke in detail about his O200 engine enhancements and then concluded that he would never recommend it to anyone! There was also some discussion about the electric Q1 that Gene Sheehan was involved with. Other topics discussed included how not to sell your Quickie to an idiot, why the west coast guys were wusses and were no longer flying to the Midwest fly-ins and Dates of upcoming fly-ins.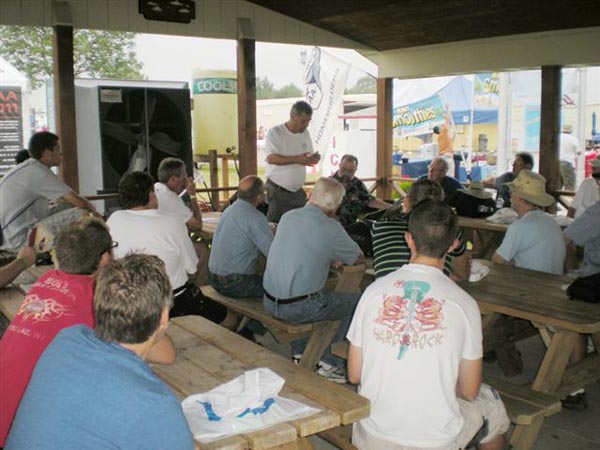 As I wandered around, I came across a replica of a 1911 Bleroit XI. The kind that was the first to fly the English Channel. After looking at how frail it looked, I concluded the guy was nuts to fly it that far! He had bigger cojones than I do!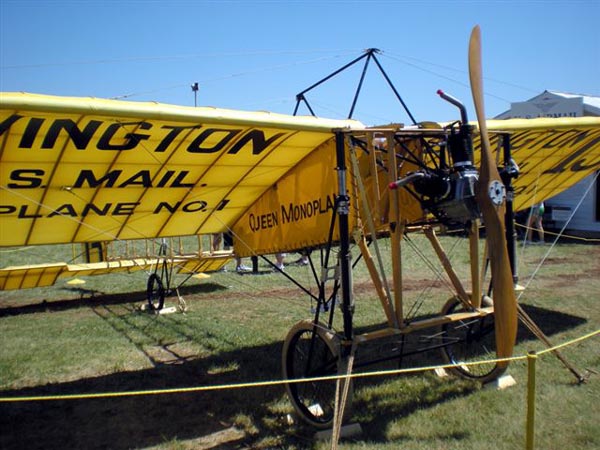 I also found the Japanese Zero that everyone was talking about. The only flying example to exist with an original engine.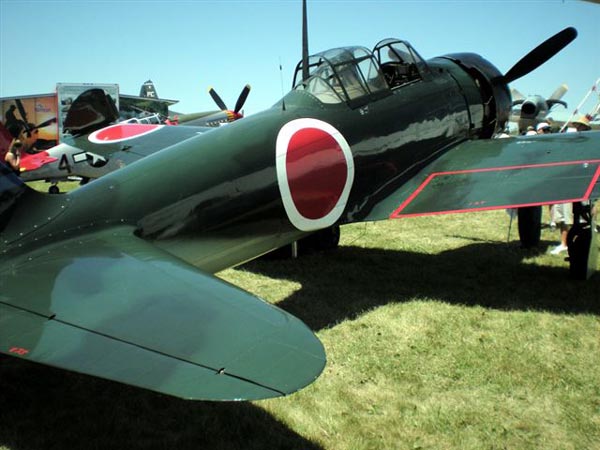 It seemed like the week went by too fast. Like I didn't get to do everything I'm use to doing. I fought with the rain so much it didn't seem like a normal AirVenture for me. For instance; on Wednesday it rained much of the day so Dylan and I just went into town for a late brunch and waited for the movie theater to open and we spent the afternoon there. I always look forward to Oshkosh and after this year, well, I can't wait for next year!