Q-talk 105 - 14th Annual Tandem Wing Field of Dreams Fly-In
Details

Category: Q-Talk Articles
Published: Wednesday, 23 December 2009 16:24
Written by Jeff LeTempt
Hits: 2204
The excitement is starting to build.....the 14th Annual
Tandem Wing Field of Dreams Fly-In is right around the corner. Everything is coming together here in Missouri and I am very much looking forward to seeing you at Sullivan from 24-26 September, 2004. The fly-in will once again be held at Sullivan Regional Airport (UUV). People have told me that they thought Sullivan was the perfect place for the fly-in last year and I am hopeful that the event will even be better (if that is possible) this year.
Drawing upon the experience of hosting a fly-in in the past, I think a slightly different format will be helpful. We learn the most about these great little airplanes by talking with the builders and going over the planes with a fine tooth comb. The forums are useful, but sometimes they are almost a distraction. My theme this year is going to be "less is more".
As of this writing (subject to change, of course) Friday is going to kind of be a free for all, open discussion time. Our good friend, Drew Aurigema, will be there and he will be prepared to discuss anything and everything about tandem wing airplanes. If someone is interested, I think I can get a good set of accurate scales to knock out a weight and balance or two that day, as well.
Last year, on Friday, we offered a hands-on composite construction class. The demand for this class a few months before the fly-in was almost non-existent, but a few weeks prior to the event, the demand actually exceeded our maximum class capacity of 20. If there are enough builders interested in a similar hands-on composite construction class this year, I will gladly set it up again. I just need to hear from you very soon.
Last year, there was a $20 fee per composite class participant to pay for the materials used in the training. Luckily, Wicks Aircraft Supply helped by graciously donated some foam and fiberglass cloth. They would probably be willing to do it again this year and if so, I would anticipate the cost for the class would once again be $20 per participant. If there is enough interest in this class, we would probably start it a little earlier in the day, maybe at 12:00. The class ran a little longer than expected last year.
There will be fewer forums, but they will be longer in duration. Judging upon what I experienced last year was during a 1 hour and 15 minute forum, we just got to touch on a few things and then the real conversations took place in side bar discussions. If we dedicate more time to the forums, maybe we can tackle a few particularly challenging topics and everyone can benefit.
We will once again have the truck stop dinner on Friday evening. They have a pretty good sea food buffet or you can order from the menu. I just need to know if you plan to attend the dinner so I can let the restaurant manager know how many people to expect.
I will need a few volunteers to help with various jobs at the fly-in. The three of us who took care of the performance run timing last year should all have flying planes participating in the run this year, so I will need people to handle this feature. I also need a few guys who would be willing to serve as airplane judges. In a perfect world, I would like to have 3 Q guys judge the Dragonfly's and 3 Dragonfly guys judge the Q's. Please contact me if you would like to help out.
Now a few words about the cost of the event......you all know how inflation works - right? Last year the event registration fee was $7.50 and the dinner on Saturday evening was $12.50. With the continued generosity of the Airport Manager at Sullivan and a little penny pinching on my part, the costs to attend this year's event have gone down!!! Event registration fees will be $5.00 and the awards dinner on Saturday will be $12.00.
If you fly your Dragonfly or Q bird to the fly-in, you will be treated like a King!!! No registration fees and no hangar/tie-down fees. All you have to do is pay for your meal at the awards banquet!!! Thanks for flying your tandem wing aircraft to the event!!!! Last year we were able to park all 19 tandem wing planes (and one Long Eze) inside a hangar for overnight storage. I can not promise we will be able to get as many as 25 planes in the same hangar this year, but I bet that we can.
I have a fly-in web site at: http://www.fidnet.com/~letempt/index.htm Listed on the site are detailed driving directions, information about lodging in the local area (5 hotels within about 1 mile), and a wide variety of other useful bits of information. If you do not have internet access, go over to a friend's house or the library and spend 30 minutes on the computer. It will be time well spent.
I also welcome you to join the Tandem Wing Fly-In email list on Yahoo Groups, if you would like to provide input about the event. The group is located at: http ://groups .yahoo.com/group/TandemWingFlv In/
Now you just need to sit down, fill out the registration card and get it back to me. You can use the form contained in this newsletter and mail it back to me with your payment or if you prefer, you can email me the information and pay with PayPal.
Last year we had 19 tandem wing planes (20 if you include the Long Eze) and about 10 conventional airplanes that flew in for the event. I think we could see 25 tandem wing planes show up this year, if the weather cooperates. If you have any questions about the event, you can email me at: This email address is being protected from spambots. You need JavaScript enabled to view it. or call me at (573) 364-2545 before 9 pm CST.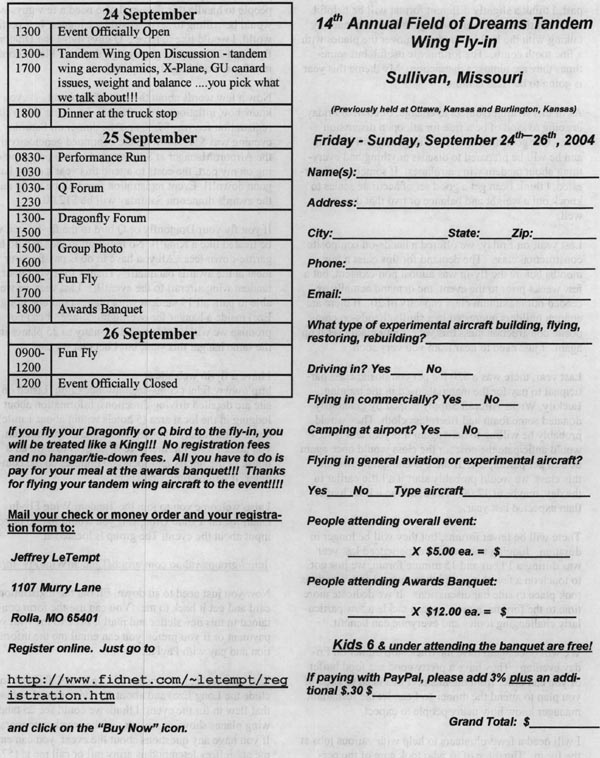 ---
You can order a printed copy of Q-talk #105 by using the Q-talk Back Issue Order Page.