Q-talk 145 - Tips from Mike's Garage
Details

Category: Q-Talk Articles
Published: Tuesday, 22 February 2011 15:38
Written by Mike Evans
Hits: 3514
by Mike Evans
Large Layups
Laying up a large piece of glass to a piece of foam with micro: I believe that I had read that a good practice was to roll up (or fold) the pre-cut fabric and then roll it onto the foam.
I tried that with one side of a 2' x 4' foam layup and found it involved more skill than I had expected. Mainly because the glass still wanted to go out of alignment. When I was thinking about how I was going to glass the other side, while it was in the cockpit, I began thinking that there may be a better way.
And there is. I took a piece of cardboard that was slightly larger than the glass (actually came from the box that the Last-a foam came in) and spread the glass on it, making certain that the glass was properly oriented (easy now). I did leave 1-2 inches hanging over one the end that I was going start laying on the foam.
Since this was so big, I had to employ my wife's help. I placed the overhanging cloth on the foam where I wanted it and then, as she withdrew the cardboard, I just pressed the cloth onto the foam. Other than the fact that it took 2 people, it worked great!
The pictures here are a mock up of the process. I will continue to use this technique for even relatively small layups like the one in the pictures, which I could do with no helper.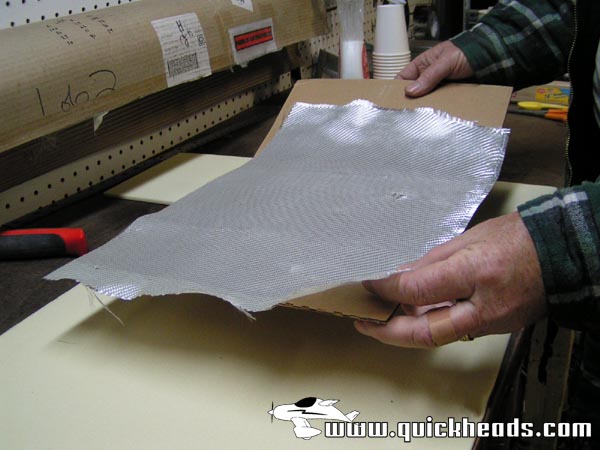 Step 1: Place the fiberglass on a large sheet of cardboard and orient the fibers.
Step 2: Slide the cardboard out.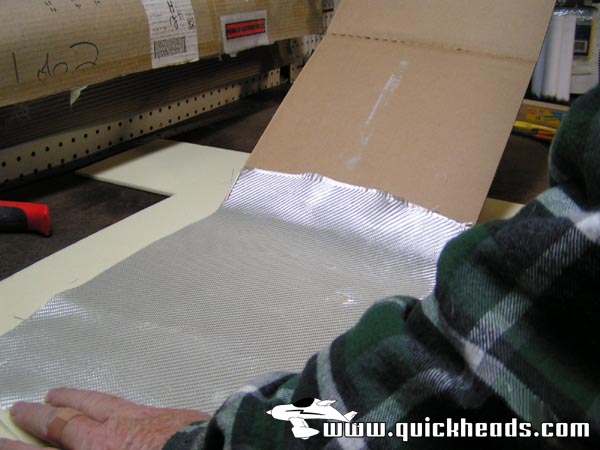 Step 3: Wet out the fiberglass.
Heated garage? Who needs one!
I'm kidding, of course. I would love to have a heated garage – even though I live in Los Angeles. Generally it's been about 60 degrees lately. So, I'm wondering what I could use to warm up smaller parts. Heat lamps are power hungry and not controllable. I was thinking more like a heating pad, but when I checked them out, they had automatic cutoffs.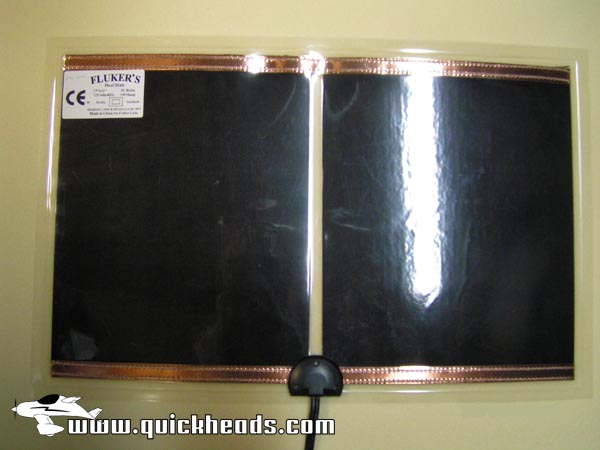 You can use a reptile heating pad to keep your layup warm in an unheated garage.
Then, since my kids have had reptiles for years, I thought about heating pads from pet stores. After a little web search, I came up with an 11 x 17 inchpad that maintains a surface temperature of 100 degrees (and doesn't cut off!). From the little I've used it so far, it seems to put out more heat towards the "work piece" on top of it if I put a piece of foam or insulation under it.
Even though the surface temperature goes to 100, I've generally seen temperaturesaround 70 – 80 degree. It only draws about 30 watts, so it's very "green." Ipaid about $25 for it from "Fluker'sHeat Matts."
With a name like that, it should be easy to "Google."
Vacuum Bagging Update
Inspired by Charlie Johnson at the Livermore flyin last August, I decided to try a home-brew vacuum bag. Actually, I'm sure you all have them already. Just ask your wife where she keeps her zip-lock bags.
I saw some really big "ZIP-Lock" bags at work the other day. Some employees were moving and the moving company brought in a big pile of pink colored extra large ones. I have no idea how they used them, but it's good to know that there are others examples out there.
For a really big layup, I suppose one could use one of those vacuum clothes bags that are sold to compress your clothes/blankets for storage.
[EDITOR'S NOTE: I recently found this great do-it-yourself vacuum plan on the Berkut 13 site. He calls it the "Cheap Little Sucker" and it's made from a refrigerator compressor! If you're interested in vacuum bagging your parts please read Mike's previous article as well.]
General Comment
I've obtained quite a few old newsletters and there is a ton of tips like what I have found. I would be surprised if someone else has not already "discovered" my cardboard trick long ago. However, for us newbie's, unless we scour ALL of the old newsletters, we would not be able to take advantage of the knowledge base.
So, friend Dan, is that something in your plans? I'm not sure, but after the great questionnaire you did recently, I believe that may have been one of your priorities. Of course, searchable newsletters would help also.
[EDITOR'S NOTE: Thanks for the great tips Mike! Great article! Getting all of the old newsletters online is one of my priorities for 2011 so pleasestay tuned. There is a wealth of information in them, so hopefully I can get permission to reprint.
In the meantime, over ten years worth of QBA Newsletters are now available and searchable in the "Member's Only" section of the website. These include all of the previous issues from Dave and Susie Richardson, Doug Humble, and all the issues from my first year as Editor. (2010)
I also brought over the Newsletter Topic Search from the old website, and you are always able to buy printed copies of the former Editors Newsletters by visiting the Back Issue order page. I hope this helps. Please let me know.
Stay warm out there. . . but just so you know. . . 60° F sounds like heaven to me!

]