Q-talk 144 - Runway 27L - Dr. Steve Kulczycky
Details

Category: Q-Talk Articles
Published: Wednesday, 08 December 2010 09:19
Written by Rene Robertson
Hits: 5970
{flv}qtalk/missingman{/flv}
Above is a video that appeared on vimeo. It shows Rene Robertson flying MBK in a "missing man" formation in honor of Dr. Steve Kulczycky, who passed away October 27, 2010. At the time of his passing he was the highest time Q2 pilot with 2369 hours. Rene provided the following tribute:
---
Dr. Steve was a gifted compassionate doctor, homebuilder extraordinaire and a great pilot who valued the virtue of airman-ship. I am lucky and honoured to have known him as my close personal friend. He truly cared about everyone that came into his life and was always there to help out. Having built his Q2 C-GMBK over a period of 6 years, you could always count on Steve to give an honest and straight forward answerto any question you had about your airplane. We spent many hours at the airport working on our Q2's together and many more hours enjoying airtime as each others wingman on one mission or another. After the days flying was over, Steve would always want to visit the other guys at the airport to see how their projects were coming along and see if they needed anything. Of course we could never head home without Steve looking at us over the rim of his glasses and asking, "time for a quick drink at the club house?", which was shorted up to "time for a quickie?" There is a good group of us homebuilders at Abbotsford airport. We will miss our leader and mentor.
Steve fell in love with the Quickie back in the early eighties when he saw this "180 MPH" wonder on the cover of an issue of "Popular Science" and promptly ordered his kit. It took him six years and countless hours to construct MBK. Steve always told me, "don't believe what you read on the box". I have never met a person more passionate about Quickies and flying the Q2. The Q2 was the only airplane he really wanted to fly. During the year that MBK was receiving it's new 120 HP engine, Steve kept current in the club's Cessna 172, which he described as "flying like a pick-up truck in the sky".
Steve spent most of his free time at the airport and there was seldom a time that you would enter the hangar and not hear the hangar radio on with Steve either singing while working on MBK to make her faster or out flying MBK. In the 2369 hours, MBK took Steve and Janet to many wonderful places. He flew to Oshkosh once from Montreal and twice from Abbotsford, as well as Las Vegas Nevada, Merced California, WhiteHorse North West Territories, and Alert Bay BC. Steve flew his Q2 from one side of Canada to the other in the days before GPS. Over 2100 of those hours were behind the Revmaster before switching to the Jabiru.
Steve was a valued member of the Abbotsford Flying Club for over 15 years and was club president from 2000-2002. Steve served on the board of directors for the Abbotsford International Airshow and was head of security for the event. Steve also was a talented writer, having written many stories for the Flying Club newsletter over the years. Janet, Steve's wife, has compiled these stories in a book titled "Quickie Tales".
Below is the "Airman's Credo" written by Steve;
Airman's Credo
Air. The medium that surrounds us. I believe in air. Air that is and will be. For without air there is no life and no flight. I believe in its vital energy and potential. Its caress in a light breeze. Its force and violence in a storm.
I believe in earth, our base and safe harbour. A place to rest before the next flight. A seductress that offers security in turbulent weather. She welcomes us with open arms when the elements overwhelm us.
I believe in the ship which is underneath me. A mechanical conveyance built and directed by man with the express purpose of escaping the bonds of earth and travelling above its surface. I believe in its integrity, for without it I would not be in the air.
I believe in me, the pilot, and my skills; he who manipulates the ship, the air and the earth to create an act of flight, in one all-encompassing act of control over these elements.
I believe that the harmony of all these elements combine together to liberate the body and spirit of man.
I believe that we were meant to fly. Our curiosity, ingenuity, perseverance, daring and sacrifice earned us the right to use the sky as a thoroughfare.
I believe in the Force which has the ultimate control over these elements. It encourages us in our quest to seek the furthest corners of the sky, the earth and our inner selves; for anyone who flies will face IT at some point.
I believe in the inner peace which arises from having experienced the beauty of flying; for it allows us to carry on with our daily life, and diminishes the burdens of earth-bound problems.
I believe....................
After a day's flying, we'll be having a "quickie drink" at the club and toasting to you my friend. Steve, we'll be flying together again someday.
Submitted by Rene Robertson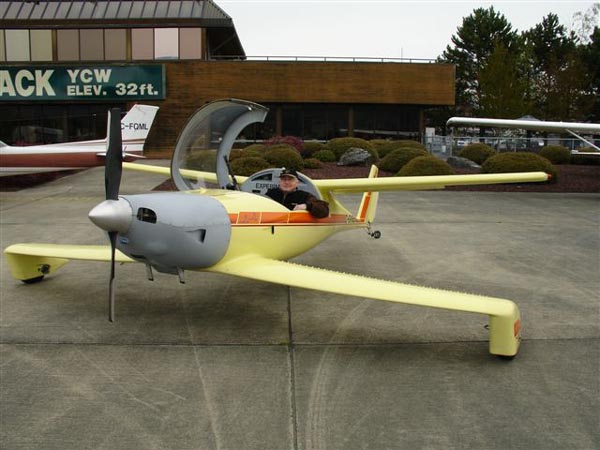 Dr. Steve in his Q2 C-GMBK after his engine swap to the 120 HP Jabiru 3300.
---
Other Sources:
Dr. Steve's Obituary
Dr. Steve's First Solo (Video)