Q-talk 143 - Beatrice Quickie Fly-in
Details

Category: Q-Talk Articles
Published: Tuesday, 02 November 2010 01:00
Written by Dan Yager
Hits: 3708
This year's Field of Dreams fly-in in Beatrice, NE was awesome. This was the 20th Anniversary of the event so I was more than excited to attend.
A few days before the event I found out that Q-vair builder Joseph Snow would be flying in to Omaha around the time I was. Since I'm planning on putting a Corvair engine in my own plane, I was hoping that we could share a rental car so I could pick his brain all the way to Beatrice and back. Well that didn't work out. It seems Joseph has a bit more "Early Bird" in him than me, so we couldn't coordinate the return trip. But I waited for Joseph at the airport and we followed one another to the Beatrice event.
When we got out to the airport, I finally got to meet Doug Humble in person after many, many e-mail conversations with him during the transition of the QBA website. Alan Thayer who hosted the Livermore event in August was also there and greeted us with hearty handshake, great big smile, and of course those now famous green shorts!
We couldn't have asked for better weather, the air was crisp, but the winds wer calm, the sun was shining and there wasn't a cloud in sight! So it didn't take long before several Q's began arriving, including our own beloved Sam Hoskins!
I don't think Sam had come to a complete stop before I was asking him to take me for a ride, and he didn't dissapoint! It wasn't long before I had that HUGE grin on my face again! These planes are awesome!
I did capture a photo of Sam's airspeed indicator, but I decided not to publish it here. Instead, I'll show you a nice shot of the runways at Beatrice, taken as we were turning final. When we landed several anonymous people said that I should mention for Jim Patillo's benefit that, "I think Sam's plane was a couple of knots faster than Jim's." They put me up to it, sorry Jim!
However, I did notice that Sam's plane seemed like it had a little excess drag somewhere. Hmmm? It just didn't seem to be performing as well as I expected. When I got out of the plane, Sam explained that the drag I experienced was due to the faulty application of his RACE NUMBERS! Those little (almost indiscernable) bubbles in the vinly decals just caused way too much drag! So they had to go!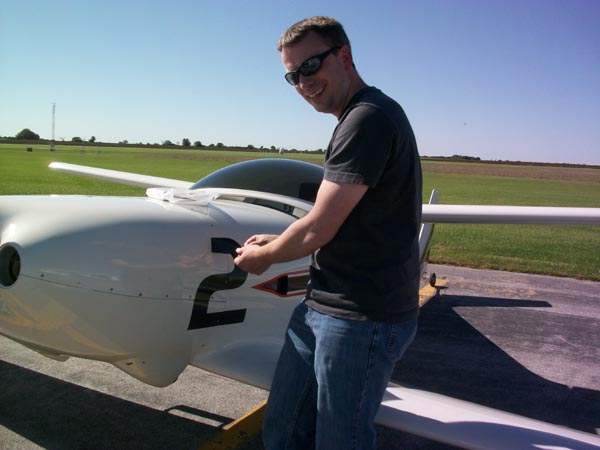 We were a little concerned that the decals would be a bear to remove. However, since the engine, and therefore the cowling was still warm, they peeled off without too much difficulty, and without leaving any residue. Here's a shot of Sam's naked plane. For some reason, I think it looks faster with the race numbers on. It's like the plane is challenging all of the others at the airport!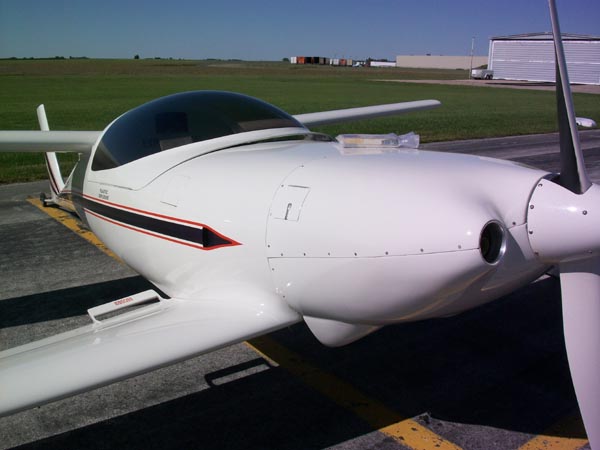 I said it after my trip to Livermore, but I really like the amount of information that gets exchanged at these events. In the picture below, Sam is explaining how his prop extension works for our previous newsletter editor Doug Humble.
I couldn't tell what was going on in this photo, but it looks like Doug was threatening to steal Mitch Hargin's Tri-Q at knife point! In actuality, several people chipped in to help Mitch remove a broken back plate from his spinner. When a question about how much torque was required to re-tighten the prop lugs, resources poured out of the woodwork as several people had their A&P's on the phone whithin minutes. What a great group of people!
It was all hands on deck, and Mitch's wife Pam was helping out too! She's definitely a keeper!
Next to arrive was Kevin Boddicker and Paul Fischer. They both flew in to Livermore in Paul's RV, so it was great to finally get a chance to see both of their Q's. They both looked great. It always amazes me to see a high time aircraft like Paul's in such pristine condition. It says a lot about the design, but even more about the people who fly them! Absolutely beautiful!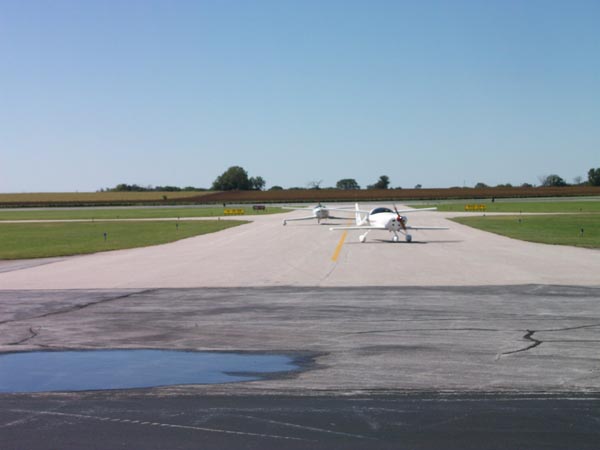 When Lynn French landed we were all immediately struck by the number of electronic gadgets and gizmos he had mounted on his panel! The IPOD is an obvous neccessity in any modern panel!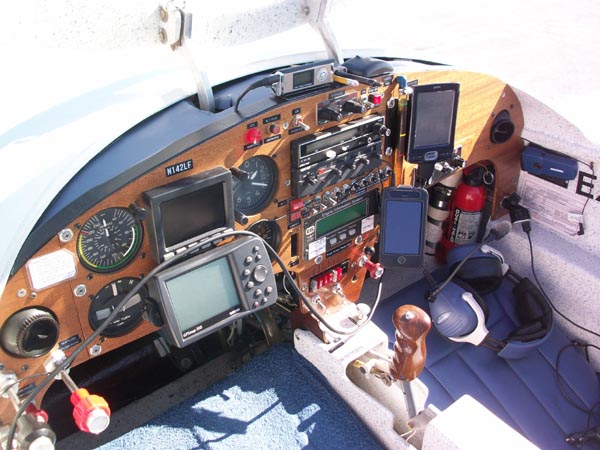 Due to some family events occuring the same weekend, Paul needed to take off again. He barely had time to see Alan's green shorts, before he had to fuel up and fly-off again. . .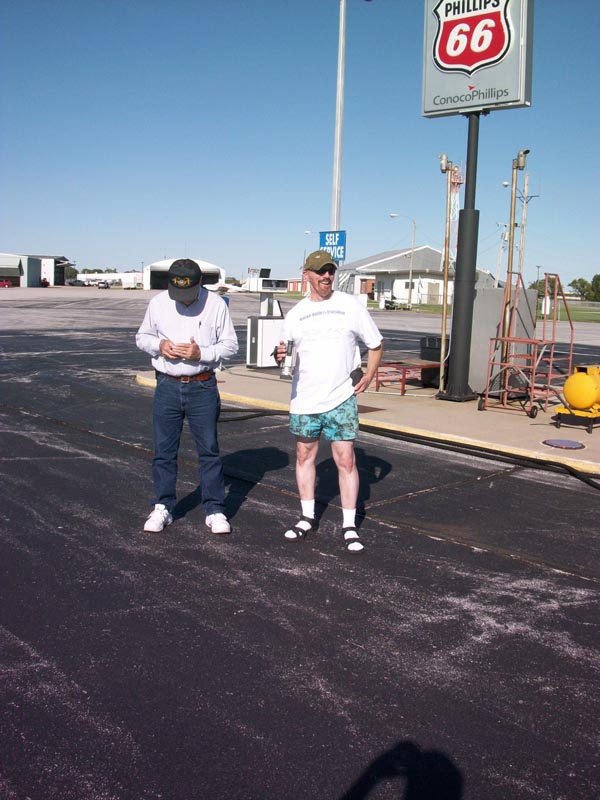 . . .but we were all glad that he made the effort to make it out and see us.
The Johnson Brother's flew out in their Cessna, and several children were awe struck by all of the airplanes on the field. This curious little guy certainly wasn't shy, I thought he was going to flip every switch and turn every knob in the cockpit. It wasn't long before Charlie had to pry him out with a crow bar, but I think we created some future aviators that day. I'm pretty sure I know what this little one is going to ask fo at Christmas time. Not sure how it's going to fit in the sleigh though.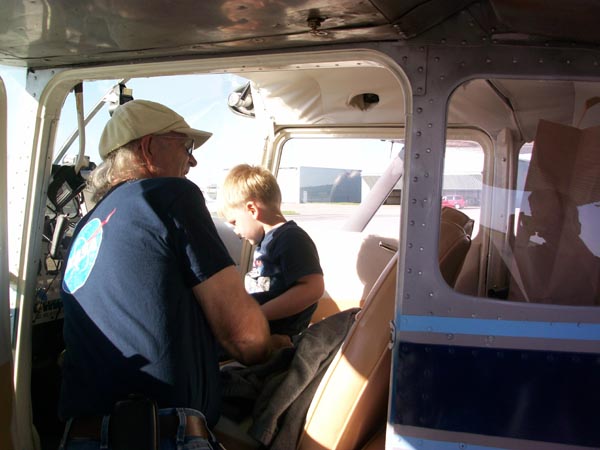 As the first day wound down, we made our way over to the local Pizza Hut and had a terrific meal with lots of good food, and even more hanger flying. I think we all had a great time. It was good to see some familar faces, and get to know other builders and flyers that I hadn't met before. We continued the conversations well into the night back in the hotel lobby.
On Saturday, we continued with the laid back converstaions, Q rides, and information sharing. The beautiful artwork on the tail of Kevin Boddicker's Tri-Q describes the main ingredient in any successful experimental aircraft!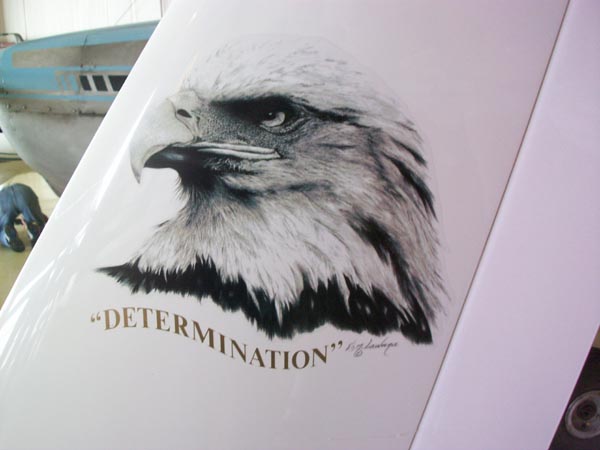 Sanjay Dhall was out gathering information for his engine installation and upcoming taxi testing. Again it was great to see new builders putting their hands on the planes and asking lots of questions. The information gathered at these event s is absolutely invaluable to builders in the construction phase. I remember Sanjay asking Lynn how he torqued a particular bolt on the exhast manifold, and Lynn replied simply, "With some difficulty!" Nice to know that others have been where you are now.
As all that was going on, Sam was having his new Race Numbers professionally applied by Doug Humble. . .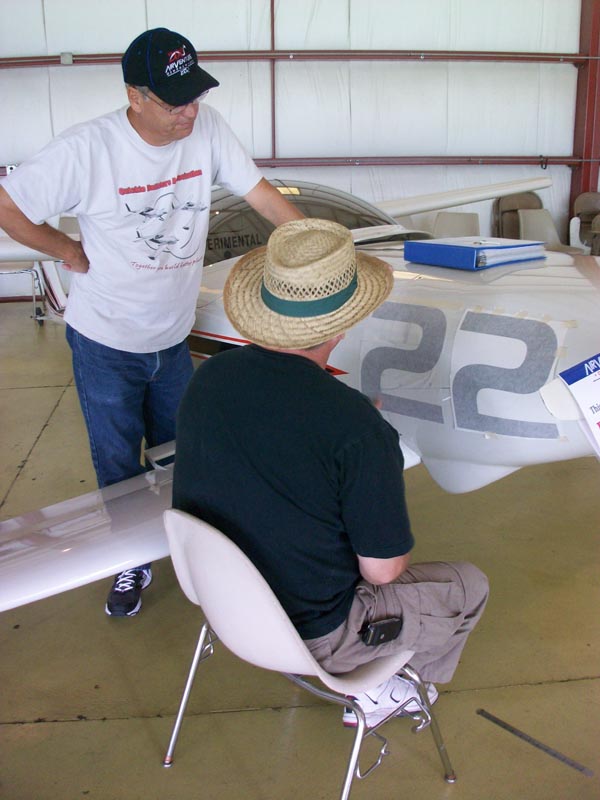 . . . and Jay Scheevel was using his "Scheevelometer" to measure the angle of incidence, on Kevin's main wing.
When we broke for lunch at the nearby Arby's, one of the locals from Beatrice was asking what we were all doing. Apparently, he flies R/C model airplanes and had always been facinated with the Quickie designs. He told everyone at the far end of the table that he thought someone named "Dan Yager" had designed them. Everyone quickly corrected him, but I thought it was neat that he had obviously been to the QBA website! Looks like the word is getting out there, I need to work on the message a little bit though! Yikes!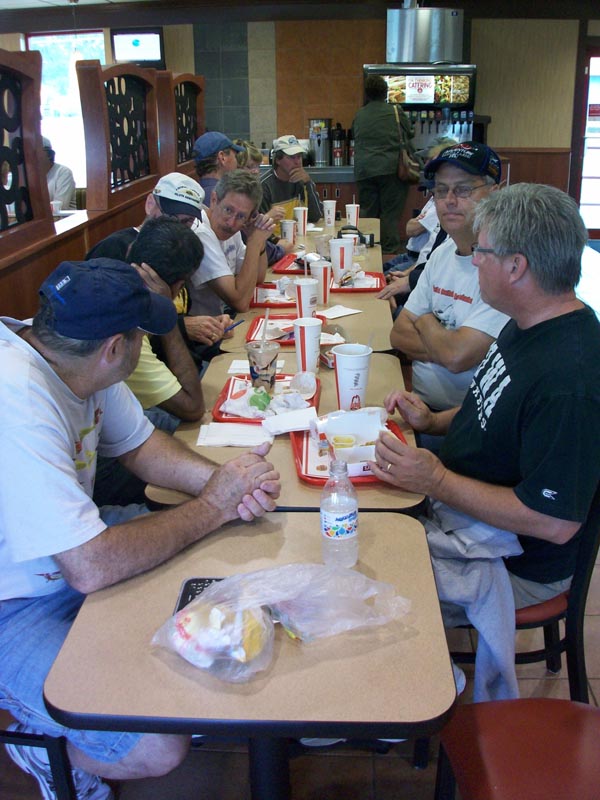 After lunch we loaded all of pictures on the laptop and started telling more war stories, about building and flying. It was great to hear the stories of the guys out there flying, and it was a real shot in the arm to those of us still building.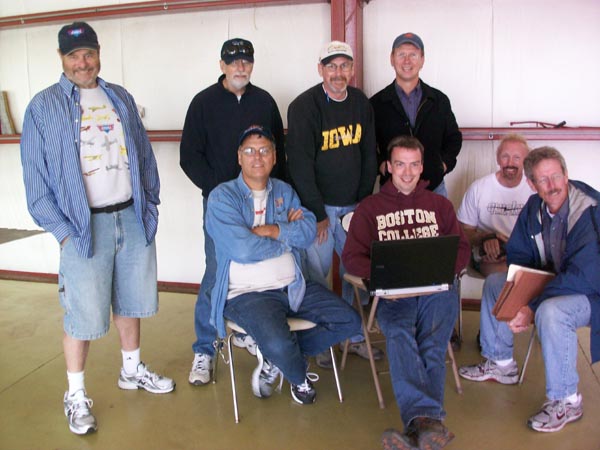 I love this shot of Terry Crouch! I snapped it as he was taxiing out to put on his Q1 demonstration over the airfield. Nothing says JOY to me more than that "thumbs up" and that huge GRIN that only a Quickie can produce! I'm still wearing mine just looking at this pic!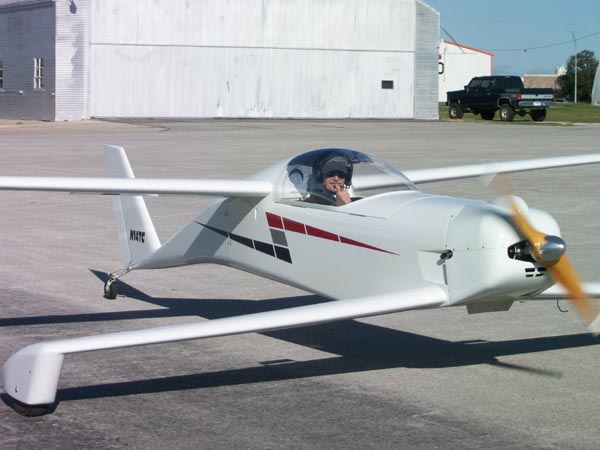 I'm not sure who took the most rides that weekend, but I'll bet Joseph Snow was in the running. Here he's in the cockpit with Lynn French. Lynn gave him some valuable stick time, and Joseph was beaming about it when they returned.
We took the mandatory group shot. . .
. . . so that the local FBO could add to their collection. (Maybe I'll send them a framed print this time!)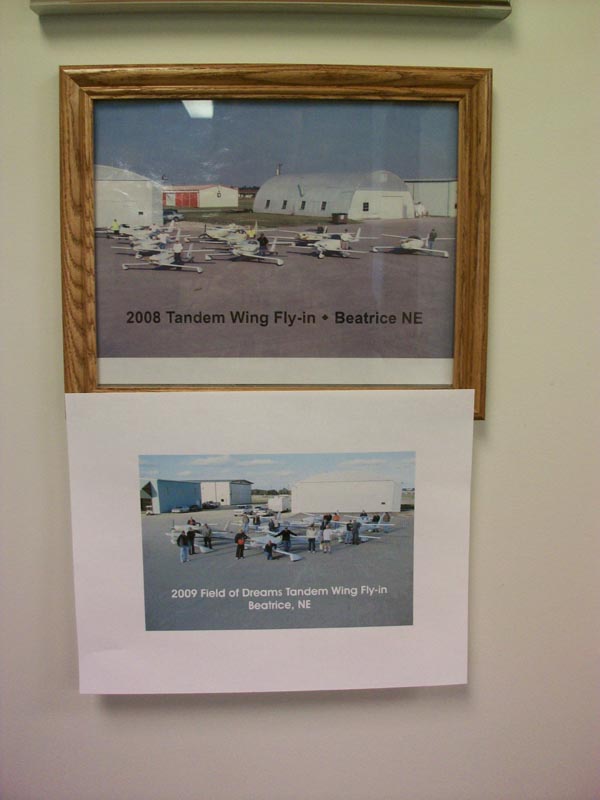 We also got some other group shots. The photo below is a picture of everyone who got a ride in Sam's plane. I think this photo is a testament to Sam's commitment to being a great ambassador for the design.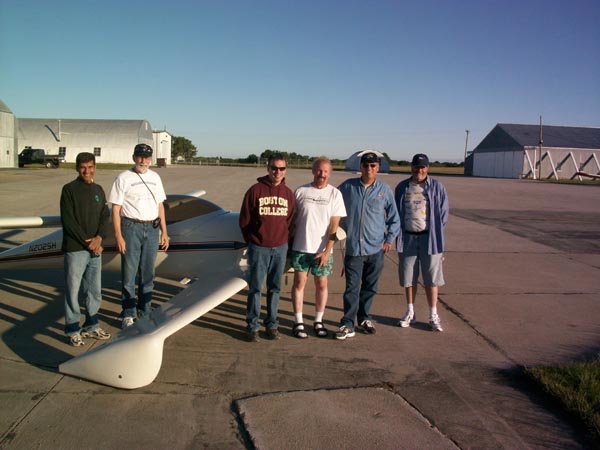 At the end of the day, we headed over to the American Legion, and had another wonderful dinner. We also discussed the future of the Field of Dreams fly-in, as well as the future of the Quickie Builders Association. That discussion prompted the online surveys that I asked everyone to take. (The results appear elsewhere in this issue.) It was good to hear such a frank discussion about where we're headed, but I still remain expectantly optimistic about our group's future.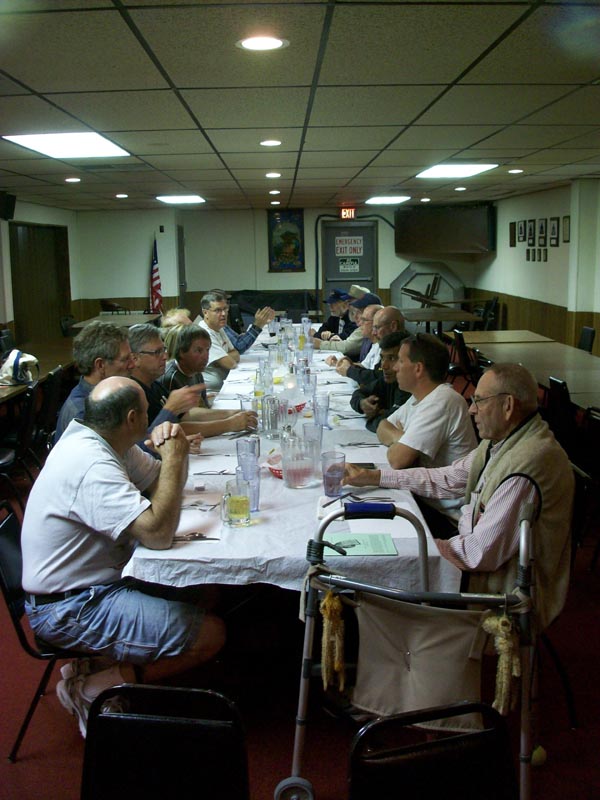 The converstations again lasted 'til well into the night in the hotel lobby. Here Sam is discussing his electrical system with Jerry Brinkerhuff.
The following morning brought some low ceilings. . .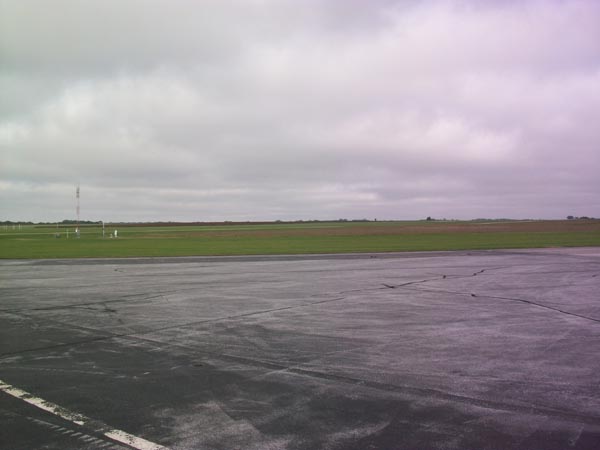 . . . but soon planes were being fueled up for the return home.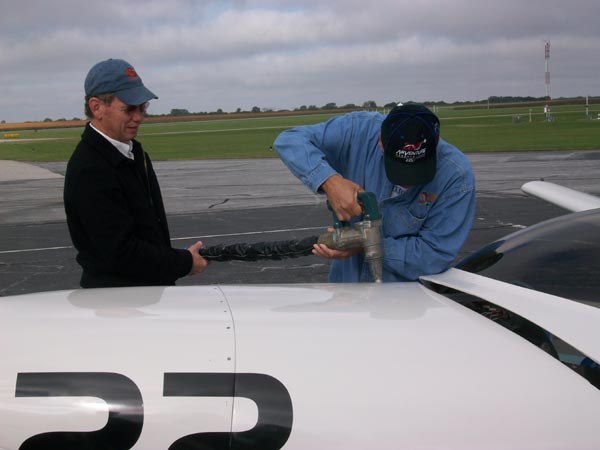 Bruce Crain and "Honey Lamb" flew home in their "Quad-Q" so weather wasn't factor for them. We're glad everyone made it home safely, and we look forward to seeing Bruce's Tri-Q at next year's event.
On a bright note, on my commercial flight home, on the leg between Omaha and Chicago, I was very pleasantly surprised to see Sam Hoskin's form up off our right wing. Talk about performance! We were probably doing about 550 mph at around 30,000 feet when I took this photo. I was really amazed that he was able to catch up with us, since I could have sworn we left well before him. He had to tuck in below us here to avoid our wake turbulence, but that little Q was just humming right along. He couldn't stay too long, so he just waggled his wings to say good-bye and then peeled off for home. Really incredible I think, especially for 100HP!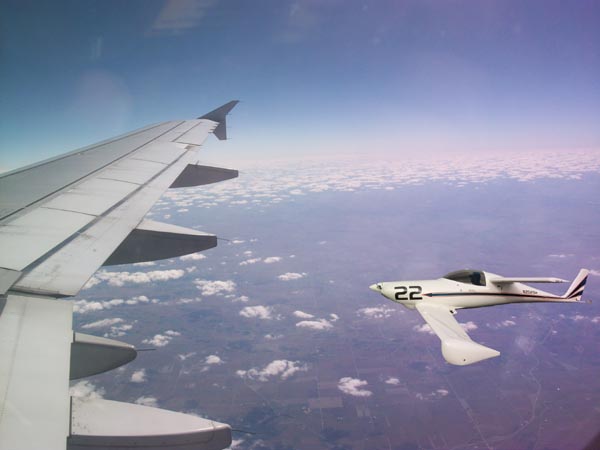 For more fun and information make sure you check out: