Q-talk 135 - Cross Country Trip in a Tri-Q
Details

Category: Q-Talk Articles
Published: Wednesday, 23 December 2009 16:24
Written by Bruce and Joanne Crain
Hits: 1787
Joanne and I flew to Phoenix from April 11 to 17 in our TriQ200 N96BJ. Our daughter, Rebecca and son in law, Kevin Pavey had a new baby boy and 3 other grandkids that needed "Spoilin". The first leg was into Tucumcari, NM ($3.73/gal). Then on to Gallup, NM ($4.25/gal) where the runway elevation is at 6500' MSL. We had a cross wind and it was a bit scary as we took off. I immediately started to crab into the wind. We were crabbing left, so that put the fuselage and right wing over the runway and I couldn't really see how low we were for awhile or the mountains ahead to the west! It seemed like forever to get above 110 mph and establish a climb (we were loaded pretty heavy 30 lbs luggage, Joanne and I with full fuel). I set the MT prop to 2700 rpm, but after take off I moved it to over 2750 rpm. After we established a climb I put the nose over Interstate 40 going west towards the lowest pass. Seemed a little close, but we continued to climb out and headed for Sedona, AZ.
We were traveling at 10,500' MSL for most of the trip going west. We vectored to Sedona and then peeled off about 5 miles east of Sedona to the south over the 4 lane into Phoenix. That is the lowest pass into Deer Valley Airport ($3.59/gal). Approach kept asking me if I saw Cave Creek Dam (VFR check point). I was looking but nothing was showing up. Finally I saw a low spot with what looked like a barricade across it. I told approach that "I was looking at something that might be Cave Creek but there was no water and we have water above our dams in Oklahoma!" He laughed and said "that just ain't so in Arizona. Things are a bit dry here." When we landed it was
apparent that I was from "out of town" because they wanted me to repeat all clearances on ground. One of the ground controllers finally told me "you need to start trying harder!" I gave a couple of rides to my grandkids there and by the time we departed Deer Valley I was doing better. ;o)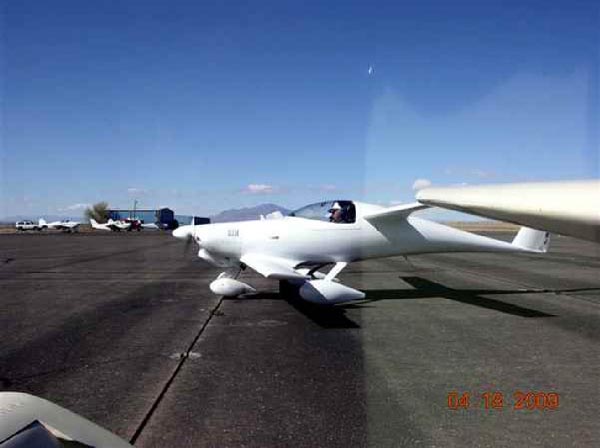 Joanne and I flew home using the "south route" past Tucson, AZ to Demming, NM ($3.18/gal). The altitude is a little lower and we were cruising mostly at 9500' MSL. The runway at Demming is only about 4500' MSL. (While in Phoenix, I had e-mailed Dave Chael in Enid, OK and asked him if he thought we could fly straight from Deer Valley to Belen, NM across "Outlaw MOA". Dave fired back "absolutely not. They have things that fly so fast that we might not be able to get out of the way! FA22's!) "Plus the terrain is very cragly and remote through those mountains!"
Demming is a long runway and the turn around was quick with a fast look at a weather computer. So we took off for Belen, NM where we have friends (Jon and Pam Finley) that live on an airpark community in Los Lunas. The runway is a bit narrow and rough at Los Lunas so we opted to land at Belen where we could get fuel. I forgot to pay when I left and I took on about 7 gals, so I called them a day later to pay with a credit card. When they finally found the bill about 3 days later they had talked to my friend Jon from Los Lunas and he paid the bill before I could (isn't that what friends are for). Hope he invites me back sometime. On Sat. morning we went to Belen Airport for a fly in breakfast and then mounted up with Jon and a flight of 2 with his Subaru powered Q2. They call him the "Screaming Mosquito" (or something like that) at Belen and it must have been strange to see 2 "Mosquito's". Jon chased us out of town and toward a pass in the Monzano Mountains (see the pics). We were at 8500' MSL and the Monzano Peak was at 10,500' MSL! The tops of the mountains were obscured so we snuggled up close to the trees and snow in the pass. When we squeaked out the other side it was CAVU where we climbed to 9500' MSL. We picked up a great tail wind and our MP showed 22" so we left the power at full. I then dialed the prop to 2150 rpm and we cruised at 195 mph! We made it to Lubbock, TX in about 1 3/4 hrs (300 miles). I figured we used 5 gals/hr and averaged 27 mpg!! That's the best I have ever seen in the TriQ!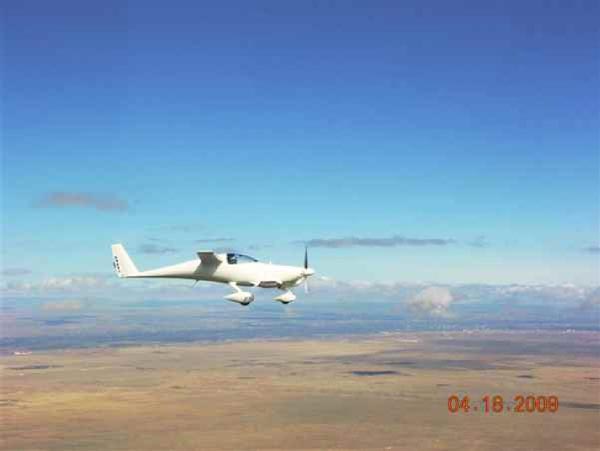 We landed at Lubbock, TX ($3.53/gal) where we had planned on staying over night due to weather. I looked at the airport computer and called my hanger mate Charlie. We both agreed that if I left immediately we could make it. Charlie said "but you need to hurry!!" Thunderstorms were forecast for the western area of Oklahoma. We saw a few clouds in route, but as we approached Clinton, OK we saw what Regional Control said was "a cell". I confirmed that there was in fact a cumulus building rapidly. We had to descend to 3500' MSL as we made our way into Woodring Airport ahead of the storms due to low ceilings. We beat the thunderstorms into Enid by about 2 hours. The dark clouds rolled into town and it rained buckets with lightening and wind! Glad to be on the ground and at our house when it hit!
We flew 14.2 hours round trip and stopped in to see friends along the way. The trip to Phoenix by car takes about 19 hours! We must have flown about 2200 miles total. So the Quickie gave us an extra couple of days with family and friends and opportunities to see some sights that many never have the chance to see!
God is good all the time! Bruce and Joanne Crain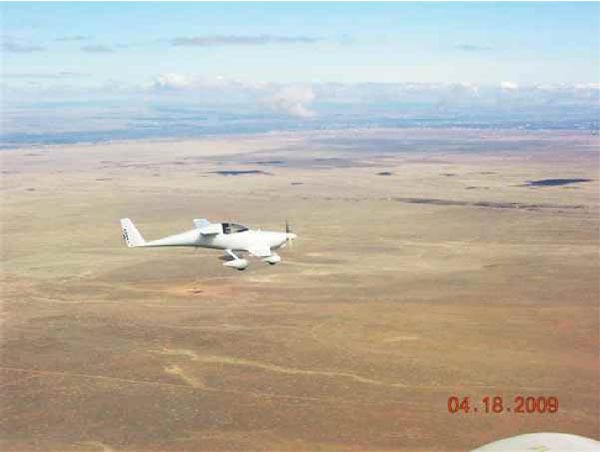 ---
You can order a printed copy of Q-talk #135 by using the Q-talk Back Issue Order Page.