Q-talk 125 - Rough River Fly-in
Details

Category: Q-Talk Articles
Published: Wednesday, 23 December 2009 16:24
Written by Doug Humble
Hits: 4932
A week after our Field of Dreams Fly-in, several from our group flew over to Falls of Rough, Kentucky to attend the annual Rough River Canard fly-in. Of considerable note, there were more Quickie Q1's there than the 2 seat models! Here's what Roy Shannon had to say about his experience.
I must say it was great to be part of a good Quickie turnout and I finally got to fly with another Quickie. I got to do a couple of flybys with Terry Crouch. It was Fantastic!
This was my first long trip in my Quickie and all went well. All 3 Quickies attending the fly-in were powered by Onan engines and all made the trip safely.
Just a little info about my trip:
Total trip distance = 1437nm.
Total time = 18.31hrs.
Total fuel = 33.8gals
Fuel cost = 148.98.
Fuel burn = 1.82gph.
Avg speed = 77.67kts (89.35mph.)
Max weight = 534lbs.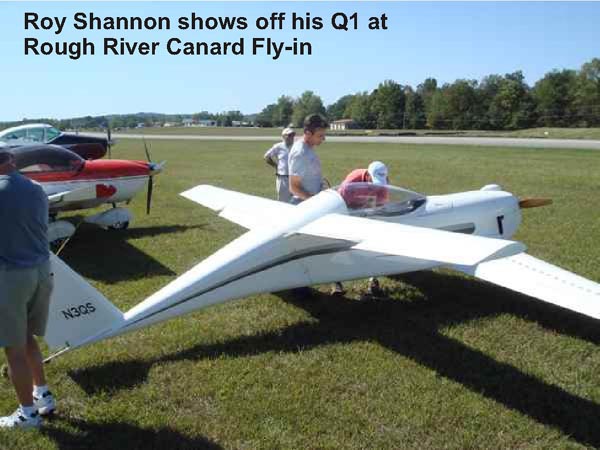 Rough River Canard Fly-in is a must see. So many beautiful planes, lots of flying and great people. You can't go wrong attending.
Roy Shannon - Edgewater, FL N3QS
Then Keith Welsh reported on his Q1 trip.
My flight was 133 miles one way. Speed down was 102 mph, 1.3 hrs & approx. 3 gal @ 2.3 gph. The trip back back was 119 mph, 1.1 hrs & approx. 2.5 gal @ 2.2 gph. I filled my plane from a 5 gal. plastic container, so my figures are approximate. I will burn more fuel because I'm flying an actual P220 engine which is more than just the heads. The carburetor (larger than QAC engines) and valve stem size are different.
Keith Welsh - Marshall, IL N494K
Finally, Terry Crouch reported on his trip.
Most Onan powered Q1's are fairly similar in cruise and fuel burn. I flight plan using 100mph and 1.8 gph. The flight to Emporia, KS was 5.4 hours down (big headwind) and 3.5 hours back. Total of 748 miles.
The flight to Rough River was 3.2 hours down and 3.4 hours back for a total of 690 miles. If you are counting, that is over 3000 plus Q1 miles between the three of us over the last two weekends! It was great to get together with Keith and Roy and many others.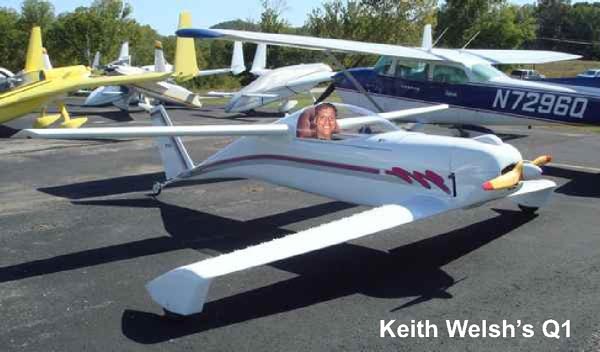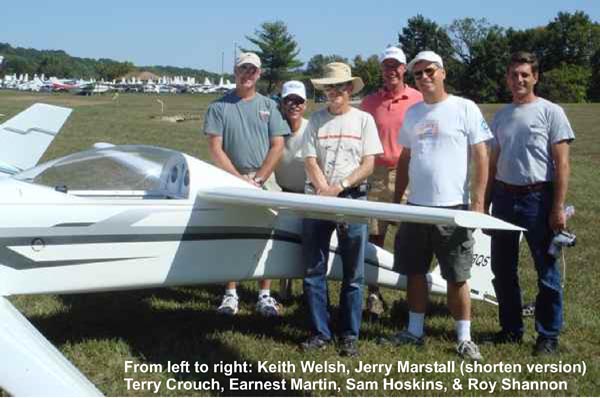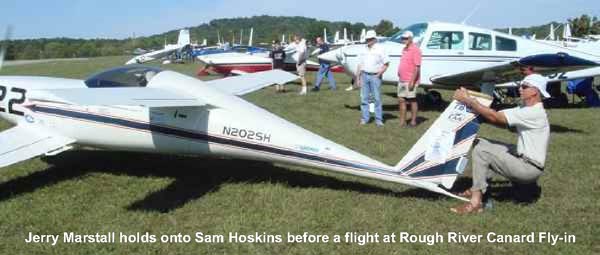 Terry Crouch - Bettendorf, IA N14TC
Check out the Members Only section of the QBA web site for more pictures from the Rough River Canard Fly-in sent to me by Jerry Marstall.
---
You can order a printed copy of Q-talk #125 by using the Q-talk Back Issue Order Page.