Q-talk 123 - Frightless Freight
Details

Category: Q-Talk Articles
Published: Wednesday, 23 December 2009 16:24
Written by Dave Richardson
Hits: 2448
Dave is gone, but he still contributes to the group he loved. When Dave learned something that he thought would benefit someone else, he shared his experience with us. This last article of his is an example of that.
There are few challenges that can so quickly transform a normally self-confident homebuilder to a heaping, weeping mass of mush or to a vein popping, explicative belching maniac than conquering the problem of shipping / receiving precious airplanes or parts from across the country. Homebuilder's horror stories can include everything from shipments that arrive late with damaged crates or contents, to totally lost shipments, to a 200-300% rate inflation over the quoted dollar amount. The kicker for the last problem is that you have to pay what they demand or you will not receive your shipment.
As I was faced with the problem of shipping an engine from Utah to Ohio, I followed the best general advice I have ever heard for homebuilders; ask for help.
I contacted several builders who had shipped similar engines to learn from their experience. They offered several suggestions, as well as a new collection of horror stories. My thoughts at this point were "Oh, boy! This is going to be fun."
Then I contacted renowned resource "hook-er-up-er", Terry Schubert. He is the editor of the Central States Association newsletter for the EZ/canard community. Terry had his own horror story to share about shipping an EZ canard to Arizona. He then lightened my feeling of doom by saying there is a CSA member who is in the shipping business. He might be able to help me learn the ropes. Through this fellow pilot, Terry had learned that he should have had a "handler" assisting him through his shipping process. That is where he went wrong. Hmmmm. What's a handler? I'll come back to this contact person in a moment.
First, here are some basic shipping terms for the uninitiated, like me. The location where the item is actually shipped from is referred to as the "shipper". The ultimate recipient of that item is called the "consignee". An optional group with the responsibility of controlling the shipment is referred to as the "third party". The company doing the physical transfer from the shipper to the consignee is called the "carrier". A contract is drafted, called a Bill of Lading, identifying the three or four groups involved above, as well as the specifics of the items being shipped. In the shipping world, length, width, height, (all in whole inches in the USA) approximate weight and the origin and destination locations are the key elements needed for a quote and time estimate. The more numbers you can accurately provide, the better the carrier can estimate the rate to be paid. What you are shipping can play a role in your final rate, too. For example, shipping a used engine full of oil and fuel is considered hazardous materials and they can charge a rate accordingly. The best thing to do with a used engine is to have it steam cleaned on the outside to remove any residual grime and then drain it of all fluids, including any oil screen/filters and float bowls.
Some carriers provide a crating service, for a fee, if you need the extra help. How the item is being picked up by the carrier and delivered to the consignee can affect the rate, as well. For the trucking company, a loading dock with available lifting equipment at each end is the ideal situation for large or heavy shipments. That way everything will stay at the truck/dock height. That also means the trucking company does not have to bring along extra equipment or personnel to load or unload the items from the truck. Expect to pay extra for a residential pickup or delivery. Also expect a charge if the shipping company has to send out a truck with a lift gate to lower the items from their truck to your hangar or garage floor level.
You can also optionally declare the value of your shipment and that can factor into the final amount to be paid. If you do not declare the value, then the shipping industry standards loss/damage rates will apply. These standard rates are limited to the greater of $50 or 50 cents per pound. Since the value of most aircraft parts being shipped would be better measured in carats than pounds, you do not want to expose yourself to these standard rates. You are far better off declaring the value of the shipped item. You will, however, need to be able to offer documentation of the stated value with a bill of sale or similar records in the event of a claim. When you declare the value, the carrier will charge you according to a rate to insure against loss or damage. The carrier determines the rates and they are generally less than a penny per dollar of the declared value. To make it easier to understand, they will give you the rate per $100 instead of per dollar. I received quotes of between .45 and .75 / $100 of value. For example, if the carrier quoted you .50/$100 of declared value and you declared $5,000, then the math would be $5,000/$100 x .50 = $25. Be aware that some carriers may not let you insure your entire declared value, so make sure you check the fine print.
In addition, be aware that some carriers may have different divisions labeled with names like Ground and Freight. Each of these carrier divisions will have their own size or weight limits for the items they can manage. This is because they have specific truck sizes within their company's fleet. Their moving equipment may have lifting limitations, too. Trust me; they will be quick to tell you if your item exceeds their division's capabilities.
As pilots, we know the impact fluctuating fuel prices can have. It is not hard to understand that the carriers have to make rate adjustments to recoup the volatile changes in fuel costs. Rather than constantly changing their basic rate tables, carriers monitor fuel prices and apply what is known as a surcharge. This charge is added to their standard rate to account for the difference. Some carriers calculate their surcharges on a monthly basis. This can cause a change in quoted rates. If, for example, you get a quote at the end of one month and the shipment does not happen until the following month, a different surcharge may be in effect for that given time. Check with your carrier to learn when they calculate surcharges. See how that might affect the rate you pay for your shipment relative to your actual shipment dates.
Most national carriers offer some sort-of web based tracking mechanism so you can follow your item's status. Expect varying levels of detail in the system, though, from sparse to very detailed, depending on the company.
Ok. That's enough of the background information. It is time to get back to our CSA member in the shipping business. Gary Ernest is a Regional Sales Manager for a shipping company called ESTES Air Transportation Services. It is a part of ESTES Express Lines. His office is located in the Toledo, OH area. He can be reached at This email address is being protected from spambots. You need JavaScript enabled to view it. or via his cell phone (313) 720-0538. Gary also owns and flies a Long-EZ so he is sensitive to the needs of a builder/pilot. After I contacted Gary, he offered to help me through the shipping process. He was extremely patient with my questions and naivete in regards to having an engine shipped across the country. I will have to admit that my radar was on high, given all the stories I had heard, but Gary did a great job of navigating me through the doubt.
While ESTES does offer a crating service, the shipper, in my case, felt confident he could crate the engine himself. He then informed me of the dimensions and the approximate weight of the wooden box. Since he lived relatively close to an ESTES terminal, the shipper, at first, offered to drop off the engine at their location. Later, it was decided that sending an ESTES truck to the shipper's business address would be better solution for pick up. His company had a loading dock with available forklifts. At this point, the only missing detail was choosing a specific day for shipment. Gary helped target a time satisfactory to all parties. Gary also prepared a Bill of Lading that we sent to the shipper. The shipper would need to have several signed copies ready for the driver when he came for the engine. The document had a unique identification number that could be used as a tracking code. That number allowed me to follow my engine from the entry point in Utah to when the crate arrived at the ESTES terminal near Cleveland. The local terminal called to inform me of the crate's arrival and arranged for my pickup. I was able to drive my van, with a utility trailer attached, into their dock area. While using a fork lift, they brought the crate down a ramp to ground level. Their skilled operator had the box transferred onto the trailer within a couple of minutes. At that point, the crate just needed to be strapped down and I headed for home. The shipment made it to my home safely and in the anticipated timeframe of four work days. I was also pleased to find out that there was no increase over the quoted amount to be paid. The ESTES rate was very competitive, too.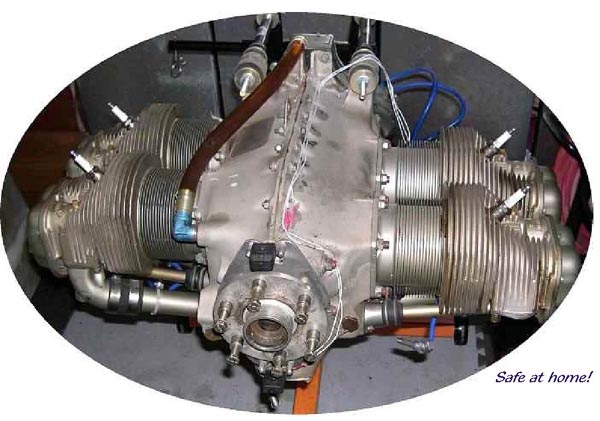 All in all, I had an extremely positive shipping experience and I believe Gary's help had a lot to do with that fact. I liked working with Gary and ESTES. I found them to be both flexible and accommodating. I liked being able to keep the costs down by picking the crate up myself rather than paying extra for a residential delivery or for the use of a lift gate truck. I did have a backup plan in mind if, for some reason, things did not work out as planned. A friend of mine, who owns a business with a loading dock, would have helped with the delivery, if necessary. Luckily, I did not have to go that route.
I learned from Gary that his division (ESTES Air Transportation Services) has more latitude in the service level they can provide when compared to the standard ESTES Express Lines division. That makes sense because the ESTES Express Lines division is optimized for business to business freight hauling. Gary's division has more of a "Concierge" flavor. That is great for homebuilders, like me, who do infrequent shipments and do not have forklifts in our garages. Ultimately, we gain more control in the pickup and delivery options. Even though Gary's division has "Air" in its name, he can arrange for shipments that also tap into the truck-based network, as well. Again, that gives us more control over the cost and transit times.
So, what did I learn?
? Knowing the exact length, width, height, as well as an approximate weight of the crate to be shipped is the best starting point. Without this, the carriers really cannot give you an accurate quote.
? Shipping from a company address to another company address, with loading docks at both ends, is the most economical approach.
? Some carriers, like ESTES, allow you to drop off or pick up the item at their terminals.
? Having a friend like Gary in the business to act as a "handler" and "Third Party" to guide me through the process can reduce the stress levels and help make things go smoothly.
? The last thing I learned, but not the least, is that it is possible to ship a 300+ pound item across the country and for all to go well. By asking for help from the right people and involving the right companies, it is possible to ship freight without all the fright. Thank you to all who played a part in the adventure.
---
You can order a printed copy of Q-talk #123 by using the Q-talk Back Issue Order Page.