Q-talk 118 - 16th Annual Field of Dreams fly-in
Details

Category: Q-Talk Articles
Published: Wednesday, 23 December 2009 16:24
Written by Doug Humble
Hits: 1613
Hello everyone,
I'm Spud Spornitz and I'm your host for this year's 16th Annual Field of Dreams fly-in in Emporia, Kansas on September 22nd, 23rd & 24th. We are approx. 55 days away from the event and we've already got four tandems and nine people already pre-registered.
This year, the Saturday evening awards banquet will be held at the airport. I talked to quite a few of the builders and to the guys that are already flying tandems just what were their preferences in this area. Even though they enjoyed the off-airport banquets (particularly at the college in Ottawa), they almost unanimously liked the idea of staying at the airport, more fly time, more talk time, just being closer to the planes longer, a more casual less rushed atmosphere. The thing that really allows us to get away with this, is the generous amount of room Emporia is allowing us to use for the event, two huge hangars, empty for the most part will be at our disposal. They have truly rolled out the "Red Carpet".
Also in regards to the awards Banquet, James Masal will be handling the "Master of Ceremonies" chores with his usual southern wit & charm.
Tell girls there are no "Port-A-Potty's". Emporia has ample facilities to handle our group needs.
There will be no tie-down or overnight hangars fees for any attending aircraft Thursday through Sunday evenings. There is plenty of room for overnight hangar parking for all attending aircraft.
Current fuel prices will be discounted from $4.06 to $3.75 with a cash discount of .10 cents for cash (Based on today's prices) and they also have auto-fuel at $3.07.
There is no charge for camping on the airport ground, there is an excellent sight in between two hangars (at least a mile off the highway) and there is 24 hour access to the bathrooms, pilots lounge, phones, etc. I plan on camping there Friday and Saturday evenings.
You can find additional information including motel information on the fly-in at: http://groups.yahoo.com/group/2006TandemWingFly_In/
One more item in closing, this is a pre-registered event as we need to have a head count for space allotment for Friday night arrival dinner at the Golden Corral, BUT most importantly I need to give the event caterers an official head count for the awards banquet on the Monday before the event. Now no one will be turned away, but you might be eating McDonalds (Grin).
I'm really looking forward to seeing everybody again at this year's event. If anyone has some additional questions, ideas or suggestions on the event, you can contact me at: This email address is being protected from spambots. You need JavaScript enabled to view it. or in the evenings at (913)764-5118.
Spud Spornitz 1112 East Layton Drive Olathe, Kansas 66061 (913) 764-5118
P.S. Mail those registrations early.... (The registration form is on the next page.)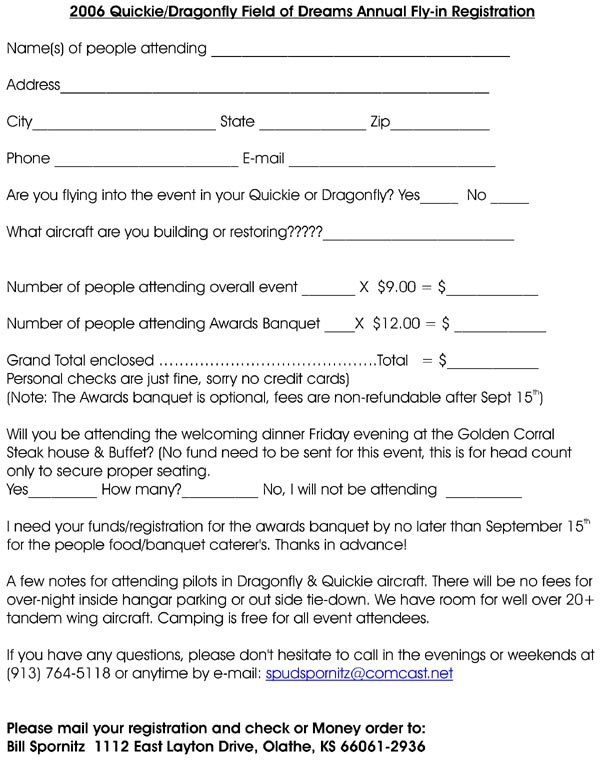 ---
You can order a printed copy of Q-talk #118 by using the Q-talk Back Issue Order Page.