Q-talk 118 - Sam & Sandy Hoskins Do a West Coast Trip
Details

Category: Q-Talk Articles
Published: Wednesday, 23 December 2009 16:24
Written by Doug Humble
Hits: 1774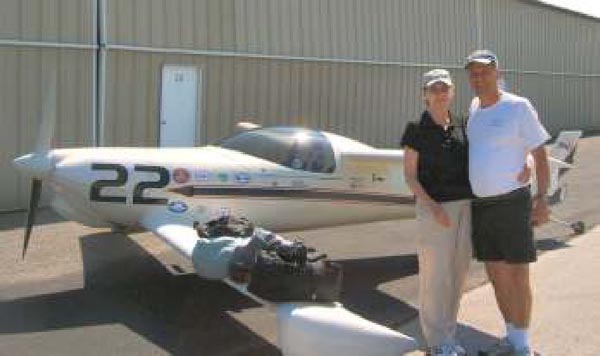 Sandy & I got back, on Thursday (6/15/06), from our big trip out west. We had a family reunion in Sonoma, CA, so we loaded up the Quickie and flew out. And I do mean loaded. In addition to us, we had 30 pounds of baggage and an aux fuel tank with another 54 pounds of fuel. (31 gallons, total fuel capacity).
We made leisurely RON stops in Topeka, Ft. Collins, CO and Wendover, UT (won enough money at the casino to pay for fuel and lodging) and finally Santa Rosa's Charles Schultz airport.
Crossing the Rockies and the Sierras is quite interesting. I have done that before, but this time there was more weather and wind to contend with. A Garmin 396 GPS would have been very handy to have.
My mighty O-200 performed really well. The electronic ignition and high compression pistons are great to have at high altitudes. We had departure density altitudes as high as 7,400 feet. A reliable engine is always important, but when in the mountains, the price of poker really goes up.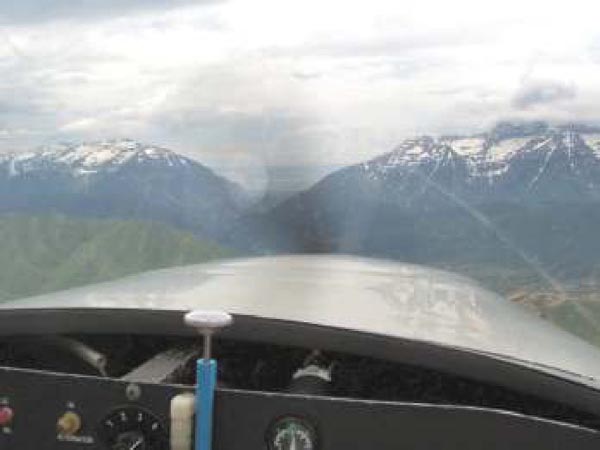 Our plans kept changing. After the reunion we were going to try and spend a couple of days in Reno, but after all the family events we were just ready to beat feet home. We're sorry we didn't get a chance to hook with our Q-brethren on the west coast, but we just ran out of time and stamina.
We left Santa Rosa Tuesday around 8:30, but were stymied by clouds covering the tops of the first range of mountains. We landed at Sacramento Executive airport to get a closer check on the weather. I watched the weather all day because it looked like it might lift enough to make the hop across. Then we hoped to at least do an overnight in Wendover Nevada/Utah. Since I am not a mountain pilot, I solicited the advice of a local flight instructor and he advised against trying it. Finally at 3:00 in the afternoon, we threw in the towel and got a room in Sacramento on Priceline.com.
Heading east on Wednesday, we made it from Sacramento to Ft. Collins, CO with a single fuel stop, again at Wendover. Beautiful scenery. After Wendover the winds really kicked in and we had lots of moderate to heavy turbulence in and around the Rockies.
All told, we put about 25 hours on the plane, and on the day we arrived in California we celebrated the 20th anniversary of the first flight of N202SH.
Adventure is the spice of life!
Sam Hoskins Q-200 1,564 hrs.
Remember, bonus photos are always at the QBA web site!
See everyone in Kansas!
---
You can order a printed copy of Q-talk #118 by using the Q-talk Back Issue Order Page.