Q-talk 141 - Small World
Details

Category: Q-Talk Articles
Published: Tuesday, 29 June 2010 01:00
Written by Dan Yager
Hits: 2061
I recently received an e-mail from a visitor to the website that I thought was rather interesting.  Mike Shuck snapped a couple of Q-200 photos at Oshkosh 2009 and wanted me to post them on the website.
I told him to e-mail the pictures to me, and asked whether he knew the pilot's name.  This is the response I got, "I don't know the gentleman who owns this Q200, but the volunteers there at Oshkosh were making a big deal over him. They were rolling him right up to the ramp in these pics. It's such a great-looking airplane; I thought it would look great on your site!  I do not know the N number either. It was all happening so fast. They were moving everything and everybody quickly to get the next plane in. I went back to the original, big size pics to make sure I hadn't edited/cropped the N number off, etc., but it is not apparent in either pic."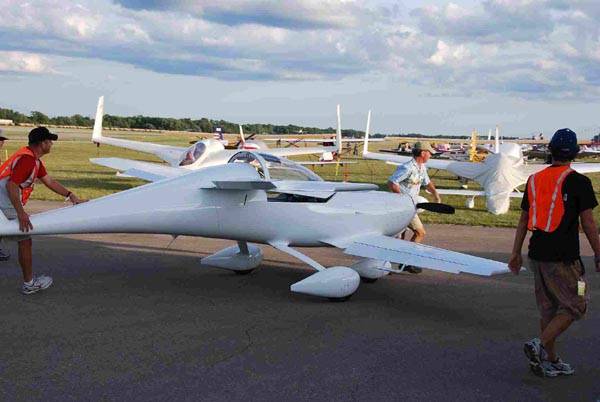 At any rate, when he sent me the photos it became immediately apparent why the ground handlers were "making a big deal over him," it was Bruce Crain!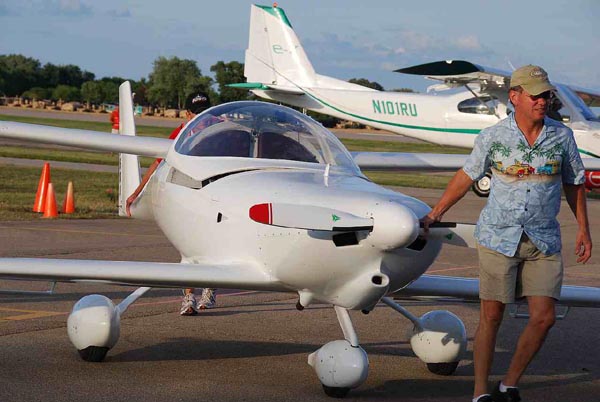 However, the story gets even better!  I forwarded the pictures to Bruce to get his permission to post them on the website.  Turns out that Bruce remembered that they had met nearly 20 years before.  Bruce said, "Isn't Mike Shuck a Dr from Wichita?  I believe I met him quite a few years ago at one of the Quickie gatherings.  I think he was building an RV of some kind." 
To that Mike replied, "OMG...that is Bruce! I think he's from the Enid, OK, area. About 20 years ago we got grounded at the Emporia, KS, airport due to weather. He was flying a Cessna 150 and had his little boy with him. We talked for a long time about airplanes, particularly about the Quickie series. We finally decided the weather was not going to clear, and we got a ride into town to a motel. Next day, the weather had cleared, and both of us took off and went to our home bases, I to Benton, Kansas, and he back to Oklahoma. I ran in to him years later at Oshkosh where he'd flown his Q200 in. OMG...I feel really badly that didn't recognize him. He was such a great and smart guy. Tell him I said hello! BTW...I finished the RV6A, fly it when I can, and have since then been flying my restored Cessna 120 as well." 
We belong to a very small (and I like to think ELITE) community.  This story helps me appreciate how our love of aviation develops long lasting memories and kinship with fellow homebuilders.