Cardboard Quickie!
Details

Category: Quickheads BLOG
Published: Thursday, 29 April 2010 19:18
Written by Dan Yager
Hits: 4491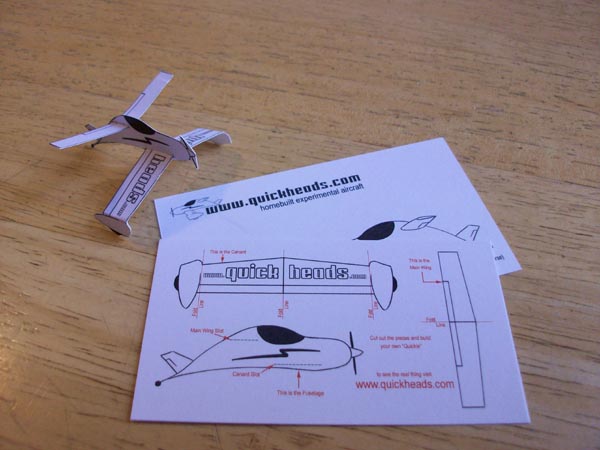 I sent out a marketing letter in early March to remind people to renew their memberships for 2010.  In the envelope, I put a business card that has a pretty cool feature that you might not have been aware of.  Namely, you can use the card to create your very own cardboard Quickie!
The design allows you to use a pair of scissors or an Exacto knife to cut-out the fuselage, wing, and canard and slip them all together.  You'll be the envy of everyone in your office.
If you didn't receive one of the business cards and you would like to, or if you'd like to pass a few hundred out at the next fly-in, I would really appreciate it.  Just shoot me a quick e-mail and let me know how many you want and where to mail them to.