Q-talk 139 - Runway 27L - Dave Yager
Details

Category: Quickheads BLOG
Published: Sunday, 28 February 2010 00:00
Written by Dan Yager
Hits: 4345
As most of you have heard by now my father passed away on February 7, 2010. Like so many of you, my father is responsible for my interest in aviation so I hope that you'll indulge me a moment while I recount some of the good memories I have of him.
My father was an amazing craftsman and mechanic. From my earliest childhood I can remember marveling at the incredible amount of attention to detail he put into his model airplanes. His favorite airplane was a Piper Cub, and through the years he'd managed to build and fly several different models of the type. Each succesive version got bigger and bigger, until at age fifteen, I was left wondering how he was going to get that 1/4 scale clipped wing Cub, with a huge 8 foot wingspan out of the basement where he had constructed it. Today, there is still a 1/3 scale Cub under construction still pinned to that old workbench.
For the last several years, despite his health problems, he stayed active in the local R/C community. He was the Vice President of the Oneonta R/C Flyers and attended all of the model airplane fly-ins. He was a permanent fixture in the anouncers booth, and helped the "MC" announce the little airplanes that were "wowing" the crowd with their stunts.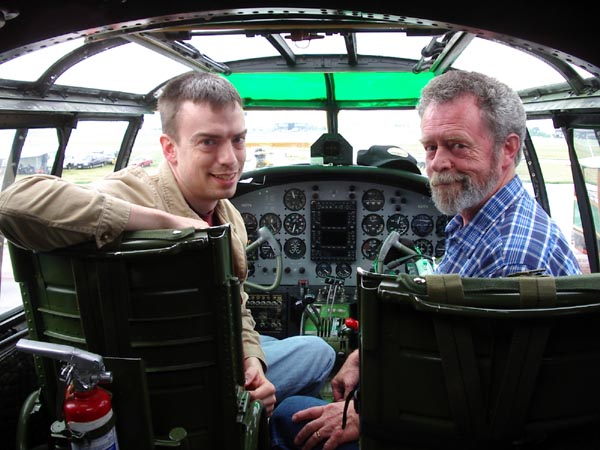 He had a terrific sense of humor, and we spent a lot of time together making each other laugh. In the photo above, we're both in the cockpit of a B-25 Mitchell at the WWII Weekend in Reading, PA. I made him chuckle a bit with that photo. When I put it on the Oneonta R/C Flyers website, I placed a caption under it that said, "To increase traffic to the site, I thought I would show a couple of boobs."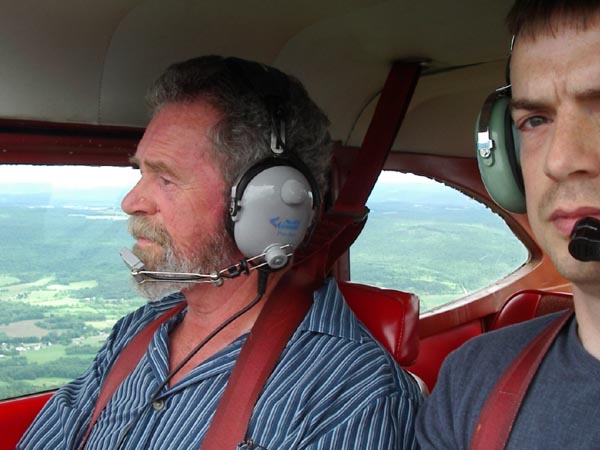 I took the photo above on father's day 2006. This is the first time I took him flying, shortly after I got my Private Pilot's License. My first thought after receiving my wings was that, "This would definitely impress my Dad." He didn't dissapoint. It ended up being one of my fondest memories because I got to hear my father actually say, "I am so proud of you, Dan." Let me tell you, there is a huge difference between knowing it and hearing it. So to any of you that have children, I implore you to tell this to your children often, don't ever leave them wondering. I am so grateful that my father didn't.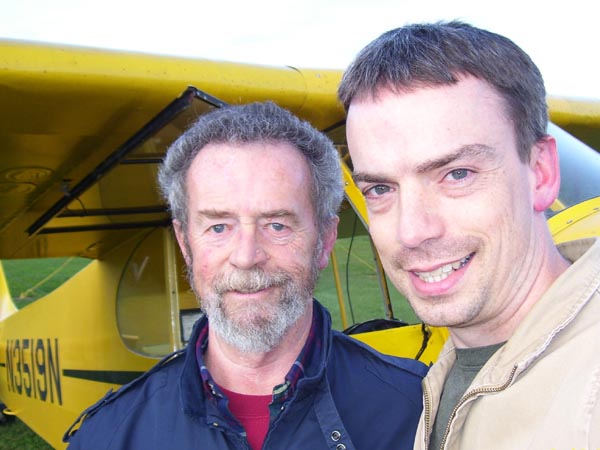 In 2008, I got taildragger qualified. Not in the Decatholon that was at the local airport, but natuarally in the Piper Cub that was for rent a mere 45 minutes away. That was certainly a thrill for me, but an even bigger thrill came when I got to take my father with me in October of that year. It was the most beautiful flying day that I could imagine. The air was crisp and clear, very light winds and together we got to look DOWN at a rainbow from inside the cockpit of that little Cub. The picture above is what we looked like when we landed. Both of us had huge sh*t eating grins for at least the next month! (You can see the rest of the pictures that we took that day in the pictures section of this webite by clicking here.)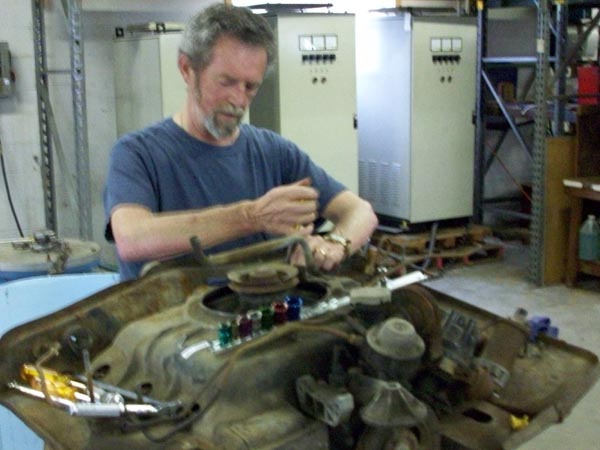 In addition to all of the above, my father built and raced antique stock cars that he and my uncles built from scratch. He was a master fabricator and welder and worked 35 years as a machinist at Amphenol in Sydney, NY. So when it came time to tear down my project's 1965 Corvair engine, I couldn't think of a better person to help me than my Dad. The picture above was taken at Corvair College #14 in Lowell, MA over Memorial Day Weekend 2009. We didn't sleep all weekend. We were so excited about rebuilding that engine that we spent the night joking and laughing about "what part we were working on" in our heads all night. Best of all, we had 8 hours of driving to and from Boston just to talk. He told me some incredible stories about working in the US Army Motorpool in Vietnam that I'd never heard before. Even if we hadn't been working on that engine together, I would have still cherished that time I got to spend alone with him. (I wrote about our experience together as soon as we got back. You can read that article by clicking here.)
Well, the hardest thing I've ever had to do was speak at his funeral, but I thought he would have wanted me to. I said the following to the family and friends gathered there:
First, I'd like to thank you all for coming today, not only because it shows how many people have been touched by the life of my father, but also because of the stories you've shared with me over the past few days. The theme of this week has been that my father was a quiet individual who would rarely talk about how or what he was feeling. I realize that it sometimes took extraordinary effort to create opportunities to get to know my Dad. However, if you gave him the opportunity, rather than talk about it, he would show you the kind of person he was. The more time you spent with him, the more you saw his true character.

He was a kind, funny man with a really big heart who never intended to trouble anyone. Unfortunately, not wanting to "trouble anyone" was the character trait that some of us had the most trouble with. Rather than trouble you with his own problems, he was always standing by with a wrench to help you fix yours. All of us could tell stories about the actions that my father took to help someone out, even if that was only to tell a joke to help lighten the mood. If it was clear to Dad that you needed assistance, or you were in trouble, he would take action to help rather than simply talking about it.

Some of us, I like to refer to us as the Lucky Few, carry pieces of my father in their DNA. The Lucky Few will see the very best aspects of my father's character expressed in their own actions. Through their own meticulous nature, their own creativity, their own humor, or their own "do-it-yourself" know how.

What I'd like to take away from this week, is that we should try to express more of these positive traits in our own actions and forgive others when they don't. From talking to all of you this week, I've learned that each of you holds a little piece of the puzzle that was my father. We can continue to learn more about my father, and in turn learn more about ourselves, by getting together more often to share these stories and gifts with each other.
In turn, I'd like to thank all of the members of the Quickie Builders Association who have expressed their sympathy and support for me and my family during this difficult time. It's hard to lose a loved one, but I feel that my family has been extended through the care and concern that you've all expressed. Thanks guys.