Q-talk 111 - More Engines! - Subaru 2.5 Legacy
Details

Category: Q-Talk Articles
Published: Wednesday, 23 December 2009 16:24
Written by Doug Humble
Hits: 2225
Reg Clark of Alberta Canada sent these pictures of the Subaru 2.5 Legacy engine he is installing in his Q2. Here's what Reg says about his installation.
I have been working on the installation of the Legacy 2.5 engine for some time now and the plane is about to go to the paint shop. This engine is direct drive with a ground adjustable, 56" prop, stainless steel exhaust, with ported fuel injection, 45 AMP alternator and is turbo charged! The intercooler is on top. It produces 150 HP. It weighs 232 lbs. dry and 240 lbs firewall forward. I have flown over 800 hours on these engines. Mostly in my Dragonfly "Expresso".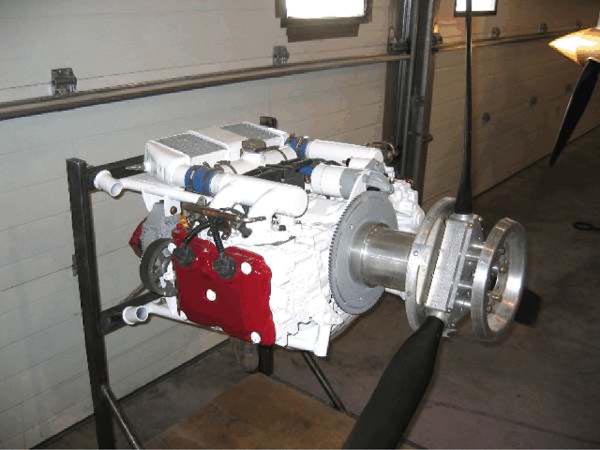 The 2.2 and 2.5 engines are about same weight, but the 2.5 has a longer stroke and larger bore. I started my Subaru experience with the1.8 EA81 engine. It produced about 100 HP and worked great
Subaru makes single overhead & dual overhead engines. I choose to use the single overhead type because the head itself is more compact and lighter in weight. These engines have four valves per cylinder which means they have a very good flow into the combustion chamber. The plug is in center of the head and the flow into the cylinder is almost straight in which is about as good as it gets.
The advantage of an overhead cam engine (the LEGACY engine) is it breathes much better. You can get a large amount power from them and they will take it. The Subaru sports cars can get 300 HP with the double overhead cam 2.5 engine and hot rodders are getting over 600 HP. These examples don't relate to what we are doing, except to show how tough these engines are.
These engines have a main bearing between each connecting rod with the thrust bearing in center. The cylinder and block is in one piece when bolted in the center. I love liquid cooling, because in my opinion, it is a more stable engine than air cooled engines. The coolant travels from cylinder head to the block and takes out hot spots (like cylinder head combustion chambers).
The whole engine runs cooler and you don't rely on oil as much to help cool the engine.
These engines love Turbochargers! Its peak torque is about 3800 RPM, and with the short propellers we use on our airplanes, it works well in the direct drive configuration.
---
You can order a printed copy of Q-talk #111 by using the Q-talk Back Issue Order Page.