Q-talk 110 - Cowl Changes For Earnest
Details

Category: Q-Talk Articles
Published: Wednesday, 23 December 2009 16:24
Written by Doug Humble
Hits: 1716
I have been having cooling problems with my number 1 cylinder since I replaced my gear driven alternator with a belt drive model. The new alternator was in the direct path of the airflow. I know that several people use this setup with no problems. I guess I am just lucky that way. The best solution I could come up with was a Lopresti style inlet because it moved the cowl forward and the air inlets outward to allow more room for the alternator.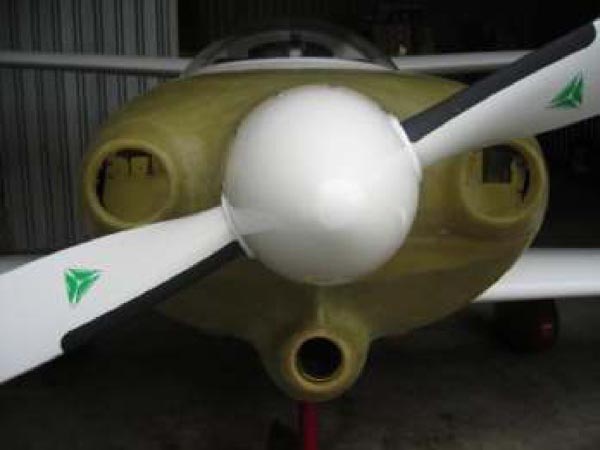 I built up my old cowling with foam and bondo to the shape I wanted, and then made a mold over the existing cowling. I reinforced and removed it.
I then laid up my new cowling in the mold. I used 3 layers of Rutan bid overall and 2 extra narrow strips around the edges where the countersinking is to be done. This came out of the mold at about 8 pounds. I made the inlets 4 inches in diameter for a total of 25 square inches. I always hated the way the old split line did not align with the water line so I modified it also. The new cowling is much easier to install because of the new split line. On my test flight the CHT is more than 50 degrees cooler. The highest temp at 2700 RPM's and 100 MPH climb out on a hot day was 350 degrees. The highest ground temp after 15 minutes of slow taxi was 325 degrees.

If there is any interest, I could probably be persuaded to make a few of these since I now have the mold. They would probably be about $350 including shipping in the US. This would cover the cost of materials, supplies, and freight, cover part of the cost of the mold and a modest amount for my time.
Earnest Martin - Arden, NC This email address is being protected from spambots. You need JavaScript enabled to view it.
---
You can order a printed copy of Q-talk #110 by using the Q-talk Back Issue Order Page.