Q-talk 104 - G-KUTU?The Homecoming
Details

Category: Q-Talk Articles
Published: Wednesday, 23 December 2009 16:24
Written by Robin Nash
Hits: 1930
Robin Nash East Dean, UK
Sanity prevailed and I finally managed to move the Q2 from the airfield where it had languished since the "Great Canard Disaster of '85" and subsequent (incomplete) rebuild. The stumbling block had always been the backlog of hangarage charges (which had assumed the magnitude of something approaching the Bolivian national debt). The airfield is owned by those nice people from "The World's Favourite Airline" and they were prepared to do a bit of a deal to free up the space for someone on their waiting list, who might make better use of it. With the proceeds of a recent property sale burning a hole in my pocket, it was now or never. I had to bite the bullet and pay them the money....
Problem two; how to transport G-KUTU the 100 odd miles from Wycombe (28 miles east of London) to my garage on the south coast, near Beachy Head, where I could actually work on it. I'd already removed and transported the engine, prop and cowlings.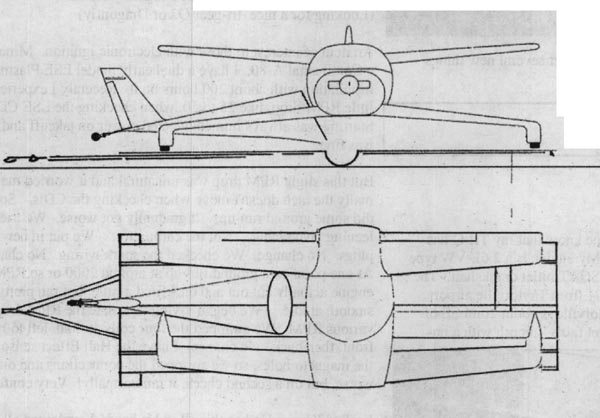 By pure coincidence, at about this time, my mother mentioned that a friend of her's had noticed that one of her neighbours had an aircraft on a trailer in his drive. Steve Morris, a retired 747 captain, immediately offered to lend me his trailer and turned out to be one of those people you occasionally meet whose generosity restores your faith in the human race.
After measuring his trailer, I used the Mac to work out a cunning plan, with which it should be possible to arrange the Q2 on the trailer and ferry it back to the workshop without requiring motorcycle out-riders and a police escort. First, I had to fabricate a couple of skids with casters, into which I could slot the main wheels on the ends of the canard. This would allow the aircraft to be moved sideways onto the trailer and, ultimately, into my rather narrow garage. Then I had to build a height-adjustable frame, also on casters, to support the rear of the main part of the fuselage with the tail removed (see photos). Problem three; at the last minute, my tow-car went U/S so I had to phone Steve with the bad news. I was already at the airfield with the aircraft in bits scattered about in front of the hangar. Steve, without hesitation, offered to drive up with his tow car and help me bring the Q2 home. Bear in mind that this is a man I had met only once. I could hardly believe that anyone would do that! I'd like to think that I would be as willing to donate my time to someone else's cause. Maybe pilots really do look at life from a different perspective.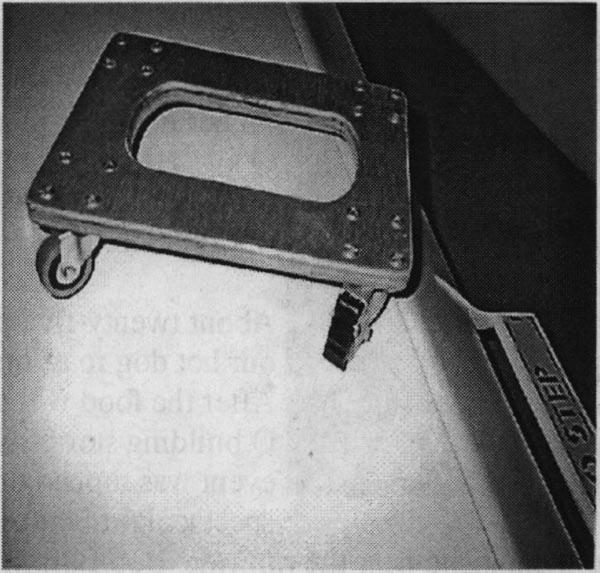 It was a Friday and we finally had the aircraft secured on the trailer to our satisfaction at around 4pm - just in time to launch ourselves into the pre-weekend exodus on the M25 southbound and M23 to Brighton. This, however, was no ordinary Friday night. Instead of the anticipated two and a quarter hours, it took more than five. The traffic accidents and unannounced road closures turned it into "The Day the Earth Stood Still". At one point, we were stationary for so long on the M25 that I half expected to get a parking ticket. Still, it did give me the opportunity to take a shot or two of the Q2 perched precariously on the trailer in front.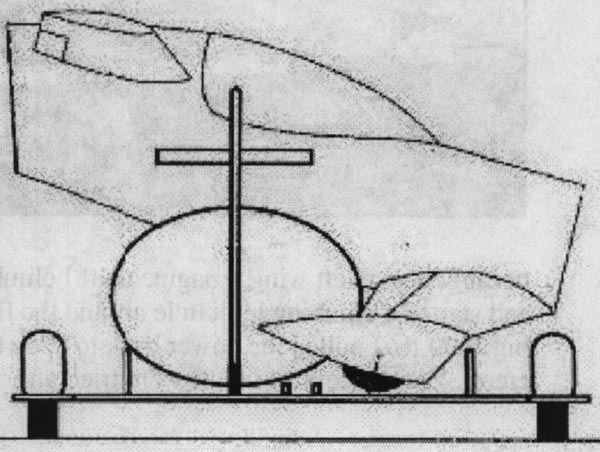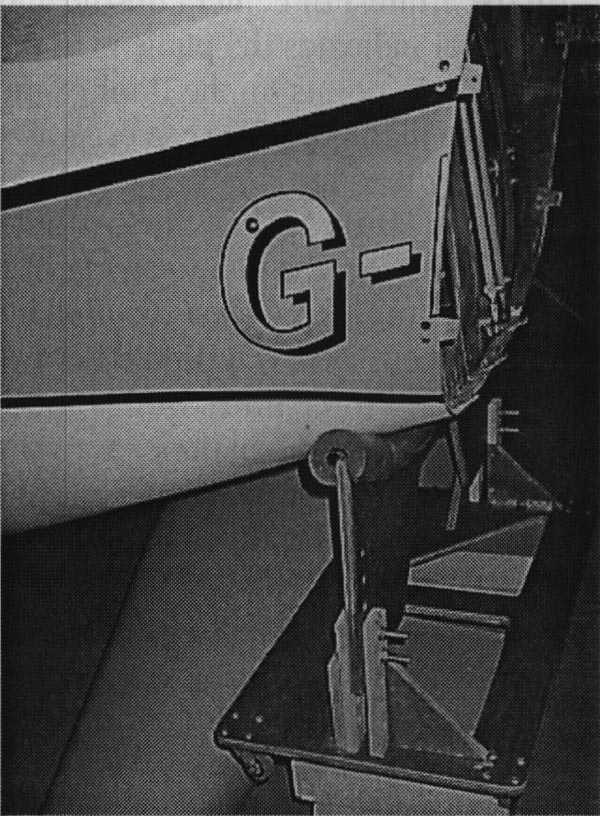 It was a nerve-wracking time. Steve's trailer had been constructed without the benefit of formula-one technology and was flexing and lurching sickeningly at all but the slightest undulations. When he hit an oblique level crossing at about 45mph towards the end of the trip, I had to resist a powerful temptation to close my eyes. I suspect that the relative closeness of our destination at this point, general fatigue and the fact that the aircraft hadn't actually fallen off (yet), may have fostered an unrealistic and wholly unjustified sense of confidence.
It was after 10pm when we eventually pulled up in front of the house. One final challenge lay ahead of us - getting the aircraft down the fairly steep drive into the garage without damaging it. I had been worried about it running away from us down the drive, but, in the event, the skids worked well and it was no real problem. Getting it into the garage itself, however, was a very different story because, despite all my measuring and calculations, it looked as though it just wasn't going to fit, after all that!
After a lot of swearing and grunting, there was a period of head-scratching and further measuring. Finally, by lifting the back to take advantage of the angle of the fuselage break and wiggling it around the brickwork buttresses, the Q2 was in. It was a triumph of optimism and sheer determination over reality and mathematics.
That was back in June '03 and, sad to say, very little has been accomplished since then. This is due to other priorities and the fact that, realizing there was a lot of work to do on the Q2 and that this was likely to take at least a year, I bought another aircraft.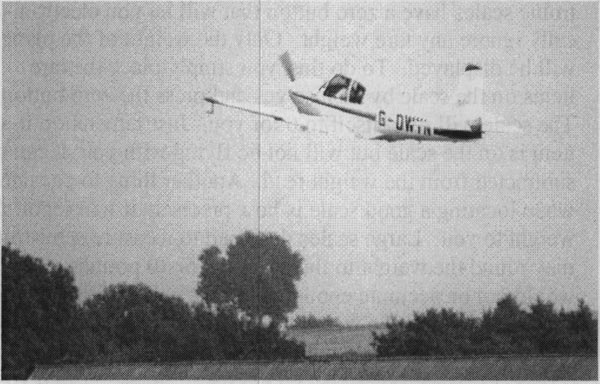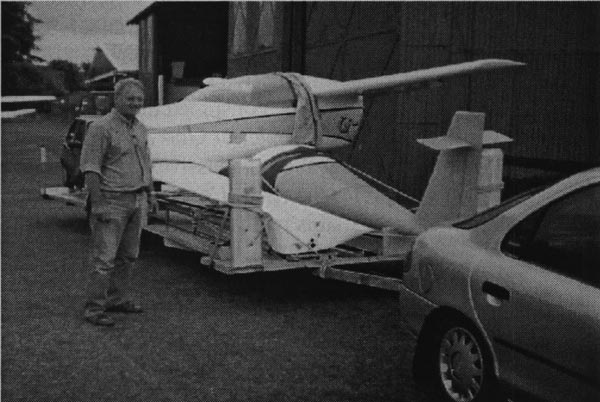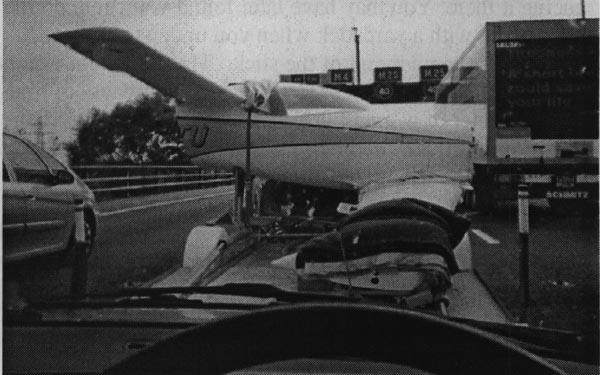 This is a rather unusual aircraft, an Aviamilano F14 Nibbio. Nibbio is Italian for Kite Hawk, apparently. There were only 10 of these built in the late '50s and mine is one of only two remaining. Don't ask why. They're wooden so perhaps the others got left out in the rain too often. It's basically a 180hp four seat Falco. It handles much the same and cruises at 140knots on about 36 litres per hour. I've put about 70 hours on it so far. I have been all round France and most of Spain, and as far as Ibiza, so I'm keeping current. When I get the Q2 flying again, I'll have to decide which to keep and which to sell. Could well be a tough choice.
This year, I'm looking to come to the States to get an FAA IR (multi), probably Sept/Oct. Anybody have any recommendations? I'd love to be able to combine this with some dual refresher time in somebody's (taildragger) Q2.1 already have an current FAA license with multi endorsement.
e-mail: This email address is being protected from spambots. You need JavaScript enabled to view it.
---
You can order a printed copy of Q-talk #104 by using the Q-talk Back Issue Order Page.