Q-talk 101 - Oh Yes, Sullivan
Details

Category: Q-Talk Articles
Published: Wednesday, 23 December 2009 16:24
Written by Sandy Smith
Hits: 2409
Friday, October 3, 2003
Sam and I flew to Sullivan, Missouri, for the annual Quickie Field of Dreams fly-in. It rained on us a little on the way, but the flight was short and we landed there around 5:30 p.m. and had dinner with the group. It is always an exciting time for Quickie guys to get together and see each other and their planes.
Saturday, October 4, 2003
We went out to the airport early. Excitement was in the air, and it was fun seeing all the Quickies taking off for a race, which they call a performance run. They flew a 100-mile triangle, and Sam came in first with a speed of 198.6. He and Jim Patillo were gunning for each other. Jim's plane may be faster, but he was having a problem with his propeller and didn't go full throttle. (I'm thinking of renaming Sam's plane Sea Biscuit instead of Fiberglass Bitch.)
After the race, Sam took Sandra Purtzer Starnes for a plane ride. Her husband Bud had died in April. She asked Sam to scatter Bud's ashes, which he did, at the end of the runway right before their flight. It was quite emotional to see her there and be reminded of how much Bud would have loved being there.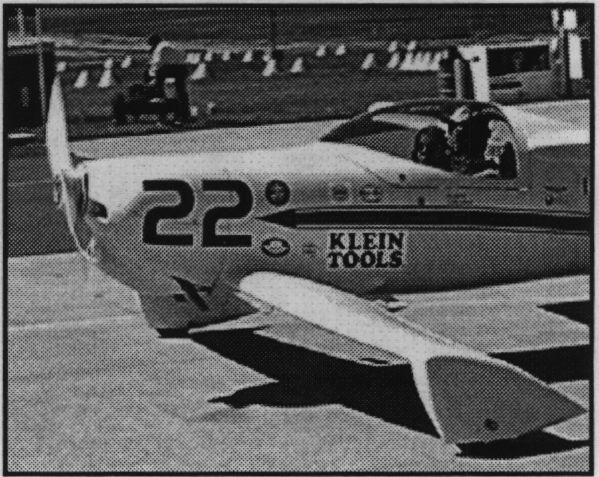 At the banquet that evening, there were around 70 people in attendance. After dinner, they passed the microphone around the room and all the pilots introduced themselves and their guests and told a little about their plane. Sam was the next -to-the-last person to introduce himself. When it came to him, he asked me to stand up and said he wanted to tell everyone how supportive I had been when he was getting his plane ready for the Kitty Hawk-Oshkosh race, that I had even brought a shrimp dinner to his hangar. I was giving him a look like, well, I didn't do that much. But then his voice started to break a little and he said, "Sandy, I love you." Then he dropped to his knee and said, "Will you marry me?" and held out a box. I took it and saw the most beautiful diamond ring and immediately went into shock. 1 couldn't say anything. Tears came to my eyes and I just hugged him and kissed and hugged again. When I finally pulled away I forgot to say yes. 1 said, "I'm in total shock, especially since the last time I came to this event with Sam, he forgot to introduce me." Everyone laughed and applauded. I started to sit down and then remembered I hadn't given Sam an answer. I said, "Yes! The answer is yes!" Most of the rest of the evening is a blur, but everyone was hugging us and congratulating us. I know I hugged some people two or three times. A couple of the pilots told me they were crying harder than I was.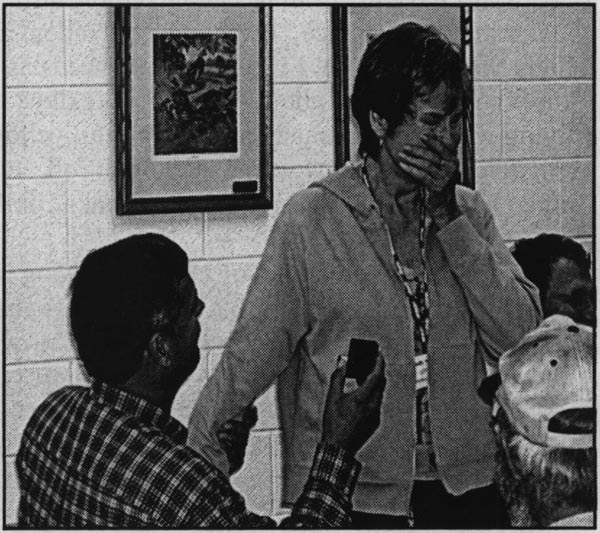 I, and probably just about everyone else, already felt emotional from the race excitement and sadness for Sandra, but the evening ended on a happy note; and there was such a strong feeling of happiness in the room. I think this is one Quickie Fly-In that everyone will remember for a long time.
Next Year
Jeff LeTempt announced at the banquet Saturday night that he would not be able to host the 2004 Field of Dreams fly-in. Jeffs Army job will be transferring him to Korea for a year, beginning in January. He did jokingly say he could host at "Seoul"ivan but nobody took him up on his offer. Go figure! Actually, this move will require a big sacrifice for the LeTempt family because he must travel alone. His family must stay in the states. Our hearts and prayers go out to them for strength and courage through the months ahead. We wish him a speedy and safe return.
Jeff also announced that evening that the 2004 fall event would be entrusted to our experienced leader, Spud Spornitz. We will be returning to Ottawa, KS (which is near Spud's hometown of Olathe, KS) on the weekend of September 24Ih -26th. Thanks, Spud, for stepping up to the plate. We sure would miss seeing everybody otherwise.
I announced during the introductions at the banquet that I had an appointment to get my Tri-Q2 inspected on October 15th (Yes, 11 days away!) The inspection took place and the plane was given an Airworthiness Certificate. I'll have to admit that was the prettiest shade of pink I've ever seen! Expect more details of that process in Q-Talk issue 102.

Again, "Thank You", to all that supported this event and a specila "Thank You" to Jeff and Jill LeTempt in their efforts in hosting this years Field of Dreams Fly-in.

---
You can order a printed copy of Q-talk #101 by using the Q-talk Back Issue Order Page.