Q-talk 96 - Featured Pilot - Jerry Marstall
Details

Category: Q-Talk Articles
Published: Wednesday, 23 December 2009 16:24
Written by Dave Richardson
Hits: 1928

Jerry Marstall
Ashevllle, NC
Jerry grew up in Topeka, KS and during his youth, he was heavily involved in sports and motorcycles. His family moved to Colorado and he attended the University of Colorado as part of the Air Force ROTC. Asa junior, he had an opportunity to earn his private pilot's license. The Air Force would pay for the program as long as he accomplished the task within 36 hours of flight time. He met the challenge and earned his license. After college, he spent five years in the Air Force flying F4's. A majority of his flights were night missions in Viet Nam. He also worked as a trainer in the T-38 for other Air Force pilots. When he left the Air Force, he worked for H. Ross Perot in Boston, helping to design the first online claims system for Blue Cross - Blue Shield. He progressed from the technical aspect of computer systems to the managerial ranks. He then worked for Hewlett Packard, first in the technical area and then as a sales person for their new HP 3000 mini computer. He was promoted to district sales manager for HP before he worked eleven years as head-hunter placing information technology executives. When Jerry and his wife, Nancy, moved to their home in Asheville, NC, he started a small business that assists other companies procure materials at a lower price.
In the mid 70's, Jerry built a wind surfer that was featured in a magazine. It looked like a surfboard with a mast and square sail. It was made out of 1/8" plywood and shellacked to seal the wood. He enjoyed many hours on the board but found the square sail veiy difficult to tack.
With a successful build under his belt. Jerry felt the urge to tackle a larger project. When he saw the infamous August 1981 issue of Popular Science with the yellow Q2 on the cover, he was hooked. Jeriy found a Quickie dealer and made a unique agreement with him. He would pay for the kit only after he received every last nut and bolt. He had read too many stories of dealers accepting money for kits and then going out of business before the entire kit was delivered. After a couple of months, Jerry finally received everything as promised. The first thing Jerry built was a 24' x 24' garage behind his home with a door that opened the entire side of the building. Though it was unheated, it gave him plenty of room to work. He built the wing and canard in his basement while he was single since there was no one to complain about the odors in the house. After he married Nancy, they noticed he was working less and less on the plane until 5 years had gone by with little progress. It was Nancy who encouraged Jeny to finish the plane and start flying. The Q2 was completed in their heated two-car garage in their first house in Asheville. Working on the plane every day from 5:00 a.m. to 8:00 a.m., helped him reach his goal. Jerry says he never really hit the wall. He set out to build a plane and really enjoyed the building process, especially when he could devise a unique solution to something vaguely described in the manual. Among his designs are dual controls, a hinged instrument panel and a very unique plenum baffling system on his Revmaster. In fact, he received an innovation award at the Ottawa fly-in a few years ago. The Tri- Q2 took a total of 16 Vi years to complete and about 5000 hours to get it to a fly-able state. He feels having a band saw capable of cutting metal and Dremel were indispensable in building his plane.
For the first 11 years, Jeny worked in a vacuum because there was no other Q's being built in New England. He feels he could not have completed the plane without the help of the members of the QBA. Jerry also feels ALL the newsletters are a "MUST READ" for anyone building a Q.
Having as many people as possible look at your plane before your inspection and first flight is very important. Jeny feels you should also get checked out in a Q before you fly. These planes land differently than other planes. He has flown everything from a Cub to supersonic military aircraft and even with his experience, Jerry felt that it was important to get time in a Q. Earnest Martin, who has built a Tri-Q200, really helped Jerry prepare for his first flight. Jerry wanted to have a picture in his mind of what to look for during the landing circuit. He first asked Earnest to fly a consistent pattern and then later change things to help him identify how to adjust for a good landing. That technique really helped him prepare for his first flights. Jerry recalls his third flight as being very memorable. He took off and at about 300' AGL, the tower asked him to climb out to the right. As he began his turn he accidentally hit and held the down reflexor switch. He changed throttle positions and soon realized that he was descending rapidly. The rpm's were good and his stick was all the way back. He started to line up with I 40 near the airport because the mountains and towers getting bigger in his field of view. He looked out and saw the elevator was completely down. He surmised that the reflexor must have been overpowering the elevator. He reached over and raised the reflexor, regained pitch control of the airplane and landed safely. Before his next flight, he put a mechanical stop on the reflexor so it would not overpower the elevator again.
Jerry feels very fortunate to have found a wife who enjoys sharing many sports and hobbies with him. Nancy also has her private pilot's license and likes flying in their Beech Musketeer. They take turns flying legs of cross-countries and log Vi the time flown as PIC. Nancy has owned a motorcycle in the past but enjoys touring the country with him on their 1200 cc Yamaha Venture Roy ale. They use an intercom system to help communicate while on the road. They have even toured the Alps and New Zealand on motorcycles. Jerry and Nancy are a wonderful couple and have been very supportive of the QBA. They have attended many fly-in events and are true assets to the group.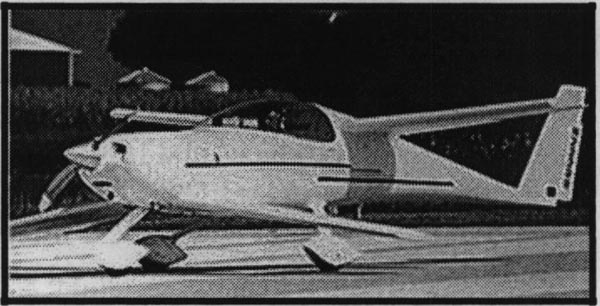 ---
You can order a printed copy of Q-talk #96 by using the Q-talk Back Issue Order Page.