Q-talk 93 - Group Checking In
Details

Category: Q-Talk Articles
Published: Wednesday, 23 December 2009 16:24
Written by Dave Richardson
Hits: 1780

George Ingram, Homosassa Springs, FL
I am building a Tri-Q200 from one of the last kits. It is only partially complete, so most of what I've done is on my own. The canard was built from scratch. I did my own carbon fiber spars. I threw away the first 2, but I'm confident this one is OK. I tested it with a 5g weight load and the deflection was minimal. I enjoy receiving Q-Talk. It keeps me interested and sometimes it has good ideas.
John Dunn, New Zealand
Have adopted the separate cables bell crank to rudder and tail wheel idea of Bob Farnam's in the #84 issue (Nov/Dec 2000) of Q-Talk. Also have hitched another set of cables forward to the passenger side, which can have removable rudder pedals in split phenolic blocks, with that side cables hitched to the spring from the engine firewall. It works well, but as yet to be Okayed by the Surveyor. The tail wheel is no longer restricted by the rudder limits. The wooden block mount (Rimu) for the bell crank is 9" aft of the F.S. 120 bulkhead and where the pilot's side right cable crosses beneath the passenger's side left cable under the ailerons bellcrank. The 3/16" O.D. Nylaflow conduit is stiffened with an outer conduit of 3/8" O.D. "braided" Nylon tubing.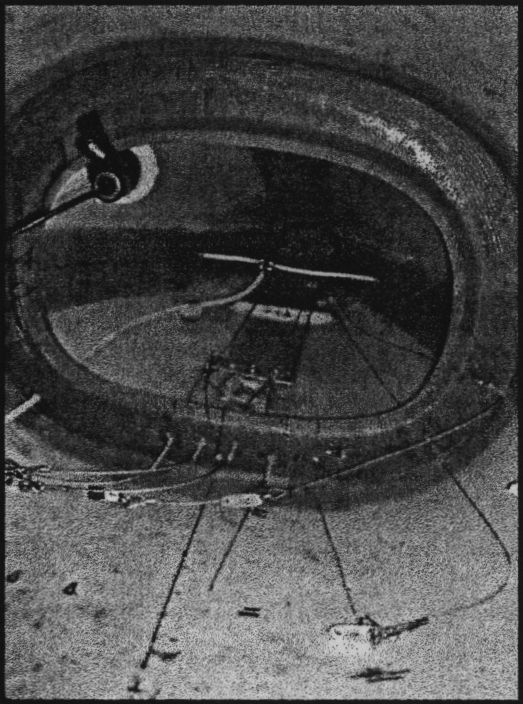 Have managed to fit turn-buckles for the rudder and tail wheel outside aft of the F.S. 175 bulkhead. The hardest part was drilling those two extra holes. Thanks for the wealth of tips that arrived in the letter box when they were needed, and a lot more.
Ted Kibiuk, Holland Patient, NY
My Quickie # is 508 with 118 hrs on it and 205 landings. I've been grounded because of my heart and my flying has been terminated. The "Children's Museum" of Utica will be getting my "baby", less the prop and engine. I'm prepping it to a fine finish and making sure all controls work nicely. The kids will enjoy sitting in the cockpit and flying it. They are going to rig up a television screen in front of the "jet" (no prop). My friends, in a chase plane, took some video of one of my flights and put it together with background music. The ignition switch will start the video tape and the flight from taxi, to take off, to landing will be seen by the young pilots flying my A/C. The tail will be elevated once they are seated. It will be attached to a spring that will jiggle the plane, simulating flight. The museum's staff is excited about receiving the aircraft. So, the point is, my 22.6 HP Onan engine, now off, is up for grabs. If anyone is interested in the engine, it will go to the highest bidder together with whatever Quickie parts and instruments are on hand. I've got to clean up my garage hangar at age 80 and start reading books now. I still enjoy reading Q-Talk and have every issue printed plus lots of photos and letters regarding the project. My phone number is (315) 896-2004 and I can be reached after 8:00 p.m.
Bill and Lilly Butler, Mundelein, IL
Lily and I want to thank you and Susie for all the hard work you put into making the Q-2 & Q-l gatherings so enjoyable. We enjoyed the QBA Hot Dog Roast very much. Our friends from England, Grace and Mike Moore, were very impressed with the hospitality and friendly atmosphere - and the good food. Hope to see you soon. (Ed Note: We 're glad you and your friends had a good time.)
Capt. M.E. Brown, Plantation, FL
Here are some pictures of the way I have got my main gear aligned. I replaced the tail wheel with a Go-Ped wheel cut down to 6 1/8 inches. This wheel is 7/8 inch wider and made of much softer rubber than the original.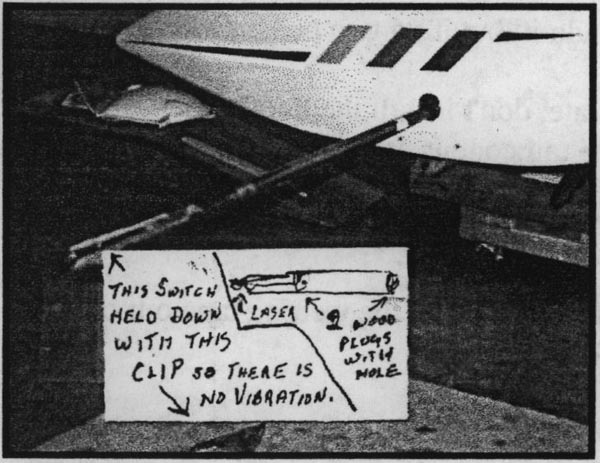 I made a sighting tool by cutting the top half of the 5/8 tubing (about 6 inches at one end) and placing a Radio Shack laser pointer in the slot, aiming it through holes in 2 wooden disks placed inside the tube. The aiming point was 1 1/2 inches above the other axle center. With full fuel and my weight, the tires run parallel to each other.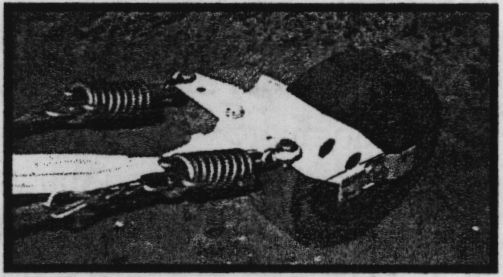 A new bracket had to be made for the tail wheel since it was 7/8 inch wider than the original. Also the wheel pant was cut in half, widen 7/8 inch and re-glassed.
I have installed a second battery as far aft in the tail section as possible so I have a standby in case of alternator failure. This also allowed the removal of lead weight needed when the Subaru engine was installed. The battery drops out from underneath so it does not show and it is wired so either one or both batteries can power the main electric bus. With the Subaru engine's solid state ignition and fuel pump, loss of battery power below about 8 volts will not keep the engine running. The second battery increases my comfort level. Test flight coming up in a few days, weather permitting.
---
You can order a printed copy of Q-talk #93 by using the Q-talk Back Issue Order Page.